Going All In – Nick Barrucci And Dynamite's 10 Years Of Publishing I have known Nick Barrucci for a maybe close to a decade. We met across a poker table at a game in Long Beach. So when he told me Dynamite was having it's 10th anniversary, I figured I'd hit him up with for an interview and then threw some tough questions his way. And just like how he plays poker, he went all in.
BLEEDING COOL: I have to start off with the obvious question. You had a good niche with your company Dynamic Forces. Why did you decided to start a publishing company at a time when the comic market had retracted so much from the 90s?
NICK BARRUCCI: The comic market was definitely uncertain AND challenging… but those are the times that allow for the greatest opportunity, but at the price of the greatest risk. There is a saying, "Everyone is a genius in a bull market." For years beforehand, some of our creative partners and industry friends had urged us to become publishers. I railed against it for years. Publishing is very difficult and you have the responsibility of your employees (and by extension their families) but also of all of the freelancers you work with (and again, by extension their families). That's a LOT of pressure. When you're small and focused and are doing 12 – 16 signings combined with trading cards, statues, lithos/gicless per month planned out over the year, you're working with maybe 20 freelancers at any one point, and most of the projects are incremental income for them. So, if something isn't working, it may have hurt our bottom line, but it wouldn't hurt the creator's bottom line as much if something was cancelled. There's some solace in that. But in publishing, you are now becoming the primary income, and if something isn't working, the same decisions become harder decisions, and I didn't see that it could work out well. Something to point out, that before we decided to become publishers, you had a better chance of opening a successful restaurant than becoming a successful publisher. The road is littered with failed publishers. The only successful publishers at that point outside of Marvel and DC of any size were Dark Horse and Image. IDW was just starting and I knew that Ted and his team would do well, but once you get beyond that, there wasn't much success. And a lot of companies that tried to grow out of their niche to become publishers usually ended up failing as well as the dynamics are just so different. But then something happened. The fantastic, cult-favorite Army of Darkness film came up as a publishing opportunity, and we jumped in feet first. We thought, let's try this series, let's create an imprint, let's keep it separate, and let's have some fun, and if it works, great, we did it.
It's funny when you look back at the road that got you to where you are now. Dynamite began as a niche company, but had a meteoric rise and quickly overshadowed Dynamic Forces in the direct market.
BC: Dynamite is celebrating its 10th Anniversary this year. In the decade you've been publishing, what do you think is your greatest achievement? What is your greatest failure? And what is the biggest surprise you've come across?
NB: Wow, that's quite a question. Can I think about it and come back to you later? ;-) Seriously, it's like you're asking me which of my children is favorite, which is my least favorite, and which is the kid I'm most happy about despite lower expectations. My head is already started to ache at the thought! I'll start off by saying this (and then I'll take the easy way out.) I think that our greatest achievement is maintaining more strong relationships and, while everyone has relationships that don't work out, we work hard to minimize those as much as possible.
Year after year, Dynamite continues to grow. We constantly freshen projects and expand the relationships we have with our creators, and build upon our foundation by adding new projects, new partners, and new staff. Our ability to expand, evolve, and adapt is our greatest achievement. Whether it's new licenses, rejiggering existing properties, working with creators to change things up, we continue to grow. We do a decent job of learning from our mistakes.
Our greatest failure? I'm sure that'd be one of those times Rich Johnston got the drop on a hot development at Dynamite that we carefully tried to keep hush-hush. He's like a ninja! OK, now that I got that out of the way, I don't know that there is one greatest failure. The problem is, every failure can feel like the greatest one at the time it happens, but when you get some distance, you realize that you get back up and start over. It doesn't matter if it's a missed license, the ability to work with a creator you want to or respect, or for any other reason. Any failure is disheartening, but if we stood there and looked at all of those and didn't focus on what moved us forward, well, that would be the ultimate failure, and fortunately, I have a great team that remind me that we do more well than not. As far as the biggest surprise, I'll go with the very first of Dynamite's publishing career. We took a gamble on Army of Darkness, a series that had previously only been published as a movie adaptation, with meager sales results. We saw potential for something greater… and were rewarded by monstrously huge sales success! We followed that with Red Sonja, which duplicated that success. If you want to a heartwarming story of how a comic publishing company started right, then Dynamite is the feel-good story for you.
BC: What are some of the plans you have to celebrate the 10th Anniversary?
NB: In a general sense, our tenth anniversary is about building stronger relationships with our active creators, forging fresh relationships with creators we've never worked with before, and the development and release of great comics. 2014 has seen a huge number of successes, many of which are part of an anniversary celebration, from our launch of Gold Key and "Creators Unleashed" lines, to our revival of the Chaos! Comics universe, to the alternate world steampunk adventures of Legenderry, and too many more to name! Moving forward, we're looking to launch such projects as the new Evil Ernie ongoing series, the crossover of horror hostesses in Dawn/Vampirella, the retrospective Art of Army of Darkness, and, of course, the highly anticipated Django/Zorro crossover by Quentin Tarantino and Matt Wagner.
Be sure to keep an eye out, as we'll be announcing a handful of new projects coming up at Baltimore Comic Con!
And, of course, sometime today, the announcement of our DDD-Free! (shortened, in case it's not announced till after this interview ;-)
BC: We have seen the announcement of Joshua Hale Fialkov's The Devilers and Peter Milligan's Terminal Hero with talk of more books from a line you call Creators Unleashed. So what is Creators Unleashed and how does it stand out from your other titles? NB: Many people know Dynamite as a home to a mix of properties including licensed properties (like The Shadow, Battlestar Galactica, or Game of Thrones, to name a few), or for our company-owned library of characters (Vampirella, Chaos!, Project Superpowers, etc.). However, we've had great success with titles outside those parameters with Creator-Owned, and the most well known being The Boys by Garth Ennis and Darick Robertson – which was a runaway freight train. And there are different variations as there are with other publishers from Creator-Owned to properties that have Creator-Participation and those include Dead Irons, Battlefields, Uncanny… each one has proven that Dynamite can publish great titles that are "off the beaten path." Expanding upon that, we conceived of "Creators Unleashed" to have a home at Dynamite for the industry's most innovative writers, where they would be encouraged to develop completely fresh concepts.
We've already launched The Devilers by Joshua Hale Fialkov and Matt Triano, and the team-up of inter-faith exorcists caused so much heat, it sold out from Diamond almost immediately. Terminal Hero, our second launch, did very well, and features the talent of Peter Milligan and Piotr Kowalski. Peter has said, "It's simply unlike anything I've ever written – or read. This book laughs in the face of fear," which I feel is as great a tagline for a "Creators Unleashed" title as any that could be imagined! In September, we'll release Duane Swierczynski's Ex-Con, illustrated by Keith Burns, which follows a con man recently released from prison… but trapped as ever by his past. Also, projects from James Robinson, Frank Barbiere, Andy Diggle and Angela Cruickshank, and Rick Remender will kick off in 2015. Not a bad list, if I do say so myself!
BC: You said Creators Unleashed is aimed at the Vertigo and Image readers. I can see some crossover between those two publishers markets but I don't know if I would put them together as a whole. Can you be more specific? Who are the readers that you feel will want to pick up the Creators Unleashed books?
NB: The comparisons to DC/Vertigo and Image Comics are based on history and philosophy. When Vertigo first came into being, it had provided a place for exceptional talents to explore far-out ideas, and appealed to an audience that perhaps outgrew the mainstream comics of the day. Image Comics has picked up the banner in recent years, with an emphasis on creator-driven projects and a string of resulting success and attention whether it's creator-owned titles or company owned titles like the Sky Bound books as well as other titles owned by one creator and who hire out other creators – it doesn't matter which, it's delivering new content to the audience. What it's done is create an atmosphere for fans of curiosity and experimentation. Readers today are more open to new comics than ever before, and "Creators Unleashed" provides them with high-quality, captivating options on the racks. BC: It was recently announced that the lawsuit between Dynamite and the Edgar Rice Burroughs estate has been settled and a new publishing agreement is in place. For those not familiar with the lawsuit, can you give a quick overview of the case? Also, how were you able to resolve your differences and what does the new deal allow you to do?
NB: Maybe this should have been one of the topics that started off as a disappointment that ended up being a positive! ;-) A lot of this was covered by the press, but I'll give as much insight as I can. The lawsuit addressed the publishing rights of such classic characters as John Carter and Tarzan. Dynamite Entertainment and Edgar Rice Burroughs, Inc. each had our positions, and I think I can say that while we disagreed, we could appreciate each others positions. As these things happen, we were in the same room together arguing our points, and discovered that both sides held one thing in common that perhaps we could build on, which is a passion for the characters and the properties. Ultimately, both organizations were willing to come to the table and work things out amicably. I'd even go so far to say that things worked out the best for everyone. The resulting partnership is a solid and mutually beneficial one, one that opens the doors for Dynamite to expand the Burroughs universe with exciting new content and release archival material to science fiction and fantasy fandom for the first time in generations. When you consider that we started from a place of conflict, what outcome could be better than that? This almost NEVER happens when two sides are in litigation, to go from being at odds to becoming partners together. We are blessed!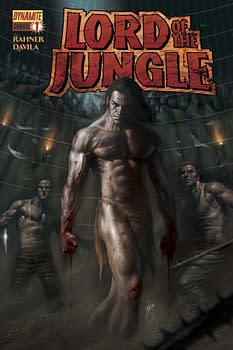 BC: So now that it's full speed ahead on the ERB properties, what are your plans for them? More John Carter and Dejah Thoris? New Tarzan books? Are you going to dive into any of the other Burroughs series in the near future?
NB: It's full speed ahead for the Warlord of Mars airship! Supported as we now are by the full resources of Edgar Rice Burroughs, Inc., we're going to reclaim the proud comic book title of John Carter: Warlord of Mars in a new series penned by Ron Marz, one of the comic industry's most renowned writers of cosmic-scope storytelling. It's a perfect fit – the writer who revolutionized Green Lantern and Silver Surfer – is now coming on-board for a series he's wanted to contribute to since he was a teenager. His exploration of the character will really focus on the "warlord" status of John Carter, as the Earth-born hero must face an enemy every bit as tactically-minded and cunning as himself.
Meanwhile, Dejah Thoris – the Princess of Mars and adventurer in her own right – will take her rightful place as one of Dynamite's "Big Three" (alongside Red Sonja and Vampirella) in the upcoming (working title) Women of Dynamite series, written by superstar writer Gail Simone. Gail has been an absolute blessing to comics throughout the years. She's given us the definitive take on some of the most iconic female characters in the industry (Wonder Woman, Batgirl, Catwoman), and proven time and again that she knows how to balance diverse personalities with drama and charm in team books like Birds of Prey and Secret Six. With her current acclaimed run on Red Sonja drawing lots of eyes from comic fans, she will bring even more attention to Dejah Thoris and our very worthy Women of Dynamite extended cast.
And finally, rest assured – we'll bring back Lord of the Jungle in due time! Thanks to our partnership with Edgar Rice Burroughs, Inc., all sorts of possibilities are coming true.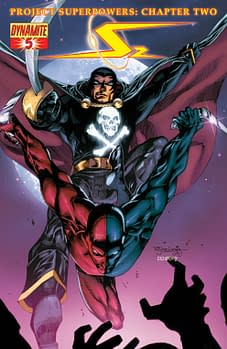 BC: It was also announced that Warren Ellis is going to be rebooting your Project Superpowers universe. How did that come about and when will we start seeing the outcome from that?
NB: I asked. For quite a bit, and finally his schedule opened up and he wanted to tackle the Superpowers universe. Warren Ellis has achieved that rare status in our industry where he can be selective and work on virtually any project he'd like. And it's a well-deserved status; he's a brilliant man with brilliant ideas, exceptional storytelling ability, and a proven track record for sales. Everyone would love to work with him, but it's got to be the right project that strikes his fancy.
I'd been diligently approaching Warren over the course of five years, inquiring if he might have an interest in working on a Dynamite project. Finally, it was Project Superpowers that won him over. Our well-received revival of long-lost Golden Age heroes, like Black Terror and Death Defying 'Devil, had been skillfully accomplished by talents like Alex Ross, Jim Krueger, Phil Hester, and Joe Casey, but had been on hiatus as we were looking for the next creative phase in their existence.
As we announced in April, Warren thrilled at the possibility of jumping into the huge Superpowers sandbox. We've got dozens of colorful characters for him to play with, to mold into unique new shapes, and you'll start seeing the amazing results in early 2015.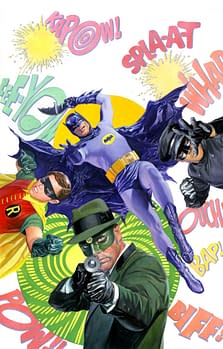 BC: If I don't ask this, I think Rich's head would explode. He's been hearing rumors of a possible buyout of Dynamite Entertainment by DC Comics. Is there anything to these rumors? Have you been approached by anyone looking to buy your company? Are you looking to sell Dynamite?
NB: In the internet age, we do love our gossip, don't we? The truth is, the concept of a "DC Comics Buy-Out of Dynamite Entertainment" started in the wake of initial planning on Batman '66 Meets The Green Hornet. We were just getting the Kevin Smith-penned crossover under way, and someone started saying something to the effect of "You know, the only way the Batman/Green Hornet cross-over could happen is if DC were buying Dynamite", and that went on a podcast, and the next thing you know, the web forums were going crazy.
At the end of the day, if a company like Marvel or DC were interested in acquiring us, we would be honored, as they are the two longest running and best comic publishers. So, while we would be open to the right proposal/we're open to the idea of such things, as long as it's an offer that would respect and care for our staff, creators, properties, and licensors, we would evaluate it. But there is no truth to the rumor.
BC: So 10 years in the books, what is the future for Dynamite? What do you want to be talking about when I interview your for the 15th Anniversary?
NB: Oh, that answer's easy. We'll be talking about how, while the first ten years of Dynamite were great, the success of the five years that followed was unparalleled!
As always, for more on everything Dynamite, click here.