Green Arrow #42 Review: What Happens After the Superhero Wins?
[rwp-review-recap id="0"]
Green Arrow is hunting down the Parasite through the sewer tunnels under Stryker's Island. The Superman rogue has absorbed immense power, and Ollie Queen is the only one who can keep Parasite from escaping to Metropolis. Before long, Parasite finds Green Arrow, and the Emerald Archer receives an understanding of what's really going on in Stryker's Island.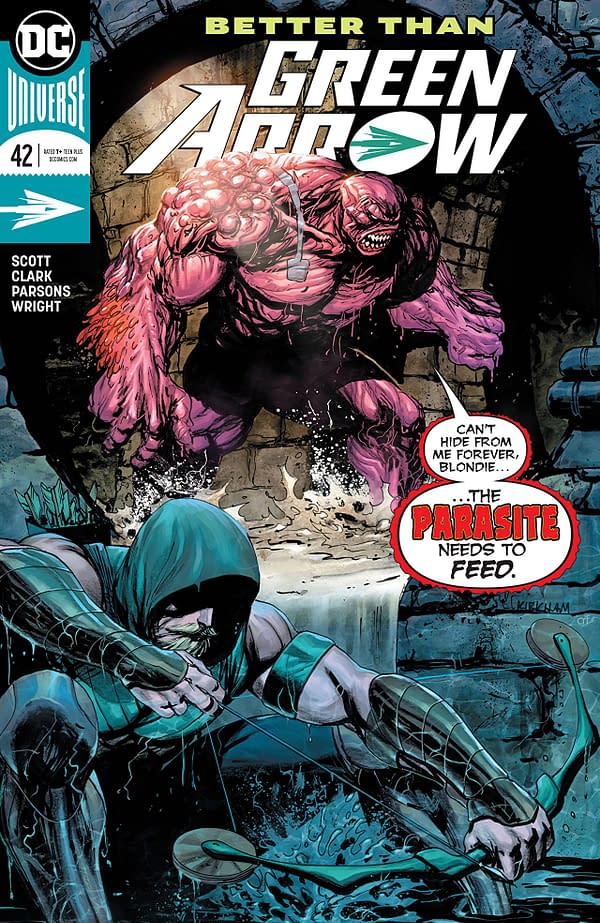 Green Arrow #42 doubles down on the previous issue's criticism of the American penal system, but it does so with a level of nuance not often seen.
Parasite is deathly afraid of being put back in his cell. It's become a pathological fear for him. Ollie isn't unsympathetic to this plight, but he knows Parasite can't just go free into Metropolis.
This sounds like it would be building up to a condemnation of power-mad prison guards and wardens, and that's partially true. However, the book pivots slightly to an understanding that these people are still just doing a job; the real monster is the compounding circumstances that led to this. It's even willing to point a finger at heroes like Green Arrow for participating, but it makes the point that it's a problem we all must fix. It practically turns towards the reader in making this statement.
There's still an awesome fight between Ollie and Parasite, so don't worry. This isn't completely just waxing politics. It's still a superhero comic.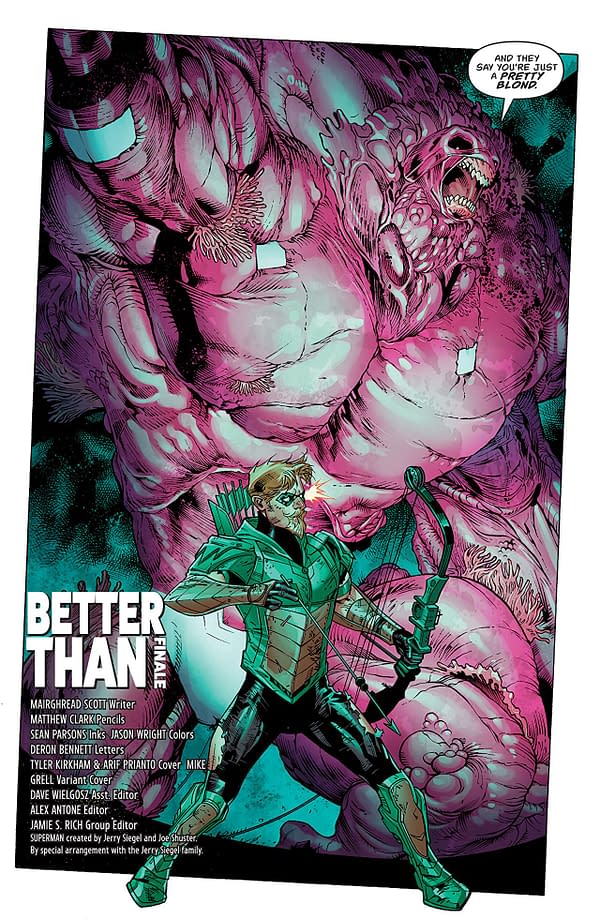 Matthew Clark brings another issue of high energy and even gritty artwork that focuses on the damage of Ollie's armor and the monstrousness of the Parasite. The latter works quite well, as it challenges you to see the humanity behind this hulking pink monstrosity. Jason Wright's color work is bright and gleaming, keeping the eye entertained and trained on the page.
Green Arrow #42 is a borderline polemic in how directly it acknowledges the problems with the U.S's prisons. It's not quite as eloquent as Sam Wilson: Captain America was on the subject, but it's probably easier to digest and still has a fast and fun superhero fight attached to it. Does that make it less classy or more muddled? Maybe. I still had fun with it though, and I appreciate a comic trying to make a point. This one earns a recommendation. Check it out.
[rwp-review-ratings id="0"]
[rwp-review-form id="0"]