Green Arrow #43 Review: The Bensons Return Triumphant
The day starts with Green Arrow and Arsenal saving holdouts from being killed in a building demolition. The man behind the demolition, Jubal Slade, escapes before Ollie and Roy can bring him to justice. After running by Queen Industries, Ollie meets Dinah and Roy for lunch with the intent of telling Roy about the box Martian Manhunter gave him (Green Arrow Annual #1). This is interrupted by a broadcast by the Citizen, an internet-based activist who has become popular in Seattle. Ollie believes the Citizen to be harmless, but that perception may change soon.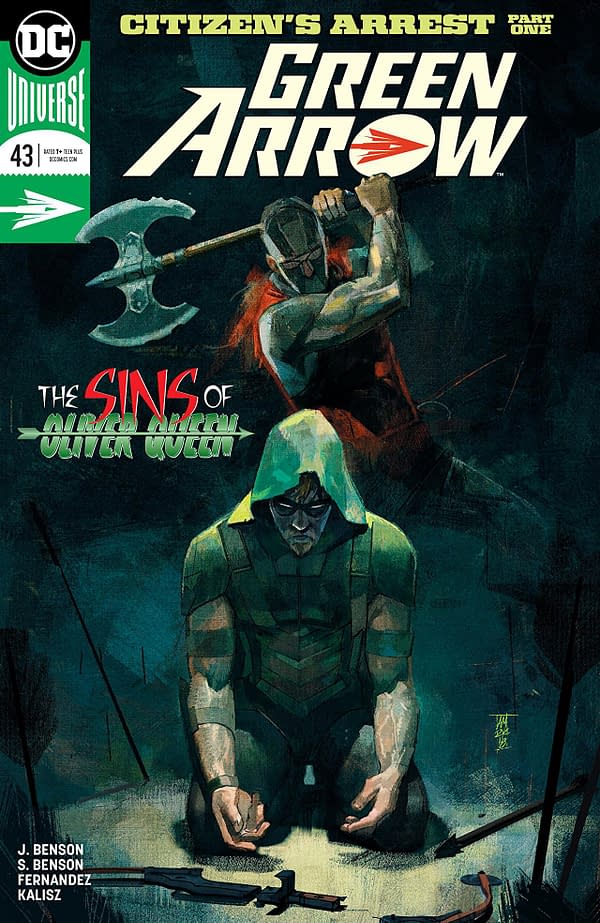 Julie and Shawna Benson have returned to Green Arrow (having written the aforementioned Annual), and I'm rejoicing. These two know how to write a good Green Arrow (as also shown by the Annual). They balance social conscience, a sense of humor, and just a dash of cockiness to make Ollie as he should be.
Bringing back Arsenal, if only for an issue, and making sure Black Canary is involved is good to see too. Green Arrow should have a team around him, and Ollie has cultivated quite the team over the years.
The Citizen is an interesting and unnerving villain, and it has the potential to be among the more interesting takes on internet culture that Big Two comics have had in some time.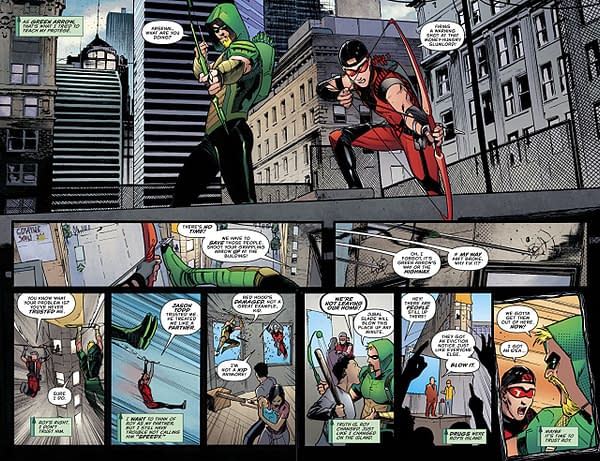 Javier Fernandez provides an energetic art style that brings action to life quite well. The detailing on faces is lighter, and it mostly gets away with it. There are some panels that have endearing cartoonish facial expressions, but then there are some where the faces almost look like a blob with a mouth and eyes. That said, the art works far more often than it doesn't. John Kalisz uses a bright and popping color palette to keep the visual tone light, and it suits the book well. It also turns dark when it needs to do so.
Green Arrow #43 is another triumphant issue from Julie and Shawna Benson, and the Emerald Archer is shown to be safe in their hands. The characters are charming, the plot is interesting, and Fernandez and Kalisz do good work on the art. This one earns a recommendation. Check it out.