Grendel: Devil's Odyssey #6 Review: Just Short Of Greatness
With the hope of shifting a world's entire cultural ideals, the cyborg warrior known as Grendel Prime employs a different set of skills towards finding a new planetary home for humanity. There's a kind of comical flavor Grendel: Devil's Odyssey #6, but the stakes are clearly life and death.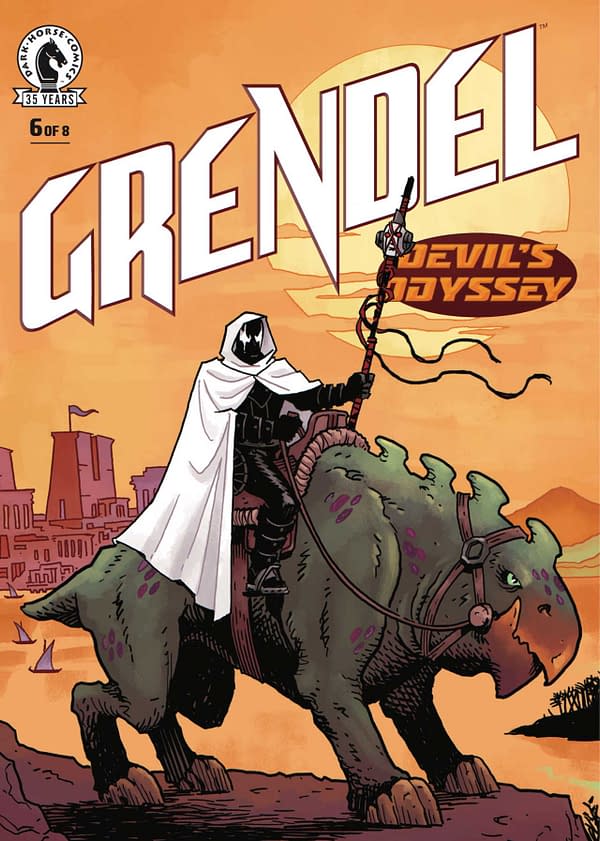 The planet Bojan Feq has the basic requirements: gravity's about right, the climate's pretty temperate — it could be made to work. The only challenge is the native population, "three intelligent species … currently at a medieval stage of technology." The key societal feature is something called The Ordeal, where disputants can settle any arguments they have via one-on-one trial by combat to the death. Sure, they can hire a surrogate to fight for them, but that part of the system clearly benefits the rich and disadvantages the poor … much like American jurisprudence.
Along comes Grendel Prime, a dangerous and super-powered cyborg warrior searching for a new home for humanity. He's decided that this Ordeal nonsense is "brutal" and "barbaric," and he's gonna put a stop to it his way. The irony is how he plays that out, picking up an unexpected sidekick along the way that echoes elements of season one of The Witcher and generally has a kind of chuckle-worthy approach based on the massive disparity in technology giving him what he feels is overwhelming invulnerability.
The endlessly talented Matt Wagner draws these alien species and his grim paladin with enormous skill, developing the alien world with distinctive imagery, making even alien faces have believable expressions. There's a kind of metaphor working in Wagner's script as Prime's android companion warns him, "Most reformers are doomed to failure," but it's not heavy-handed at all.
The only issue here is that when it just kind of builds to a kind of a climax, it just stops: a challenge of the periodical format for this. This isn't a complete story, just the first act and part of a second. The collection will likely be far more forgiving to this, but as it stands, it falls just short of greatness. RATING: HONORABLE MENTION.
Grendel Devil's Odyssey #6
By Matt Wagner, Brennan Wagner
Decades of searching have finally led Grendel Prime and Sigma-Seven to the planet Bojan Feq, which has an environment similar to Earth's and where civilization exists at medieval-level technology and is shared between three different intelligent species. But the entire culture operates under a feudal system and centers around a ritualistic form of combat known as "the Ordeal," which Grendel Prime must navigate through.