Mary Marvel Strikes an Iconic Pose for Wow Comics #10, up for Auction
Mary Marvel is in the new Shazam: Fury Of The Gods film this weekend, and a classic cover of hers is at Heritage Auctions.
---
Mary Marvel is currently in theaters,a part of Shazam: Fury Of The Gods, and played by Grace Fulton. But it was Fawcett Comics in the golden age that made the character famous and what she is today. This is an iconic cover for the character, as she strikes a pose with lightning striking behind her. It is the cover to Wow Comics #10 from 1943, and a raw copy of the book is taking bids at Heritage Auctions as we speak. You would be hard-pressed to find a better Mary Marvel cover, and you can own this copy for a criminally low $66. Check it out below.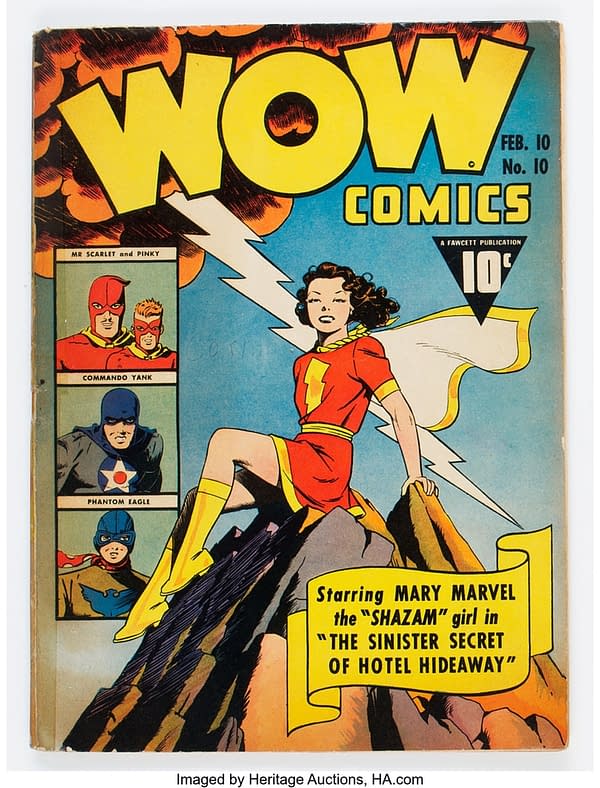 Mary Marvel Is Cooler Than Shazam
"Wow Comics #10 (Fawcett Publications, 1943) Condition: Apparent GD. Mr. Scarlet and Pinky, Commando Yank, and Phantom Eagle appearances. Marc Swayze Mary Marvel cover and art. Spine split, tape repair to inner and outer spine, tanning, pencil mark on cover, eraser marks. Restoration includes 2.5" tear on back cover from staple repaired on both sides with tape, tape repair to centerfold. Overstreet 2022 GD 2.0 value = $197. Cover by Marc Swayze. Stories and art by Otto Binder and Marc Swayze. A Fawcett anthology with an emphasis on superhero adventure. Mary Marvel and her wealthy mother buy an old abandoned school to create an orphanage, unaware that gangsters are using it as a criminal training camp. Commando Yank encounters a French "holdout" from World War I who is still killing German soldiers in World War II. Crash-landing on a remote island after battling Axis forces, Phantom Eagle meets a modern-day Robinson Crusoe. Mary Marvel: Gangsterdom in Retirement!; Whipper-Snappers; Phantom Eagle: The Airman Robinson Crusoe; Commando Yank: Ghosts of the Maginot Line; Padlock Jones: The Episode of the Absent-Minded Fox; Mr. Scarlet: Crime a la Carte! 64 pages, Full Color. Cover price $0.10."
Love these anthology books. Go here and place a bid on this copy of the book. While there, check out all of the other books taking bids today.

Affiliates of Bleeding Cool buy from and/or consign to Heritage Auctions.