How Can Moon Knight Beat Thor? Avengers #33 Spoilers
Moon Knight was created by Doug Moench and Don Perlin, for Werewolf by Night #32 in 1975, as a supervillain-turned-superhero, who develops a mystical past and a number of mental challenges, including multiple-personality disorder. Mostly portrayed as a street-fighting superhero, his origin is that of Egyptian gods making him the avatar of the moon of Khonshu on Earth. Not everyone believes this, naturally. But Moon Knight's strength, endurance, and reflexes are enhanced depending upon the phases of the moon, the fuller the moon, the more strength Moon Knight derives from it. He also derives abilities from technology, in the manner of Batman or Daredevil. In the new Avengers #33 from Jason Aaron and Javi Garron, however, out today, his relationship with the moon has upped his power set somewhat.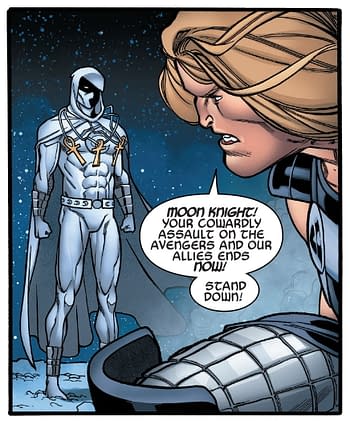 Today, this includes a confrontation with Thor, God of Thunder, regularly portrayed as the most powerful superhero on Earth. So how can a street-level punk-like Moon Knight take down Thor as well as the rest of the Avengers? Well, it helps to be actually on the Moon, and to redefine what Mjolnir actually is.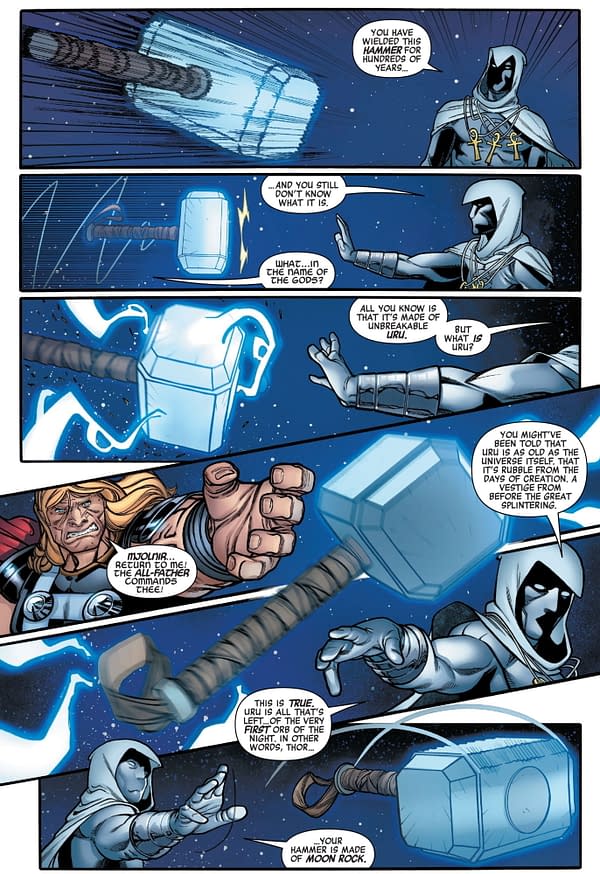 Larry Lieber originally made up the name of Thor's hammer as Uru, or the Uru Hammer. Later, writer Roy Thomas changed the name of the hammer to the Norse mythologically correct name of "Mjolnir" and used the name "Uru" as the name of the fictional metal that the hammer is made from. And courtesy of Marc Spector, we get a Marvel Universe history lesson.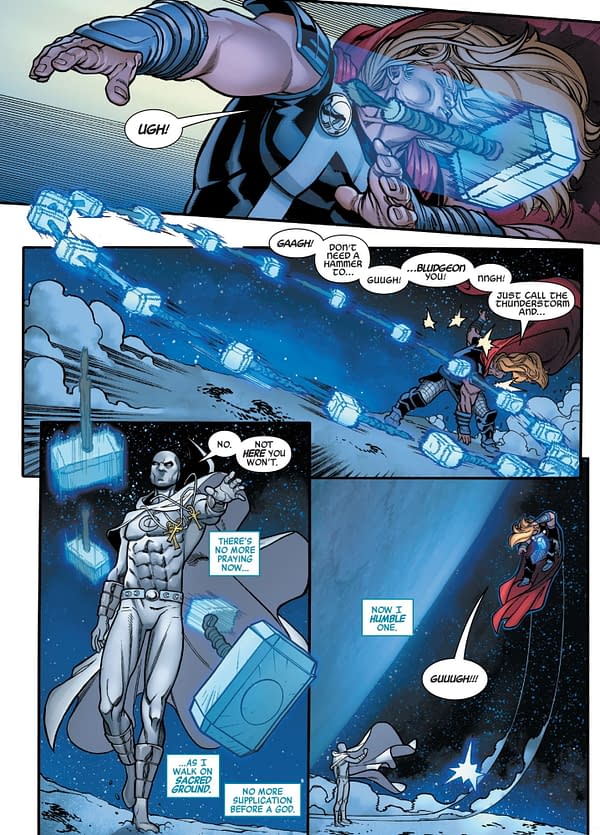 While Moon Knight: Marc Spector doesn't actually lift it, he is unlikely to be worthy, he can manipulate it just as well and use it as a weapon to defeat Thor. Does that count? One god versus another…
AVENGERS #33
(W) Jason Aaron (A) Javi Garron (CA) Matteo Scalera
MOON KNIGHT VS. THE AVENGERS
Mummies are rising from their graves. Secret armies march by moonlight, from K'un-Lun to Wakanda to Greenwich Village. A dark god invades Asgard. And the Moon Knight has been unleashed as never before. So begins the Age of Khonshu. So fall the Avengers.
Rated T+In Shops: May 27, 2020
SRP: $3.99