Hunt for Wolverine: Weapon Lost #4 Review – No Big Reveals but a Decent Book Nonetheless
[rwp-review-recap id="0"]
A bomb goes off in the apartment where the security guard, whom claimed he saw Wolverine on social media, once lived. Daredevil, Misty Knight, Frank McGee, and Cypher are the current occupants of the building, and they barely escape the building alive. The security guard worked for a company called Soteira, and the trio go to investigate this company. Upon arrival, they are attacked by a kill squad working for Soteira.
Hunt for Wolverine: Weapon Lost #4 concludes this angle of the tale. I wouldn't have any expectations for grand revelations. What reveals that are present do are on par with what has been hinted on in the Hunt for Wolverine stories. I won't spoil them regardless; just don't get your hopes high.
Is the story itself cool? Yeah, it's still fun. The biggest leap is that there is any group of men with guns which Daredevil and Misty Knight wouldn't be able to stop. That Soteira kill squad manages to run all four of our heroes out of the building immediately.
I do wonder who is at the top of Soteira, or if a new villain is behind the resurrection of Wolverine. "Soteira" (according to a Google search), is a Greek epithet added to the ends of their gods and translates roughly to "savior." That could indicate something to do with Apocalypse, Romulus (please no), or the Purifiers.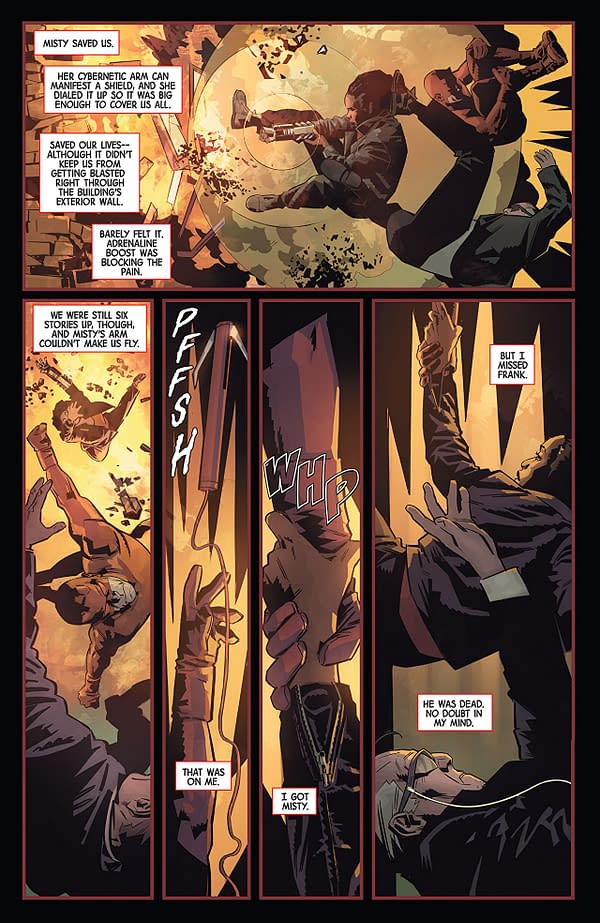 Matteo Buffagni once again impresses with his bleak and noir-reminiscent style. He manages to make an explosion appealing, and that's pretty hard considering the format and genre, where explosions are akin to scene transitions in frequency of usage. Cynicism aside, Buffagni is a talented artist, and I hope to see more from him in comics soon. Jim Charalimpidis complements the shadow-heavy style with dazzling colors, and the overall book is quite gorgeous.
Hunt for Wolverine: Weapon Lost #4 is a competent if unexciting ending to this thread in the story. We don't learn anything exciting, but the cast is still good and engaging. Buffagni and Charalampidis put in another good showing on the visuals. This one is worthy of a recommendation. Feel free to check it out.
[rwp-review-ratings id="0"]
[rwp-review-form id="0"]