The Immortal Hulk #3 Review: A Mixture of Dry, Grim Humor and a Superhero-Flavored Tragedy
A reporter named Jackie McGee is investigating a story in South Dakota. She interviews the witnesses to the event: a police officer, an older woman, a Catholic priest, and a bartender. The event was a superhuman calling himself Hotshot holding hostages, the priest and the woman, at a church and demanding an exorcist for his girlfriend. The police were unable to pacify Hotshot, so the Hulk took him down instead.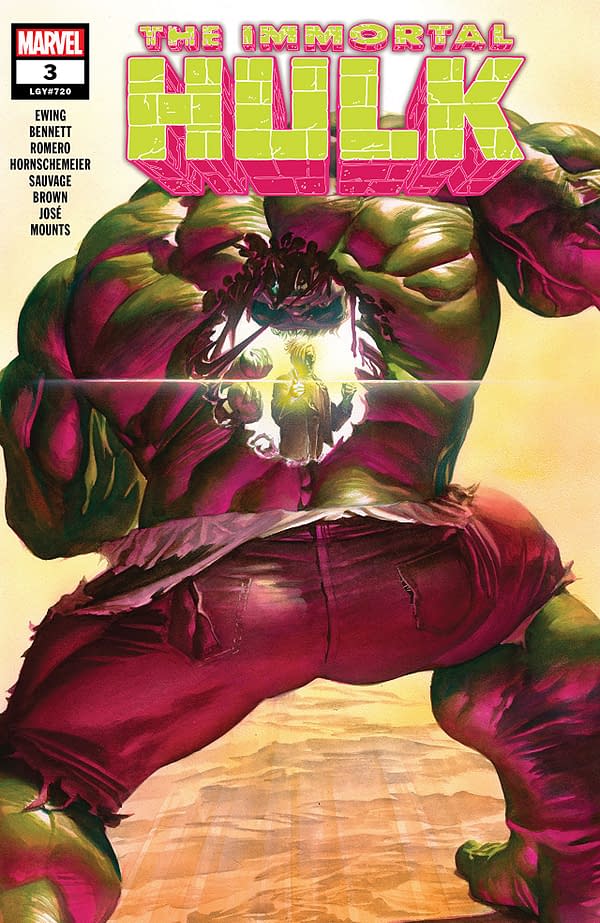 This comic is told in parts from the perspective of the three primary witnesses: the cop, the older woman, and the priest. Each section is portrayed from a different artist, with Joe Bennett handling the framing with Ruy Jose, Leonardo Romero telling the cop's story, Paul Hornschemeier telling the bartender's story, Marguerite Sauvage on the old woman's story, and Garry Brown on the priest's story. Paul Mounts provides the color on every section except the bartender and the old woman.
There is a humor in the provided styles that matches the tone by which each person views the story. Romero's art looks like a classic superhero tale, and that's how the cop sees the Hulk: an old-fashioned superhero. The older woman was enamored with Hotshot's looks, and so Sauvage depicts the rogue like James Dean and posing like John Travolta from Saturday Night Fever while providing saturated pastel colors.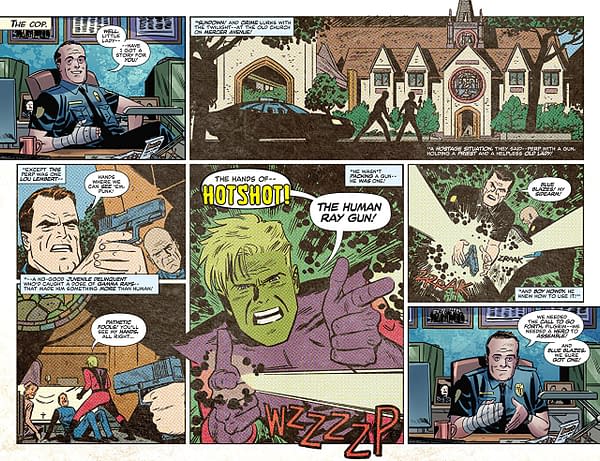 Then there is the priest, who sees it all like a horror movie, and his story keeps the comic grounded and at-times chilling. He sees what transpired as an insurmountable tragedy, shaking his faith to its core.
The bartender's story provides more dry humor and something of a frame within the frame, and the actual frame of McGee's investigative journalism provides foreshadowing for future stories and a guest star appearance at the end of the comic.
Once again, Al Ewing and company manage to catch me off guard with another impeccable issue of Immortal Hulk. This book balances dry and dark humor with a superhero story that plays out more like a tragedy than someone saving the day. I'm in love with this book, and I highly recommend everyone reads it. Pick it up.