Infidel #4 Review: Intense, Unnerving, and Brilliant
[rwp-review-recap id="0"]
Aisha is still in comatose, and the doctors don't expect her to survive. Medina is unwilling to watch her best friend die and will do anything to save her. Reynolds and Ethan stumble across a man who knew Arthur Quinn, and, having seen the entities in the apartment building too, Ethan agrees to return to the apartment with Medina in the hopes of finding an item that could save Aisha.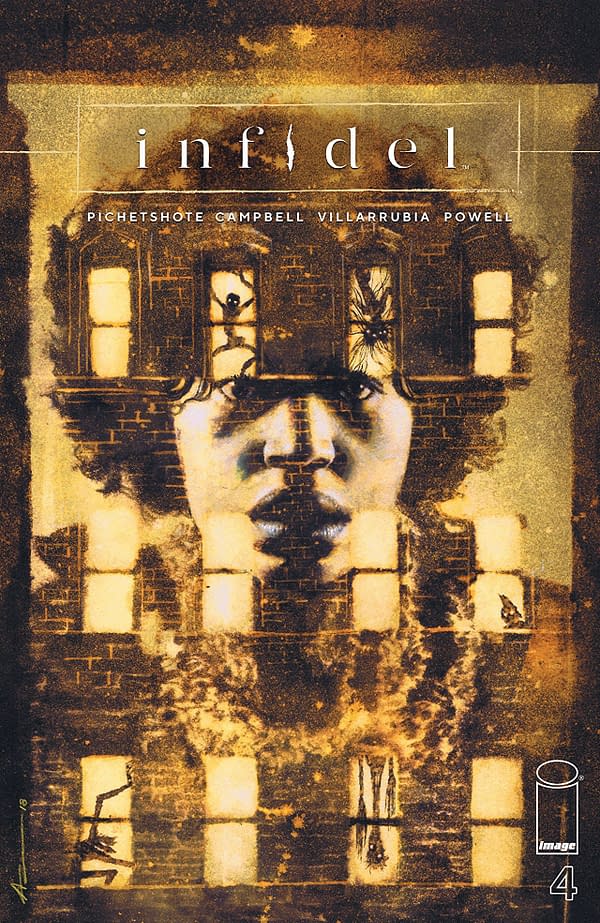 Aisha is a fantastic character, so her well-being genuinely has me on edge. I want to see her survive. Medina is more than capable of taking over as lead character, thankfully. She's more aggressive and straightforward than Aisha, so the book also reads a little differently—as it should.
The return to the apartment is akin to many other hyper-intense climaxes to horror films. You know what lies in wait for Medina and Ethan, and you know it's deadly, vicious, and evil. You know it can't go as well as the characters hope, so you're just waiting for the axe to drop as the two characters navigate the dark.
The tension and flow are set up very well in this book, and it makes for a fantastic horror read.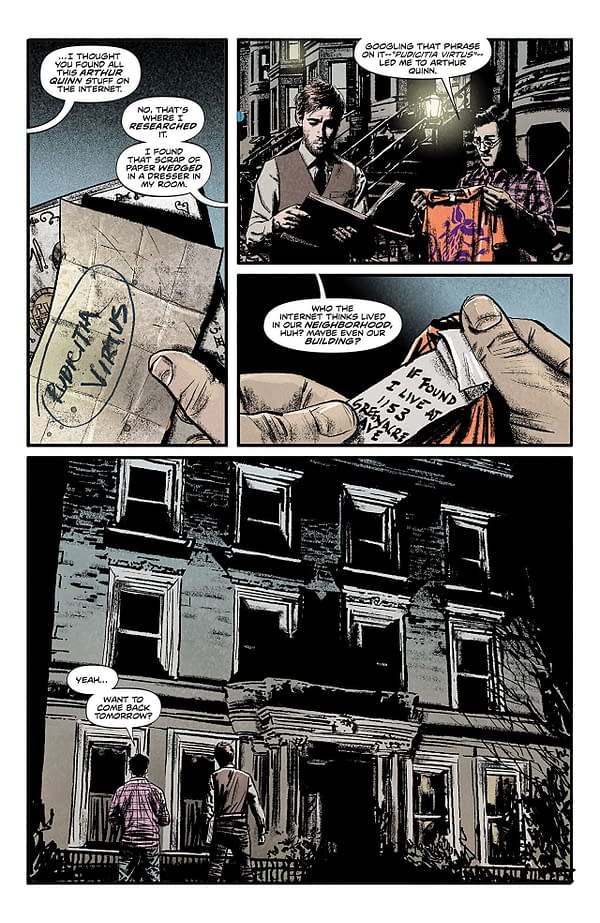 Aaron Campbell provides another visually chilling issue. The thorough detailing mixes with the general decrepit nature of the world to create something familiar and unnerving. The monsters have a brilliantly horrific design, and Campbell plays with their morphing features in the sequential format well. Jose Villarrubia's color work is dark and foreboding throughout, further supporting the terrifying atmosphere the comic creates.
Infidel #4 is another knockout of an issue, continuing to create the unnerving and shocking horror this miniseries has already mastered. Pornsak Pichetshote, Aaron Campbell, and Jose Villarrubia have made something both in tune with the current sociopolitical climate and impossible to put down once you start reading. The writing is brilliant, the art is incredible, and the comic deserves a strong recommendation. Give it a read.
[rwp-review-ratings id="0"]
[rwp-review-form id="0"]