Infinity Countdown: Champions #2 Review – Young Heroes in a Deadly Universe
[rwp-review-recap id="0"]
Warbringer and his Chitauri army is aiming to kill their own people on Chitauri Prime. Thanos has taken control of the planet, and Warbringer would rather see his people dead than enslaved by Thanos. The Champions are fighting to save the Chitauri people while Thanos watches in amusement. Can the Champions rescue this species?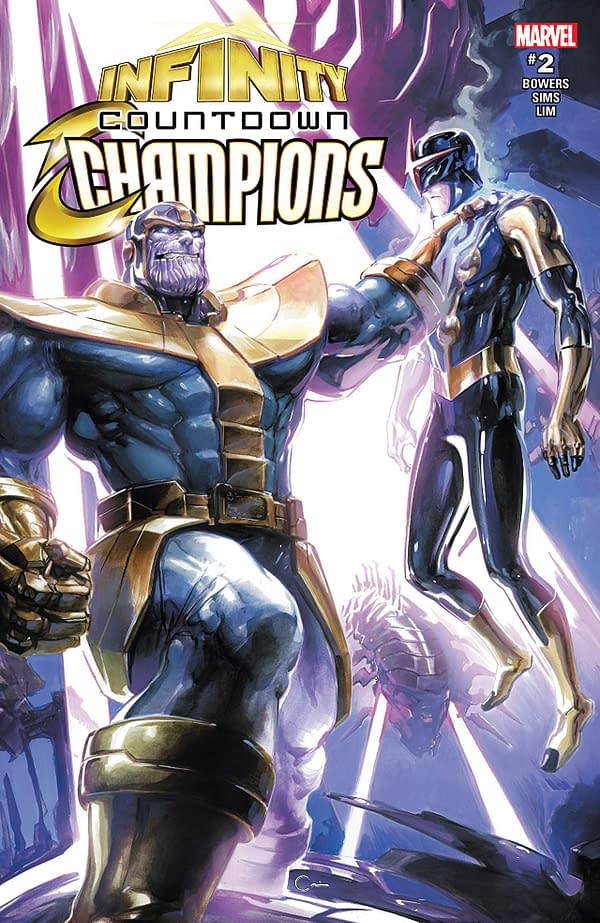 Infinity Countdown: Champions #2, like many of the tie-ins to this crossover event, seems not especially relevant to the main story. However, to Jim Zub's credit, he has made it a relevant story to the Champions themselves. Two big things happen that will affect the team going forward.
That may be a bit of a pain for Champions readers who decided to skip this story, and I do sympathize with that sentiment.
That said, this is a damn good story. It goes to the effort of showing how this fight is challenging the team. Nova still feels personally responsible for what Warbringer does. Ironheart must face how big, scary, and deadly the universe is. Ms. Marvel, Wasp, Viv, and Snowguard are shaken by this life-and-death struggle to prevent genocide.
If you're noticing that Thanos has little discussion in this description, fret not. The Mad Titan gets a moment to be — well, himself, in this comic.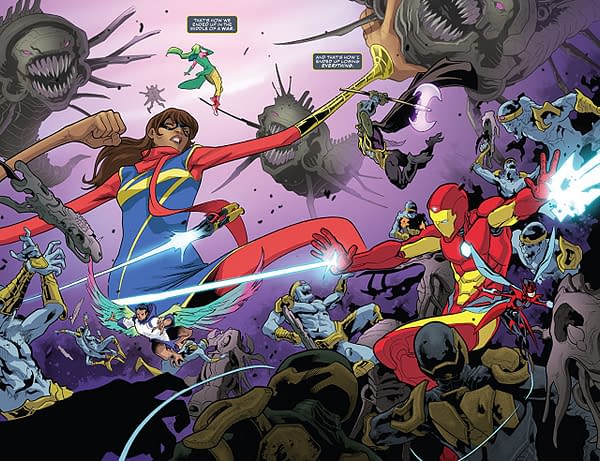 Emilio Laiso provides a fluid and action-oriented art style that keeps the tone a little lighter than it would otherwise be. That said, this is a bleak story, and a heavier aesthetic may have been more appropriate. That said, Laiso's work is still solid, and the comic only has a couple of panels that are less than appealing. Andy Troy's color art is a vibrant cosmic number that centers around the purples and dark blues of the environment. The coloring in this is gorgeous.
Infinity Countdown: Champions #2 is a surprisingly intense story that challenges its protagonists and shows them how small they are in this dangerous universe. You get to see it genuinely impacting them, and it makes for a damn good Champions story. This one earns a recommendation. Give it a read.
[rwp-review-ratings id="0"]
[rwp-review-form id="0"]