Terrible Ideas Follow Iron Man Everywhere in Next Week's Shuri #5 (Preview)
For a guy who's supposed to be pretty smart, Iron Man really does come up with some bad ideas. Take the time he built a device to stop the Phoenix Force during Avengers vs. X-Men and it ended up actually splitting the Phoenix Force into five miniature Phoenix Forces, each of which infected a different member of the X-Men?
And it isn't just Tony's own ideas that go bad whenever he's around. During Civil War, he and Reed Richards teamed up to make an evil, murderous clone of Thor. And in this preview of next week's Shuri #5, even the titular Shuri is not immune to Stark's bad influence. Because as a small but growing black hole threatens to destroy Timbuktu, Shuri has the bright idea to… toss a particle accelerator into it?!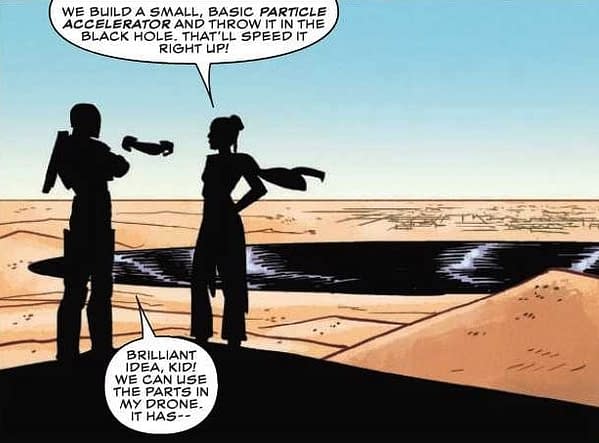 Look, we don't want to second-guess Shuri, but that sounds like a terrible idea to us! And look, if Tony Stark thinks it's a good idea, you can pretty much bet something terrible is going to happen as a result.
We'll find out when Shuri #5 hits stores on Wednesday.
Shuri #5
(W) Nnedi Okorafor (A) Leonardo Romero (CA) Sam Spratt
THE TWO BADDEST GAUNTLET-WIELDERS IN THE MARVEL UNIVERSE UNITE!
An alien creature has invaded Wakanda! And with her powers strangely malfunctioning and her brother still missing, Shuri is in over her head. Time to call for backup. Enter: Iron Man! But can these two tech geniuses figure out how to de-power an energy-sucking alien before it destroys the entire continent? Don't miss the end of the first arc – and a dramatic change for the princess of Wakanda!
Rated T
In Shops: Feb 20, 2019
SRP: $3.99