"I've Always Found The World Of Steampunk Interesting…" – Frank Barbiere On The Precinct
Frank Barbiere fires up a new series for Dynamite and this one fits into the Legenderry steampunk world created by Bill Willingham. Barbiere talks about working with Dynamite again and artist Crizam. Covers by Joe Benitez and Darick Robertson.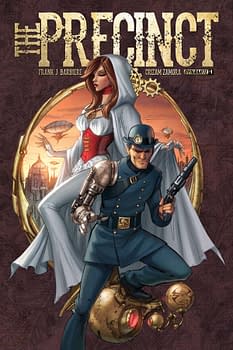 BYRON BREWER: So, Frank, how does it feel to be in the world of "steampunk"?
FRANK BARBIERE: I've always found the world of steampunk interesting, and it's been very fun to use it in The Precinct. I think it inspires a very different part of my brain than a lot of the usual stuff I write, so I enjoy finding inspiration in the aesthetic. The Precinct certainly has a very unique feel to it, rooted somewhere in fantasy/urban fiction, and I think the steampunk influence on it has really made it its own beast.
BB: Does this book take place in the rest of that world created by Bill Willingham and put out by Dynamite? If so, will we be seeing any of our other "steampunk" favorites?
FB: The story itself is pretty self-contained, but the setting—The Big City—is within the world of Legenderry established by Bill Willingham. I believe The Big City was the first location they visited in Legenderry, but here we've really fleshed out the story of the city itself and that of its local law enforcement, The Precinct.
BB: Tell us a little about what kind of story this is and how you came aboard.
FB: I've always had a great working relationship with Dynamite, and previously I worked on 12 issues of Solar: Man of the Atom. Nick asked me about some upcoming projects, and I mentioned I was interested in working on something a little more procedural with some fantasy, and we ended up with The Precinct. At its core, this is a police mystery, but within the genre of fantasy and within the world of steampunk, it becomes something more. I've drawn a lot of my influence from old videogames (particularly Final Fantasy) and many unexpected places, so what could've been something boring and drab has become new and exciting … at least in my opinion! BB: Who is Mort Hill? And tell us what you can about his enigmatic new partner.
FB: Mort is a long-time officer of The Precinct, and a very "no funny business" tough guy. He's got a sense of black humor, but he's dealt with crime and loss his whole life which makes him insular. He also solves most of his problems by punching things with a large, robot arm. His new partner is an acolyte from The Alchemy Academy, an establishment that believes power can be drawn from the elements, not just steam. The Academy's beliefs are almost religious, very archaic, and Mort is going to really butt heads with his new partner on both a belief and strategic level.
BB: How does it feel to be working with artist Crizam Zamora?
FB: Crizam has done amazing design work for this series, and it's really all the better for it. A book like this needs a lot of constant design and innovation, and Crizam really took the ball and ran with it. There's also a lot of great acting from the characters and expression which helps the book on an emotional level, something I'm very keen on as a writer. I'm very happy to have him collaborating and can't wait for readers to see the results of our hard work!
For more on The Precinct #1, click here.