It's not often you hear about a graphic novel that has a movie deal and a few big names attached to it prior to the book even coming out, but that is exactly what has happened to Jay Longino and his book Son of Shaolin. Over a year ago Deadline reported that actor Dwayne 'the Rock' Johnson and NFL center Ryan Kalil has signed on to produce the film and the project was still in the works. Fast forward a year and Son of Shaolin is going to be coming out from Top Cow and I got a chance to talk to Longino about the strange path of this project. DAN WICKLINE: Though the book has not come out yet, folks may have heard about Son of Shaolin over a year ago when Sony acquired the rights to the project for film with Dwayne 'the Rock' Johnson and Ryan Kalil of the Carolina Panthers on board to produce. How did you get everyone involved without having the book done? Where is the movie at in development?
JAY LONGINO: I take a lot of walks when I'm writing. Clear the head. Listen to music. Stretch the legs. One day back in 2014, I was out cruising my old neighborhood when I ran into Aroop Sanakkayala, who is Ryan's partner in Strange Turn Entertainment. We were just catching up casually when he asked me if I had any ideas that I thought might work as a comic or graphic
novel. My initial response was that most of my stuff was already set up with producers or at a studio. But then something clicked and I said 'Well, there is this one thing…'
From there I told him about a rough treatment I had about a street artist from New York who finds out that he's descended from an ancient line of Shaolin Elders. He asked me to send it to him and I did, but honestly, I didn't really think twice about it. That kind of stuff happens a lot in LA but never ends up leading anywhere. But a couple of days later he called me and told me that Ryan wanted to finance the project as an OGN. Ryan and I then met for lunch and really hit it off, despite me being a die-hard Atlanta Falcons fan. The funny thing about our first meeting was that all I wanted to talk about was football and all Ryan wanted to talk about was movies and comics.
Some time later, once we'd already started work on the book, I was out to dinner with Matt Milam, an old friend who now works at Sony. Wasn't trying to pitch him anything. But I had just gotten the first couple of inks from Caanan earlier that day and was a hundred percent freaking out over them. I pulled them up on my phone and showed them to Matt which then led to him asking me what the story was about. I gave him the quick version and, as a huge Shaw Brothers fan, he immediately started talking about wanting to do it at Sony, etc., but that he'd need some time to build support within the studio.
A month or so later, I circled back and sent him the first 20 pages of the book. Then I get a call from him asking if I'd be interested in The Rock and his production company Seven Bucks Productions coming on board the project as producers. I thought that I'd misheard him, but obviously once I realized he was being serious, I couldn't say yes fast enough. Turns out that
Hiram Garcia, who is now the president of Seven Bucks, was in Matt's office, saw the inks laying on his desk and immediately sparked to them. Not long after that call, Sony was making me an offer to write the script with the Seven Bucks team producing and Ryan and myself executive
producing. It's been great working with both Hiram and Matt to really finetune the story for the big screen. We're now on the hunt for a director who can bring it to life. Can't name any names just yet but we're aiming high and optimistic that we're going to land someone great.
DW: What has been the creative journey for this project? When did you first come up with the idea and how did we get to the point that it's now going to be coming out
from Top Cow?
JL: I've always believed that as a writer or creator, a single character can change your life. And while I was very grateful to be working on other people's projects, I wanted to create something that I owned and that was built around what I hoped would one day become an iconic character. I'd sit in a fair number of meetings on the film side where I'd hear the all
too familiar talk about projects with diverse characters not being as marketable, not playing well on the global stage, etc. And every time I heard that, it pissed me off and made me want to be a part of proving that wrong.
In 2012, I had pitched an idea to Jackie Chan and was then hired to script it. In preparation for that, I watched a ton of old kung fu movies and started researching martial arts. Then one night I was up late watching '8 Mile' on cable when I started wondering what that movie would look like as an origin story for a superhero. What if B-Rabbit or one of his friends knew kung fu? It sounded like a crazy question at the time but that's where some of the best ideas come from. All of those things, combined with a lifelong love of hip-hop, are what ultimately led to the creation of Kyrie and the Son of Shaolin universe (Yup! I said universe. Gotta dream big, right?).
As far as Top Cow's involvement, once Ryan and Aroop from Strange Turn were on board, they introduced me to John Nee, Shahriar Fouladi, and Matt Hoffman at a company called Cryptozoic who were tasked with mentoring me through the process of creating an OGN. I'd never written a comic or a graphic novel so I'm sure I drove them a bit crazy with all my questions but they were incredibly patient with me. Once the book was done, John Nee took it to Matt Hawkins at Top Cow and Matt agreed to publish it. Like the guys at Cryptozoic, Top Cow has had to put up with a lot of my questions but they've been great about it. A big thanks to everyone I've bothered over the last couple of months.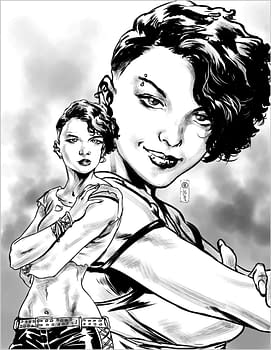 DW: Let's talk about the story itself. From what I've seen, there are five Shaolin bloodlines and now someone is trying to pull all of the power together for himself? What can you tell us about the history going into the story?
JL: Creating the mythology for the book was probably my favorite part of the writing process. There are seemingly hundreds of different accounts of the birth of martial arts and its many different forms so I took pieces of some of the histories I found on-line and then crafted my own mythology that would service the story in present day. I don't want to give too much away
but the basics are this: In the early 5th century, deep in the forests of China's Shaoshi mountain, the Five Forms of Shaolin kung fu were born. Tiger. Snake. Leopard. Dragon. Crane. Each of the five forms and the powers that came with them were specific to one of the Shaolin Temple's Five Elders so as to prevent any one Elder from possessing too much power and losing sight of the greater good. When an Elder eventually passed away, his power was then passed down through his bloodline from one generation to the next. When our story starts, a killer named Red Fist is hunting down descendants of each bloodline and killing them off in hopes
that doing so will give him the power of all five lines.
DW: Now, the hero of the story is Kyrie, who is oblivious to everything going on when the story starts. He seems like a good kid who hasn't gotten a lot of breaks in life. Who is he before he meets Master Fong and was he destined to be a hero or was he made one by the events?
JL: Like I said earlier, I've always wanted to create a truly iconic character and it's my hope that once the book comes out, and then, fingers crossed, the movie, Kyrie will have the kind of impact on people that a character like Luke Skywalker or Harry Potter or Katniss Everdeen had on me. I've always been a sucker for the 'regular person finds out that they're so much more'
kind of story. I mean, orphaned kid living under the stairs finds out that he's really a wizard? How freakin' cool is that, right? So yeah, Kyrie is a good kid when we first meet him who has been dealt a pretty bad hand in life. As far as he knows his mom died while giving birth to him after his dad skipped out on her. So like a lot of people, he's just going from one paycheck to the next, working at a sandwich shop while he tries to find his footing as an artist.
The second part of this question is really interesting to me because the answer is actually both. Kyrie was destined to be the Son of Shaolin because of who his father was but it's ultimately up to him to decide if he wants to be an actual hero. DW: Kyrie is from Harlem, and though it's popular to say, the city really does become a character in the book. How well do you know Harlem personally and what do you think it is about that city that makes it unique from other places in the world?
JL: I've spent some time there over the last couple of years but far less than you'd probably expect. The first love of my life wasn't books or movies. It was basketball. I played in college and then professionally for a season in Mexico and the now defunct USBL here in the States, and I was obsessed with both Rucker Park in Harlem and The Cage on West 4th. I would read
everything I could about those places and the culture, and I would daydream about a road trip to NY to play there one day. I'm from Atlanta and could have easily set the book there I suppose but there's just something about New York that feels so cinematic.
From the jump, music was going to play a huge part in the project, obviously the film more so than the comic, but hip-hop was a huge influence on the creation of both. I did most of the writing with either 'Enter the Wu-Tang (36 Chambers)', 'Illmatic', or 'Ready To Die' on repeat
in my office. There's also this new cat out of Hell's Kitchen named Marlon Craft who I like so much that I wrote him into the movie, although he doesn't even know that yet. New York just has that thing, you know? The subways. The alleys. The bodegas. The idea of juxtaposing the Eastern philosophies of kung fu against such a Western back drop was just really appealing to me.
As far as being more specific to Harlem, that came from a couple of different things. One, Kyrie is an artist so with the Graffiti Hall of Fame being in Harlem, it seemed like a good fit. Two, there's obviously been a lot of gentrification in Harlem and I thought it would be cool to use the
backstory of one of the characters in the book to explain what's been going on in the neighborhood as opposed to the typical theories on gentrification. Again, I don't want to give too much away now but hopefully that last sentence will make sense once someone has read the book.
DW: I really like the art on the book, it has a clean, classic style but also has that edge you associate with a street-level book set in New York. Who is your art team and how did you put it together?
JL: The art absolutely blew me away when I first saw it. And it still does. Caanan White is the illustrator and I will forever be indebted to him for the work he put in on this. Ryan was a fan of some of his earlier stuff and was the one who recommended him. I knew after one phone call that he was the guy as we just really clicked. And now we have this shorthand that makes the writing so much easier as he really knows what I like and what I don't like from a visual standpoint. I've actually started a small company called Size 13 Comics with my manager Bernie Cahill and we're already in production on three other projects with Caanan penciling and inking all three.
As far as colors, same thing with Diego Rodriguez in that he just blew me away with how much energy he brought to the inks. I was a little naive at first as to how much effect the colors could have on the emotion and mood of a page but Diego's work woke me up to that fact pretty quickly. Same with Simon Bowland who lettered the book. He just came in and nailed it on pretty much his first pass. There were a couple of instances where I'd look at a page and think there was no way to really make it flow and he'd prove me wrong every time.
I also got a lot of help from Louise Simonson and Shahriar Fouladi who edited the book. Certainly couldn't have done it without them.
DW: Okay, so let's end with you putting your marketing hat on. What is the two-sentence pitch that will get readers to pick up Son of Shaolin?
JL: I'm a little biased but I think the cover image of Kyrie does way more to sell the book than any two sentences. A guy with a Shaolin sword in one hand and a can of spray paint in the other?! I see that and I immediately want to know who he is and what his story is. But again, I'm a bit partial to those kinds of things so how about this — and I'm actually going to crib this from Aisha Tyler who wrote an absolutely incredible introduction for the book:
"In this story, and in others like it finally emerging, there rests an expanded universe that doesn't just represent our world more accurately, but the essence of the superhero saga more perfectly — that there is a hero in ALL of us, and that any of us could be a Jedi Knight, or a galactic law enforcer, or the very last descendant of an ancient Shaolin master."
If you look at what's happening on our Facebook page right now, we've gained over 20,000 followers in the last month since I posted the first image of Kyrie and I think that really speaks to Aisha's point. People are ready for all kinds of heroes. Not just the ones we've been getting for the last couple of decades. Enjoyed this article? Share it!