Joshua Luna, one half of the comic book creator duo The Luna Brothers with Jonathan Luna, took Image Comics to task on Twitter for what he claims is a double standard when it comes to publishing the work of POC creators. Luna, whose previous comics Ultra, Girls, and The Sword with Jonathan Luna, along with solo effort Whispers, were all published at Image, took to Twitter to reveal that Image had rejected the previously greenlit Americanizasian: A Filipino American Comic Creator's Awakening, with an Image partner comparing the book to a female political cartoonist's book and calling both "angry" and claiming they contained "no story for people to relate to." Luna says that Image burned all remaining copies of a previous bestselling book of his and ceased digital sales on ComiXology after negotiations broke down.
Luna goes on to compare Image's reaction to his comic with the company's defense of Howard Chaykin during controversy over Chaykin's depiction of transgender women and Pakistani men in Divided States of Hysteria, in which Image defended Chaykin for making marginalized groups uncomfortable. Luna is seeking a new publisher who is "POC-friendly & supports the book's message and tone." Luna says it's "hard not to believe Image's behavior is discriminatory in light of this "double standard." Luna is also seeking donations and support on Patreon to offset both the delay in publishing Americanizasian as well as the hardships that will be incurred because he has spoken out about his experience.
Update: This article originally contained a statement from Image Comics, which has been retracted at Image's request.
Read Luna's comments in full below.
Thread: For #APAHM I'd hoped to announce the release date of AMERICANIZASIAN, a book collecting my online comic strips about Filipino American & Asian American identity & experiences, but since my publisher @ImageComics doesn't seem comfortable publishing it, I need your help. 1/ pic.twitter.com/OWh8jyRbY4

— Joshua Luna (@Joshua_Luna) May 31, 2019
The Partner—a white man—said my work should be "more positive" & implied that my AsAm experience would be more relatable if it was like PEN15, a show that reminds his half-Japanese wife of her childhood (the protagonist is half-white, half-Japanese—I'm neither, I'm Filipino). 3/

— Joshua Luna (@Joshua_Luna) May 31, 2019
He begrudgingly greenlit the book—even though it was clear he didn't want to—and I submitted my cover a month later. I was immediately told it could not be used due to legal concerns over its parodying of trademarked characters. No suggestions were offered to make it usable. 5/

— Joshua Luna (@Joshua_Luna) May 31, 2019
They then said the interiors were a problem because my criticism of Marvel's anti-Asian narratives was "so negative" within the book's overall context. Our exchange got heated, as I said I felt they wanted to reject the book all along & were using a legal angle to justify it. 7/

— Joshua Luna (@Joshua_Luna) May 31, 2019
Concerned they were going to erase all my books, I tried again to work with them. I gave them a detailed list of all of my strips with potential legal risks & offered to modify them based on their recommendations, but they haven't been forthcoming with answers or guidance. 9/

— Joshua Luna (@Joshua_Luna) May 31, 2019
It's hard not to believe Image's behavior is discriminatory, esp. when there's a double standard. When Howard Chaykin's comic was criticized for being harmful towards trans women & Pakistani men, Image defended & celebrated him for making people "angry" & "uncomfortable." 11/ pic.twitter.com/dfLbLvM8Xt

— Joshua Luna (@Joshua_Luna) May 31, 2019
I was inspired to join Image years ago because two of its co-founders, Jim Lee & Whilce Portacio, are Asian. I wanted to pay that forward & use AMERICANIZASIAN to invite other creators of color to tell their story, but how can I invite anyone when my own story isn't wanted? 13/

— Joshua Luna (@Joshua_Luna) May 31, 2019
Speaking out about this is risky & terrifying, but silence would only add to the pain this has caused. So if you've enjoyed my comics, please pledge to my Patreon and/or donate via PayPal so that I can continue making them.https://t.co/vLd7IvUopS https://t.co/G1PALh1hYn 15/15

— Joshua Luna (@Joshua_Luna) May 31, 2019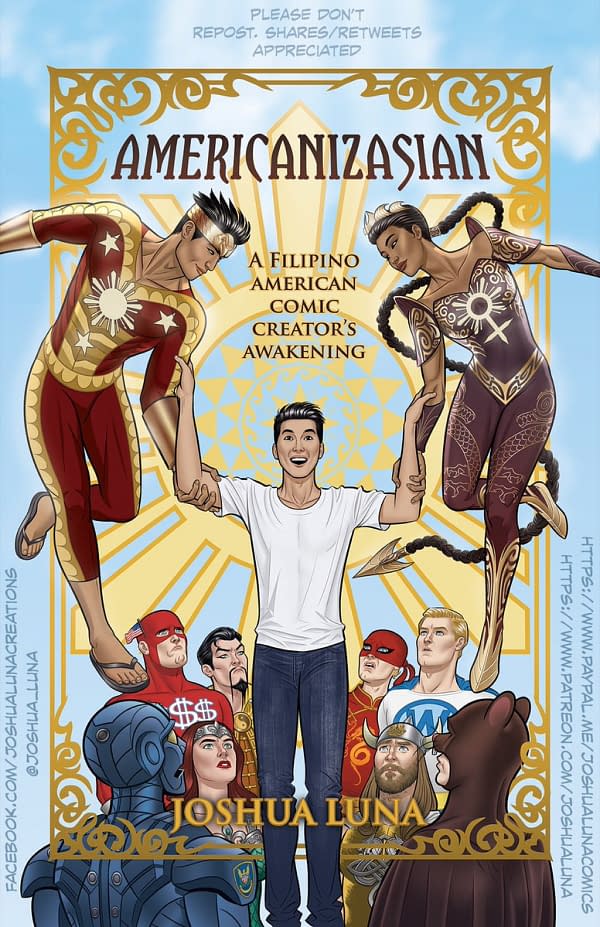 Enjoyed this article? Share it!