Justice League #1 Advance Review: Everything I Wanted from a Justice League Book
[rwp-review-recap id="0"]
The Justice League has been born anew. All heroes across the world work together now with the core team of Superman, Batman, Wonder Woman, Aquaman, Martian Manhunter, Cyborg, the Flash, and Hawkgirl working in the center of it all. Their base of operations is the Hall of Justice in Washington D.C. Martian Manhunter is the new chairman and keeps the team linked telepathically as they halt a sudden attack from Neanderthal-like creatures across the world.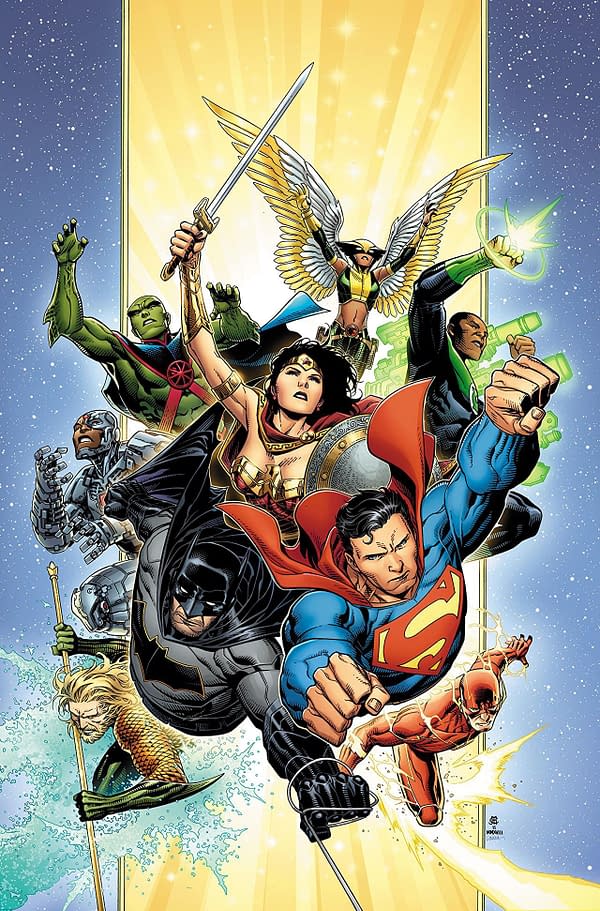 Justice League #1 by Scott Snyder, Jim Cheung, Mark Morales, and Tomeu Morey is everything I could have hoped it would be. This lineup — both the team and the creative team — already had me very excited. However, the execution even exceeded expectation.
It's a joyous party of DC's greatest heroes uniting as a true team. It's not begrudging. They joke with one another and have fun even as they try to save the world itself. One of my favorite moments is almost certainly the Flash and Wonder Woman trading Batman impressions.
There are some plot points that, like Metal and No Justice are hard to follow. There are some things involving the moon that could have used far more elaboration, especially given what they lead to.
It is a bit wordy in spots, but not oppressively so. Plus, a lot of the lengthy narration is used to characterize Martian Manhunter.
The comic takes a lot of notes from the old Superfriends cartoon as well as some of Paul Dini and Bruce Timm's Justice League cartoon from the early 2000's (my all-time personal favorite cartoon and what helped me get into superhero comics). As such, it may come off as over-endearing and even saccharine in parts to some. I would disagree with that claim, but I can see the accusation from people who wanted a darker Justice League comic. It's certainly dark in parts, but the heroes aren't joyless — that's important and was a flaw in Geoff Johns's New 52 Justice League run.
Jim Cheung's artwork is as gorgeous as ever, and he knows how to craft a panel with gravitas and that special thing that marks heroism. Mark Morales supports it with solid inking that makes the artwork tighter and more impactful. Tomeu Morey's color art contrasts well and creates a popping, eye-catching, and truly atmospheric comic book.
Justice League #1 is beautifully crafted new start for DC's premiere team. The characters have loads of personality, the plot is… wild but has some great moments, and the art is impeccable. This will likely end up being my top pick of the week. This comic earns a strong recommendation. Don't miss out on it tomorrow.
[rwp-review-ratings id="0"]
[rwp-review-form id="0"]