Justice League Dark #1 Review: Breaking Out the Gate with a Great Issue
[rwp-review-recap id="0"]
Zatanna is amid a magic show when one of her spells turns on her, unleashing something horrid in the theater. Wonder Woman arrives to give aid and extends an offer to Zatanna to join her in a team dedicated to fixing Earth's magic. Zatanna declines, and Diana goes to the Oblivion Bar. She finds a willing ally in Detective Chimp, and, elsewhere, Zatanna meets Constantine at a meeting of magic wielders looking to fix the magic in their own manner.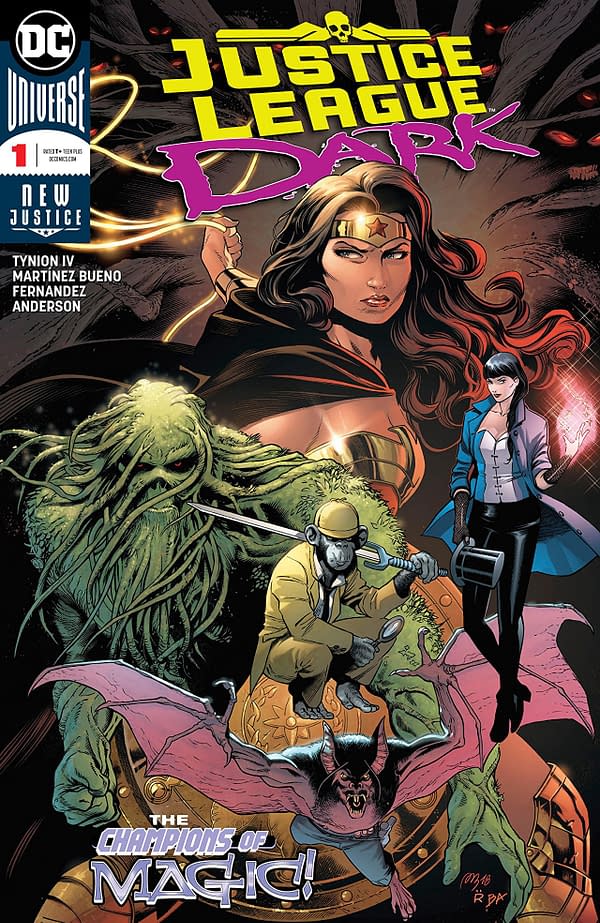 What is it with modern magic superhero comics having to "fix" or "restore" the magic?
Eh, whatever, I dug the hell out of this one.
It's the right mixture of self-aware and genuine to pull this odd premise. Wonder Woman isn't one you often see dealing with magic affairs, and Justice League Dark knows it. The characters know it. Zatanna, Constantine, and others are wary of Diana's attempts to get involved with this world. However, Diana also knows this isn't her wheelhouse, but she still just wants to help people and save lives.
The comic gets quite dark indeed in the back half, and you see the horrors Diana has already stumbled upon in this quest.
Also, Detective Chimp and Man-Bat are absolutely fantastic in this. Langstrom comes off oddly like Beast of the X-Men but with an even more damaged self-esteem. He's endearing as hell, like the Beast, and I approve of his presence in this comic.
Zatanna looks to be receiving a good representation in this comic too, and I look forward to wherever her story goes.
The one stumbling block is that this one is remarkably wordy. It earns it in parts, but there are some segments that are a bit of a slog because of the comic's presentation of text dumps.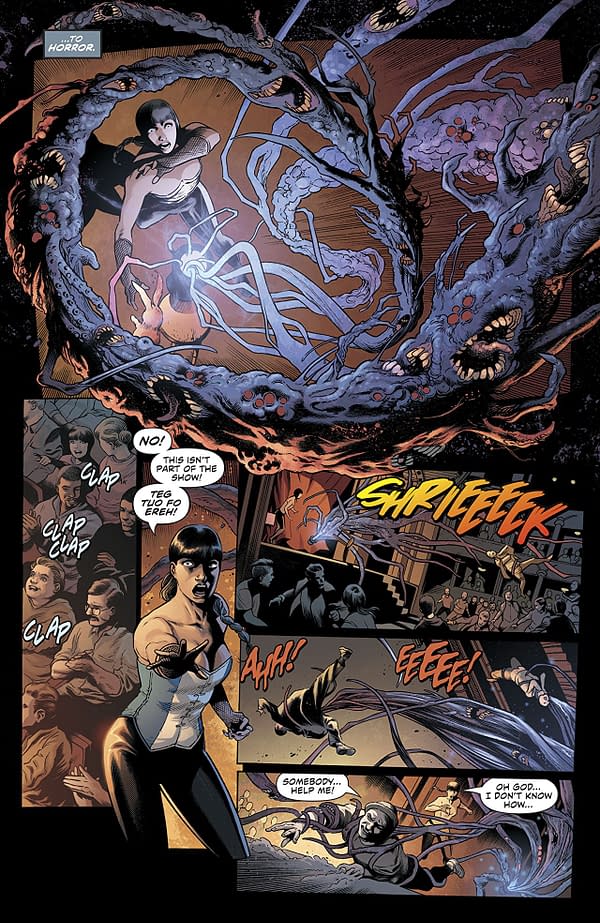 Alvaro Martinez Buneo's artwork is phenomenal, giving the right mixture of realism and stylism to make a book like this click. Each scene is detailed and sequenced elaborately (sometimes to a slight detriment in that latter category), but there is a slickness and distinct nature to the world to make it unique and beautiful. Brad Anderson backs Bueno up with a lively and gleaming color palette that balances the dark and the light well while preferring the former.
Justice League Dark #1 is off to a fantastic start, bringing its gonzo team together slowly while showing how and why this will be a strained fellowship. The characters are compelling, the plot is grisly to a beautiful degree, and the art is impeccable. This one earns a recommendation. Give it a read.
[rwp-review-ratings id="0"]
[rwp-review-form id="0"]