Kaijumax: Season 4 #1 Review – Return to the Monster Prison
[rwp-review-recap id="0"]
Zhang has been transferred to an all-women's jail with a whole new set of monsters and dangers to fear. She meets the new set of inmates, like Goat, the Lady, the Trihistoric Monster, and others. The warden seems kinder, but the guards are just as mean. Goat is itching for a fix. Zhang is afraid that the other inmates will learn she is human. It's all just another day at Kaijumax.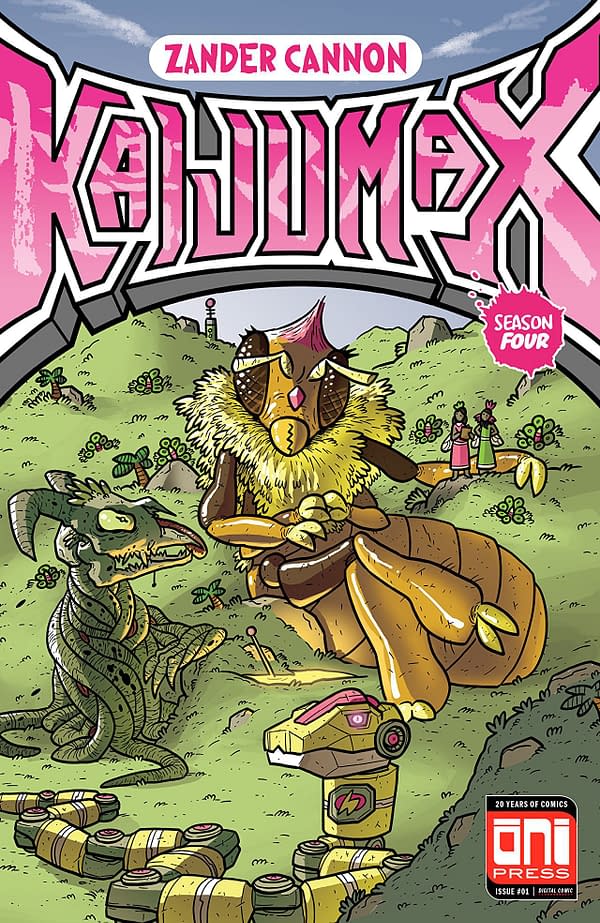 Kaijumax: Season 4 kicks off with this issue. This particular installment focuses primarily on Zhang and Goat.
Despite the bright colors, cartoonish art, and goofy premise, this comic is quite dower and sad. Zhang is a perpetual wreck living in fear of the other inmates and ashamed to show herself to the human guards. Goat has a sense of humor and a great design, but she's rejected by the other inmates and constantly itching for kaiju drugs.
Kaijumax: S4 #1 once again provides a genuine presentation of prison life and the struggles therein. Even the harsher inmates are at last somewhat sympathetic on some level.
If there's one significant flaw with the comic, it's how wordy it is. Admittedly, I can't think of a lot of the dialogue that could be cut, but this is a comic with a lot of text. It can be a bit overwhelming at times.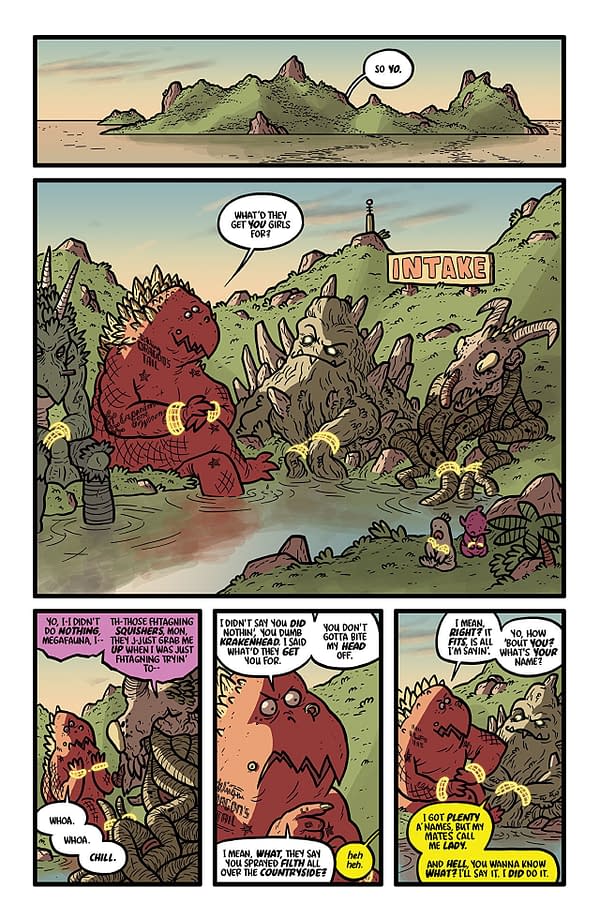 Zander Cannon's cartoonish art is once again welcome in this strangely wonderful comic. The monster designs are top notch, with some being based off beloved figures from myth and kaiju film and others being unique and new designs. The colors, with assists from Jason Fischer, are bright and abundant, and it keeps some level of levity in even the darker moments of the comic.
Kaijumax: Season 4 #1 is heavy comic in a lot of ways, with miserable and struggling protagonists just trying to survive this situation. It is engaging though, even despite the abundancy of text dumps. It's a good read and earns a recommendation. Feel free to check it out.
[rwp-review-ratings id="0"]
[rwp-review-form id="0"]