Kami Garcia and Gabriel Picolo's Teen Titans Get Hardcovers
Teen Titans: Raven by Kami Garcia and Gabriel Picolo was a smash hit original graphic novel for DC Comics last year. The best-selling of all the what-once-were Ink or Zoom OGNs intended for younger readers in bookstore and bookfair markets, it made the booksale charts, and burned through a number of printings. It was, to put it bluntly, a surprise for DC Comics. Its follow up, Teen Titans: Beast Boy, also by Kami Garcia and Gabriel Picolo, is planned for publication in September.
But for November 10th, DC is planning to put both books out in hardcover, slipcased together at more of a premium price point. Here's a visual, and the solicitation, but I presume that DC INK logo will be scrubbed off the eventual published comics. We know how much President Pam Lifford hates imprints. This is also part of a new drive by DC Comics to increase the amount of slipcased sets they sell, across the board – but especially for their younger audience-aimed titles.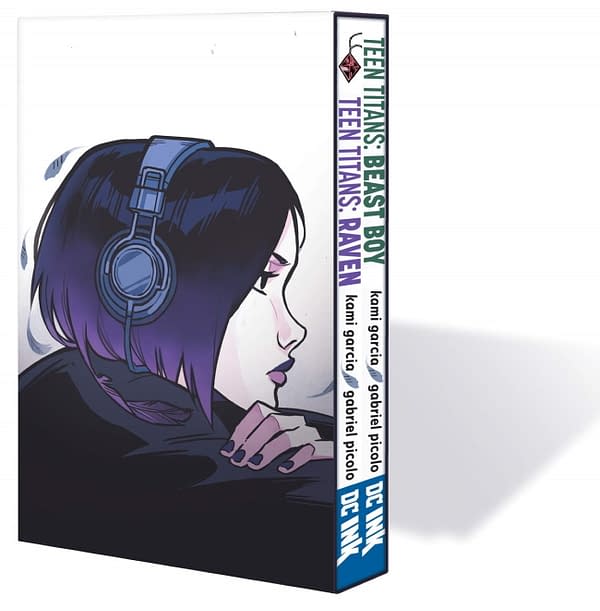 Raven Roth and Garfield Logan are two regular teens…with some seriously unique lives! Author Kami Garcia and artist Gabriel Picolo's New York Times bestselling book Teen Titans: Raven is collected with its followup Teen Titans: Beast Boy in this incredible HARDCOVER box set!

Raven and Beast Boy are an incredible team together on the Teen Titans! But who were they before they joined…and before they even met? Follow Raven Roth and Garfield Logan on their journeys through high school…and self-discovery.

Available for the first time in hardcover format, Teen Titans: Raven and Teen Titans: Beast Boy is the box set you don't want to miss! Raven brings readers a tale of finding the strength to face who you are and learning to trust others–and yourself. Beast Boy explores self-discovery and acceptance, with a focus on the value of true friendship.