Kevin Shinick – A Big New Name For DC Comics?
Kevin Shinick is an Emmy award winning writer as well as an actor, director and multiple Annie award-winning producer. Working alongside George Lucas, directing Stan Lee, collaborating with the rock band KISS and helping Mike Tyson solve a few mysteries, Shinick is perhaps best known for his work on the shows Robot Chicken and MAD, the animated series he created for Cartoon Network. He's also voiced characters on The Cleveland Show, MAD, Robot Chicken, Ugly Americans, Titan Maximum and The Looney Tunes Show. As an actor, he has performed in over a half a dozen Broadway shows, numerous TV and film projects and as the host of the Emmy award-winning series, Where In Time Is Carmen Sandiego?
As a writer for Marvel Comics, he wrote Superior Carnage, Superior Spider-Man Team-Up, Avenging Spider-Man and AXIS: Hobgoblin, and wrote and directed the first-ever feature-length stage adaptation of Spider-Man, which played to sold-out houses at Radio City Music Hall and toured the country long before U2's accident-prone Turn Off The Dark. He has written a couple of DC Comics, including Joker's Asylum, Batman 80 Page Giant, and the animated feature: Scooby-Doo and Kiss: Rock and Roll Mystery.
But no comics for a little while. Well, that may be about to change. Bleeding Cool has learned from well-connected sources that it is expected Kevin Shinick will be a major figure in upcoming DC Comics titles. Like Tim Sheridan and Ken Kristensen who we mentioned earlier, he is one of a number of new creators to DC Comics that Bleeding Cool is profiling, brought into DC by Dan DiDio in recent months. Possibly 5G/Generation Five titles, possibly Black Label titles, that kind of detail will come later. Kevin is part of DC's Big Change that we were talking about over the weekend, a move at DC Comics away from the usual comics writer talent base, to TV, film and animation writers, with the intention to bring in new energy – fans of the comics but people who who have pursued that interest in other directions, with other influences and voices.
One comic I hear he might be working in would involve Jason Todd… but that's up in the air right now.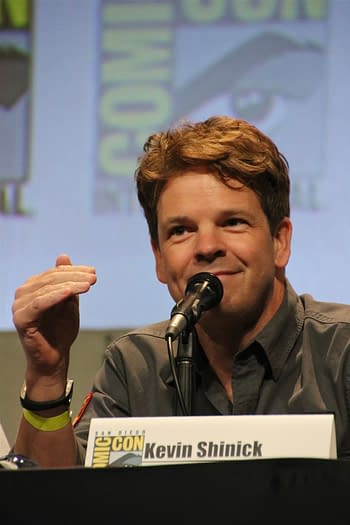 Keep up with what – and who – Bleeding Cool are reporting about DC's Big Change in the next few days, with this tag.