Ever wish you could get your hands on a copy of Amazing Fantasy #15? Well, bidding on one starts at one dollar over at Diamond International Galleries' comic book auction, happening all weekend at digauction.com. We're gonna go out on a limb and say that comic will likely end up being sold for a lot higher than $1, but there's quite a few other graded books up for grabs over there.
And Key Collector Comics, an app for your phone that helps you track valuable "key" issues — those are important issues, usually with the first appearance of a character or one of Jean Grey's various deaths or other milestones — is giving away $200 in credit to spend at the auction. A press release provides more details:
To enter for a chance to win the $200 credit, download the free app by searching Key Collector Comics in the Google Play or Apple App Store. The D.I.G. contest page is accessible from the main screen where one click will simultaneously enter the contest and link directly to the auction site. There is no purchase necessary to enter, no buyer premiums and no reserve prices in this auction.
And some more comics up for bid:
Fantastic Four No. 1 – 1st appearance of the Fantastic Four (1962) CGC Grade: 4.5
X-Men No. 1 – 1st appearance of The X-Men and Magneto (1963) CGC Grade: 4.5
Detective Comics No. 359 – 1st appearance of Batgirl (1967) CGC Grade: 7.0
Incredible Hulk No. 181 – 1st full appearance of Wolverine (1974) CGC Grade: 6.5
The Amazing Spider-Man No. 300 – 1st full appearance of Venom (1988) CGC Grade: 9.8
Download the app on Google Play or Apple App Store to enter the contest. And occasionally, you might end up with a scoop on some superhero movie news as a side benefit.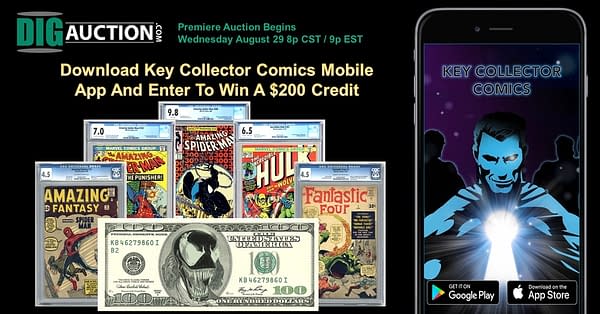 Enjoyed this article? Share it!