Kim Thompson was an American comic book editor, translator, and publisher, best known as vice president and co-publisher of Seattle-based Fantagraphics Books. Along with co-publisher Gary Groth, Thompson used his position at Fantagraphics to further the cause of alternative comics as well as bringing the work of European cartoonists to American readers. He died in 2013 and is much missed. But now it seems people will be offered the change to take a little part of him into their homes. That is if you can get to the estate sale by Hannah's Attic, 1759 NE 130th Pl, Seattle, WA 98125 before it closes at 3pm, local time. Because it appears that, the subject of a house clearing, the contents of his home are being sold this weekend, collections being split up, with no phone or internet sales, you have to be there in person and you have to bring cash. As a result, it is very likely that there will be some extreme bargains as the original artwork is being sold by people who don't specialise in such things. It does seem a great shame that his belongings are being sold in this fashion, but this is often the way.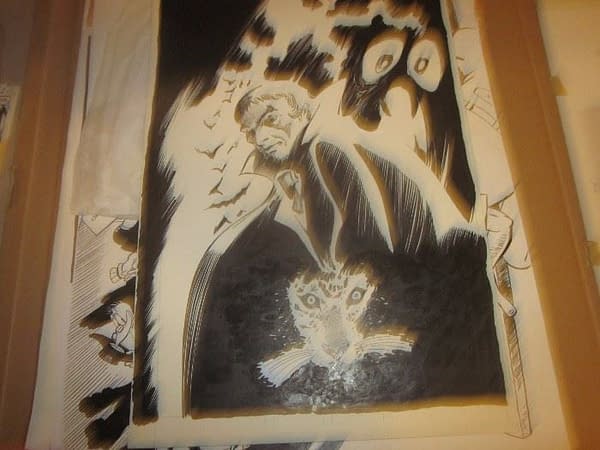 The organisers describe the sale thus:
2 floors of one of the most unique and interesting homes we have done. Over 40 years of living in this house. Homeowners had a comic publishing business, Fantagraphics. (They were the hipsters before that was a word!) Tons of comics and collectibles from this business plus rooms full of books, record albums (60's through 80's rock). Art by Jim Woodring, Peter Bagge and more. Heywood Wakefield MC desk, Danish Modern furniture, jewelry and so much more!! This is one of the most interesting and unusual sales we have done. Here are some of the highlights: Comic Book Art which includes some of the following: Chuck Jones, Billy Hazelnut, Ernie Colon, Dougan, Fingerman, Sam Henderson, Rich Tomaso, Mary Fleener, Freddie Milton, Frank Thorne, Gene Colan, Kim Deitch and more. Graphic Novels. Tons of comics here are some that are featured: Weirdo, Love & Rockets, Prime Cuts, Zap, Eddie Campbell, Neat Stuff, Graphic Story, Reid Fleming, Lloyd Llewelyn, Zippy, Crumb Family, Comic Journal. There are boxes of these. Collectibles. Rock posters. 2 super rare Jim Woodring giant Pushpaw vinyl dolls. Jim Woodring toys. Tim Biskup toys. Gary Baseman toys. Comic book collectible toys. Subpop collectibles including old videos. Comic Con collectibles.
Huge selection of books including books on Rock, Film, various artists and unusual reads. Vintage doll collection including Shirley Temple. Jewelry including some sterling, vintage Seafair pins and more.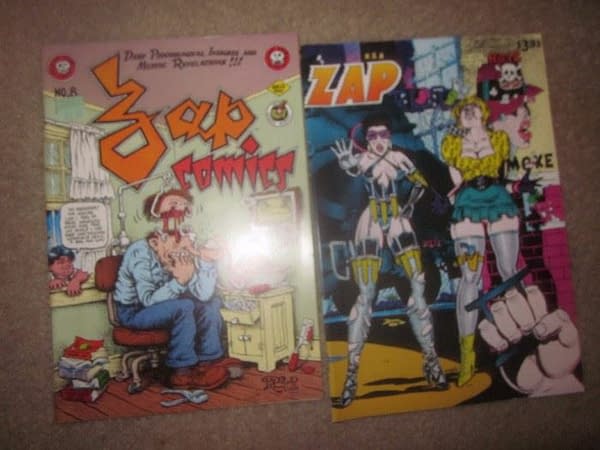 Not your typical records. Tons of rock and punk LPs. Obscure collection, many rarities. Tons of DVDs. Unique genres. Cassettes. Comic book collectibles.

Danish modern shelving. Danish modern dining/kitchen table. Framed art. Heywood Wakefield desk. Some ladies clothing. Size large, extra large. Purses, hats, scarves and shoes (size 9). Camping supplies.

Yard tools including newer mower. Very rare comic art at this sale. This is a not to miss sale!!!!!!!!!!!!!! So much more. Security on site as well as alarmed house with cameras. See you soon!!!! ***Do not drive down driveway. There is plenty of street parking. What a unique sale!!
And yes, that is a signed photo of Tom Jones. A signed copy of Lou Reed's Berlin. And a Gene Colan Dracula original and, and, and…
Will you get there in time?
Enjoyed this article? Share it!