So who is Kindred? Still up in the air. Money says it's something or someone to do with One More Day and the choice Peter Parker made to sacrifice his marriage in return for Aunt May's life – but that also brought Harry Osborn back from the dead. And that this is somehow the pre-OMD version of Harry Osborn that has fought through Hell and has quite a fascination and knowledge of Peter Parker, Spider-Man and associated hangers-on.
In this week's Amazing Spider-Man #37 we hoped we might learn more. As Kindred monologued about Peter Parker's big lie that he can't even remember himself. Which might be regarding his marriage to Mary Jane…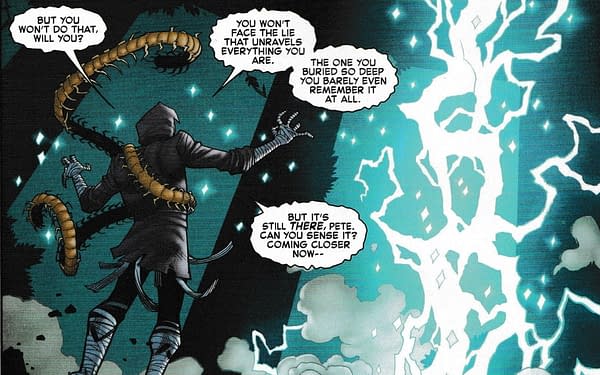 …given form like this.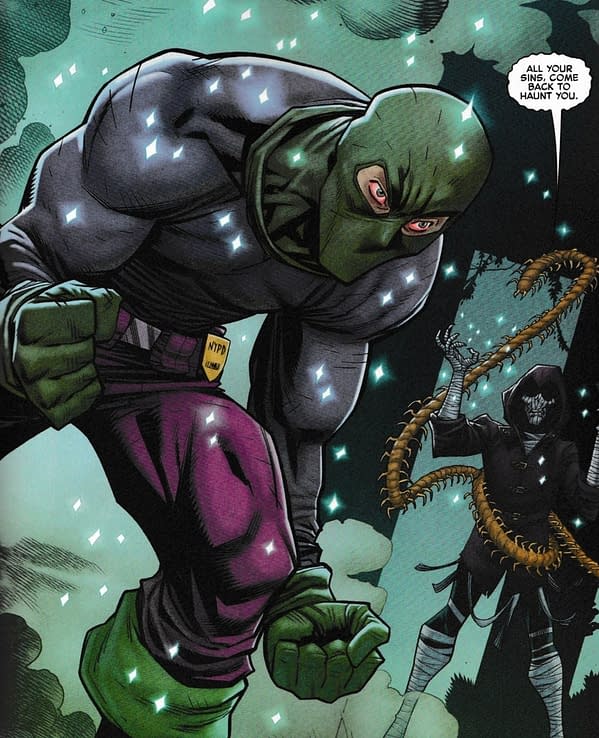 That's The Sin Eater. The original one as well, complete with his NYPD badge. Stanley Carter was an agent of S.H.I.E.L.D. injected with experimental drugs to increase strength and endurance. He became violent and resigned from S.H.I.E.L.D., eventually becoming a detective with the New York City Police Department. After his partner was killed by several young criminals, he became obsessed with killing anyone who "sinned" by abusing authority. As the Sin-Eater, his first victim was Captain Jean DeWolff but he was also the detective assigned to find the killer. When Spider-Man discovered that an upcoming victim of his was to be Betty Brant, he beat the Sin-Eater nearly to death. After Carter is released, he begins writing a memoir of his career as the Sin-Eater. However, he has trouble readjusting to society, taking an empty shotgun and goading police officers into opening fire on him.
Could he have returned from hell at the hands of Kindred? And what does this mean for who Kindred might be? We had been looking to the noughties for clues but this is straight from the eighties.
Amazing Spider-Man #37 is published this week… I bought mine from Piranha Comics in Kingston-Upon-Thames. Piranha Comics is a small south London comic store chain with a small south-east store in Kingston-Upon Thames's market centre, which runs Magic The Gathering nights on Fridays, and a larger south-west store in Bromley, which also runs Magic nights and has an extensive back issue collection and online store. If you are in the neighbourhood, check them out.

AMAZING SPIDER-MAN #37
(W) Nick Spencer (A/CA) Ryan Ottley
• There are too many problems in New York City and Spidey can't be in four places at once– unless he CAN?!
• Peter's life is as complicated as ever but can science be the answer?
• It's a new year and the buildup to "Last Remains" and much more starts here!
Rated T In Shops: Jan 08, 2020
SRP: $3.99
Enjoyed this article? Share it!