One year ago, with the War of the Realms yet to begin, Jason Aaron said that the Thor #1 launched in 2018, his sixth Thor #1 since beginning his epic run on the character, would be his last. Well, it looks like Aaron had one last Thor #1 inside of him after all, as he and Esad Ribic will launch a new four-issue mini-series in September called King Thor. The comic, revealed EX-X-XCLUSIVELY on CBR, will feature the conclusion of the entire Thor Saga… plus it will let Marvel get one last #1 issue sales boost out of Aaron before presumably relaunching again with a new creative team after that.
Of course, there's also the regular Thor comic, with Thor #16 in April said to "kick off" Aaron's final Thor story. There's a twist though: the current-day Thor will be missing after the end of War of the Realms. Will that book continue alongside King Thor, or will it be replaced? And what of Young Thor, who appears alongside Old Man Thor and Regular Thor on the cover to War of the Realms #6? And based on the ending of War of the Realms #5… there will be other Thors as well.
King Thor will also come with an Immortal variant, as revealed earlier today.
Check out the solicit and covers below.
KING THOR #1 (OF 4)
JASON AARON (W) • ESAD RIBIC (A/C)
SUPERSTARS JASON AARON & ESAD RIBIC CONCLUDE THEIR EPIC THOR STORY!
The creators of the legendary THOR: GOD OF THUNDER series that kicked off one of the most epic runs in Marvel history are back together for one last ride with the almighty Lord of Asgard! Seven years ago, Jason and Esad introduced the Thor of the far future, All-Father of a broken realm and a dying universe, as he stood in battle against the Butcher of Gods, wielder of All-Black the Necrosword. Now that nefarious blade has returned, in the hands of Thor's all-time greatest enemy – his brother, Loki – for one final, cataclysmic showdown. Behold the book no comics fan should miss – the celebration of the end of a truly Marvelous era.
32 PGS./RATED T+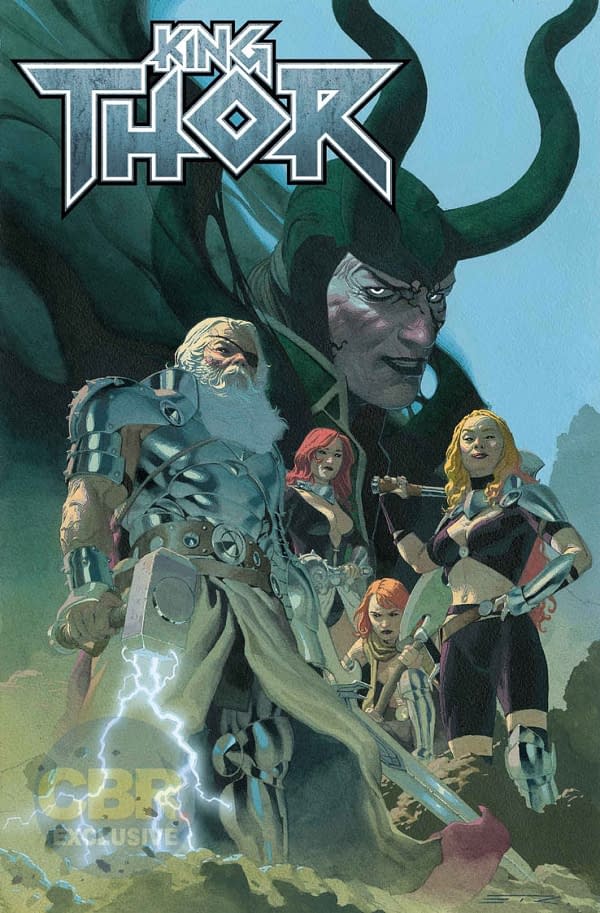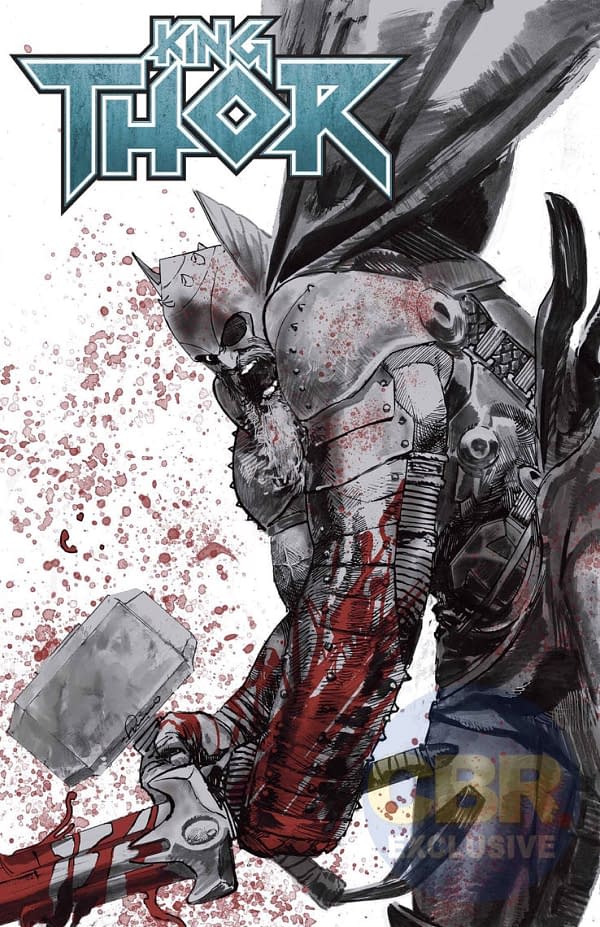 Enjoyed this article? Share it!