Explosive publisher BOOM! Studios has announced a new Lumberjanes original graphic novel by Lilah Sturges and polterink, the creative team of the previous OGN, Lumberjanes: The Infernal Compass. The new book, called Lumberjanes: The Shape of Friendship, is set for release in November 2019.
The Lumberjanes are at it again, making trouble and making friends, all at the same time. This time their adventurous rambles take them deep into the woods, to the hiding place of a group of magical creatures known as Pookas. The 'Janes are delighted to meet these magical beings and make new friends. But what they don't know is that these isolated magical creatures are actually master shapeshifters and just itching for the chance to see what human life is all about. Everything quickly goes awry as the Pookas decide to try life in the 'Janes shoes and end up turning Miss Qiunzella Thiskwin Penniquiqul Thistle Crumpet's Camp for Hardcore Lady-Types upside down. Mal, Ripley, Molly, April & Jo will have to work together, using the power of friendship, in order to reclaim their lives and teach the Pookas that sometimes your best self is your true self.
Said Sturges in the press release:
Writing the Lumberjanes has been the most fun I've ever had writing comics, and I'm really excited for The Shape of Friendship! It's such a fun, sweet story with lots of action and laughs, but also lots of feelings, too. In this book, we get to focus on April and Jo's friendship, and I'm especially excited to write about those two; Jo is such an important character to me and I really want to do her justice!
And poltertink
I'm super excited to return to the Lumberjanes universe with this great story! It's got more friendship, more shenanigans and more magical creatures, pretty much everything awesome you've come to expect from the series!
BOOM! Executive Editor Jeanine Schaefer, who is working overtime today by providing press release quotes for no less than three separate press releases, remarked on the power of Friendship:
Friendship has always been the most important element of the Lumberjanes' stories. No matter what kind of magical, supernatural, or spooky situation they get themselves into, their enduring and heartwarming relationships are what save the day. Lilah and polterink do an incredible job of showing fans, young and old, that a hardcore lady-type friendship is all about finding the people with whom you can be your truest self.
Check out the cover below, and look for Lumberjanes: The Shape of Friendship in stores next November.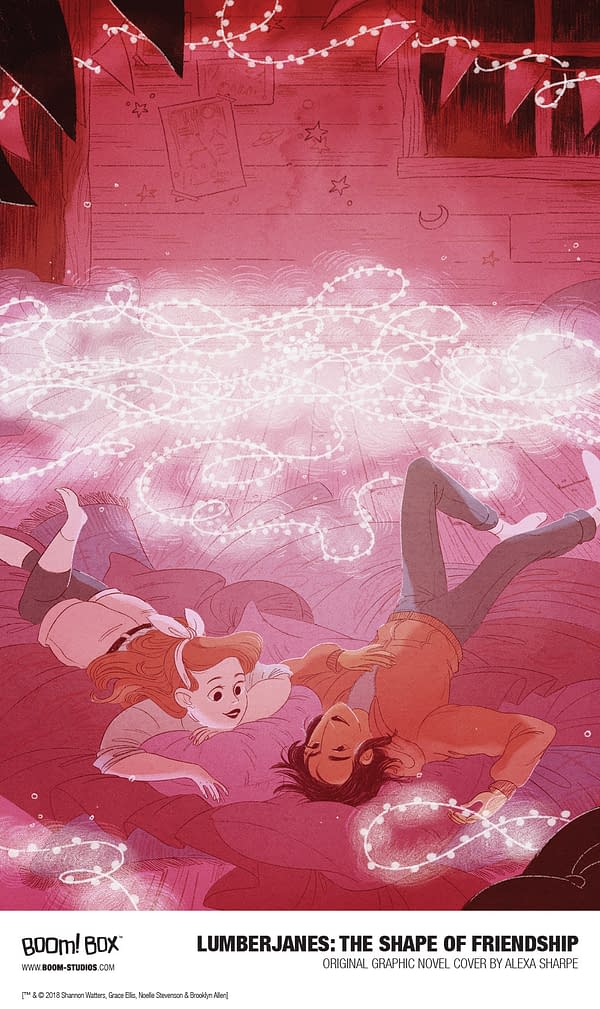 Enjoyed this article? Share it!