Graphic novels Algeria is Beautiful Like America, a comic about discovering one's ancestry, and This is a Taco, which will help you tell the difference between a squirrel and a taco, are coming out courtesy of Lion Forge this April. Plus, new issues of their Catalyst Prime family of comics are being offered. Details below.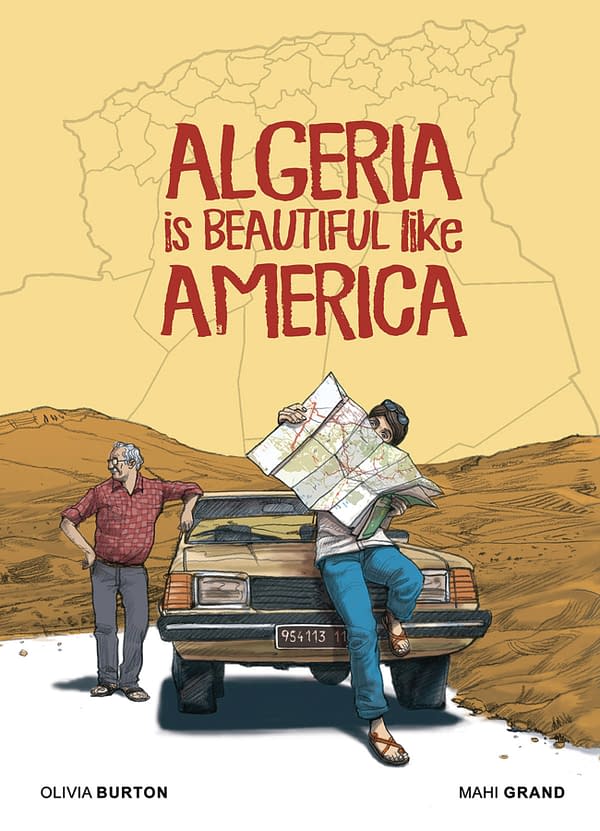 ALGERIA IS BEAUTIFUL LIKE AMERICA HC
LION FORGE
FEB181642
(W) Olivia Burton (A/CA) Mahi Grand
Olivia had always heard stories about Algeria from her maternal grandmother, who had emigrated to France after the Algerian War of Independence. Years after her grandmother's death, Olivia decides to travel to Algeria and experience the country for herself; she arrives alone, with only a single phone number in her pocket of an Algerian, Djaffar, who will act as her guide. Olivia's quest to understand her origins will bring her to face questions about heritage, history, shame, friendship, nostalgia, and memory.
* A combination travelogue and memoir exploring the rich heritage and tumultuous modern history of Algeria and its connections to Europe and colonialism.
* An appealing story about a strong, modern woman and her desire to understand her family's origins, set within the urgent politics of the Middle East and the West.
In Shops: Apr 11, 2018
SRP: $24.99
VOLTRON LEGENDARY DEFENDER VOL 3 #2
LION FORGE
FEB181643
(W) Mitch Iverson (A) Rubine, Beni Lobel (CA) Missy Pena
The second phase of the mission to infiltrate the Galra's SPRAWL is underway, and this time the team must figure out a way past the impenetrable shield that protects the planets. Luckily, Hunk and his engineering know how are on the case! But to create a device to break through the barrier, Hunk needs to get his hands on the ore of a neuron star, and just a tablespoon of that can weigh ten million tons. And the closest neuron star is surrounded by giant star eating birds and a gravity pull that not even Voltron can withstand.
In Shops: Apr 04, 2018
SRP: $3.99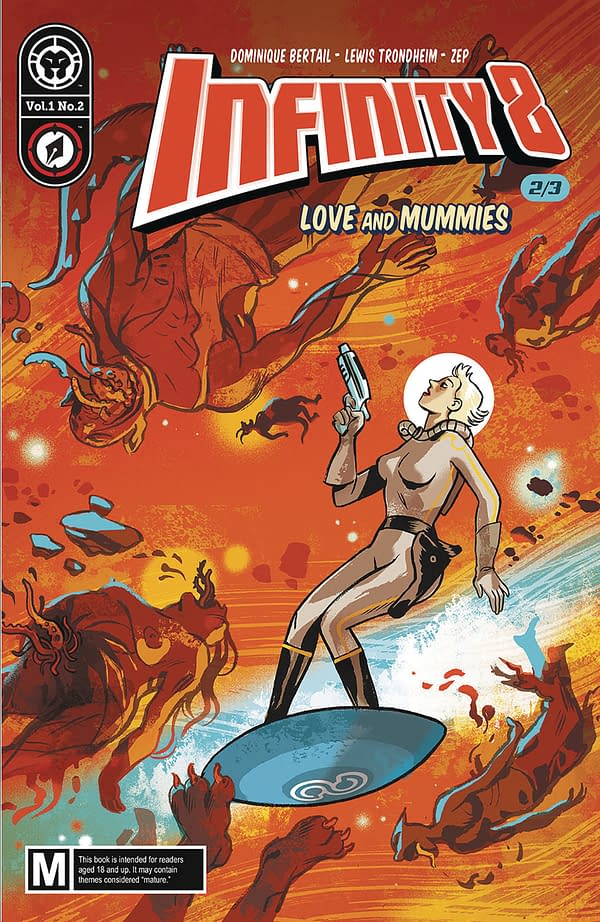 INFINITY 8 #2
MAGNETIC COLLECTION
FEB181644
(W) Lewis Trondheim, Zep (A/CA) Dominique Bertail
Agent Karen Yoko is trapped in space outside the Infinity 8 interstellar cruise ship, which itself is trapped in a massive debris field full of alien corpses-a graveyard in space! All of the ship's airlocks are sealed shut by a mob of rogue Kornalians who've gone into a drunken craze after feasting on the space mummies and have now turned their guns on the ships reactor core… dead passengers mean more corpses to eat! Can Agent Yoko stop them before its too late?
* Part Two of the three part first arc in the series, "LOVE AND MUMMIES," introducing the world and kicking off the epic mystery.
* An tongue in cheek sci fi series of parallel adventures by the legendary Lewis Trondheim and Olivier Vatine and some of the most popular creators in France, including Fabian Vehlmann, Olivier Balez, Kris, Martin Trystram, Lorenzo De Felici, Biancarelli, Boulet, and Killoffer.
* In the wild, imaginative tradition of the original Heavy Metal, but geared for a whole new generation of comic fans.
In Shops: Apr 18, 2018
SRP: $3.99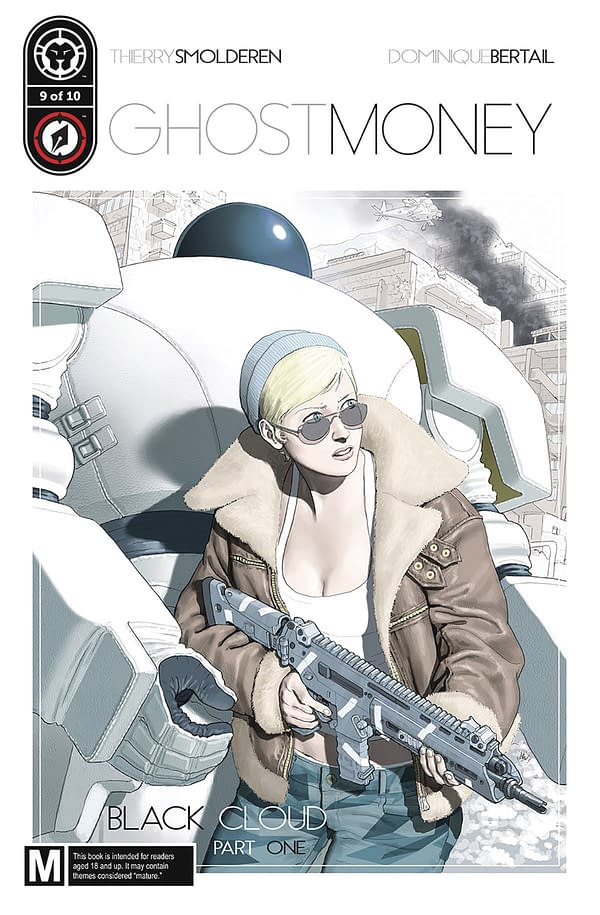 GHOST MONEY #9 (OF 10)
MAGNETIC COLLECTION
FEB181645
(W) Thierry Smolderen (A/CA) Dominique Bertail
Chamza has escaped into the arms of a mysterious group who will finally reveal her fate, while Lindsey armors up to find her missing friend. International agendas unfold in an ugly blossom of Capitalism 2.0, crashing together in the lawless no man's land known as The Enclave, where nothing is off limits…
* This first half of the final chapter in the exciting neo geo political thriller answers many questions while introducing many more, all of which will lead to a New World Order.
* A taut, politically relevant thriller in today's global political climate, with social and technological elements torn from today's headlines.
* MR ROBOT meets HOMELAND by way of BLACK MIRROR.
* Written by noted French author and comic historian Thierry Smolderen ("GYPSY", "MCCAY").
* Illustrated by noted comic artist and cinematic storyboard artist Dominique Bertail
In Shops: Apr 11, 2018
SRP: $3.99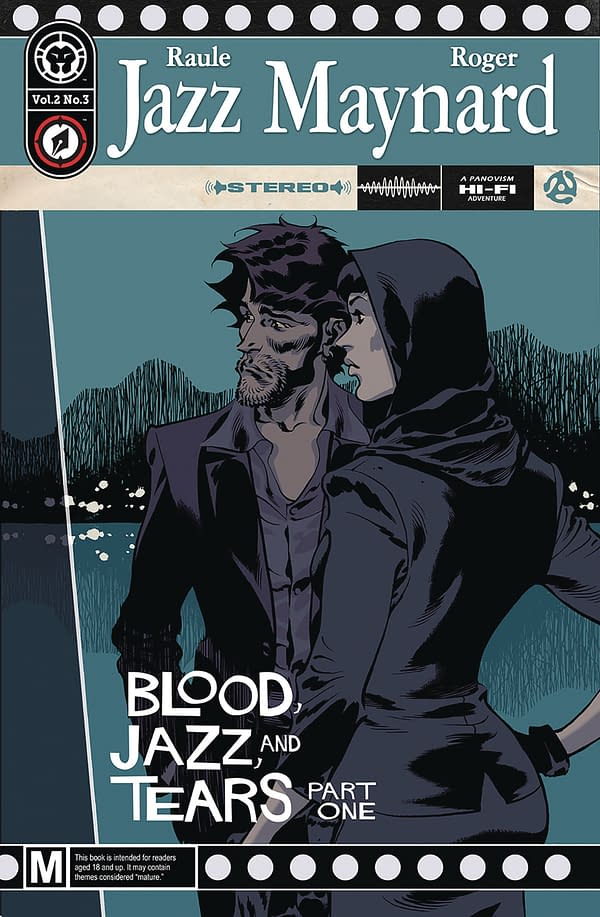 JAZZ MAYNARD VOL 2 #3
MAGNETIC COLLECTION
FEB181646
(W) Raule (A/CA) Roger
Jazz and Teo head to Iceland in search of the "Golden Eye," a priceless Eastern relic sought after by collectors worldwide. As Teo adjusts to the climate and culture shock, Jazz runs across an old name from his past, one that takes him back to unspoken early days as a master thief in the rough in need of training . . .
In Shops: Apr 04, 2018
SRP: $3.99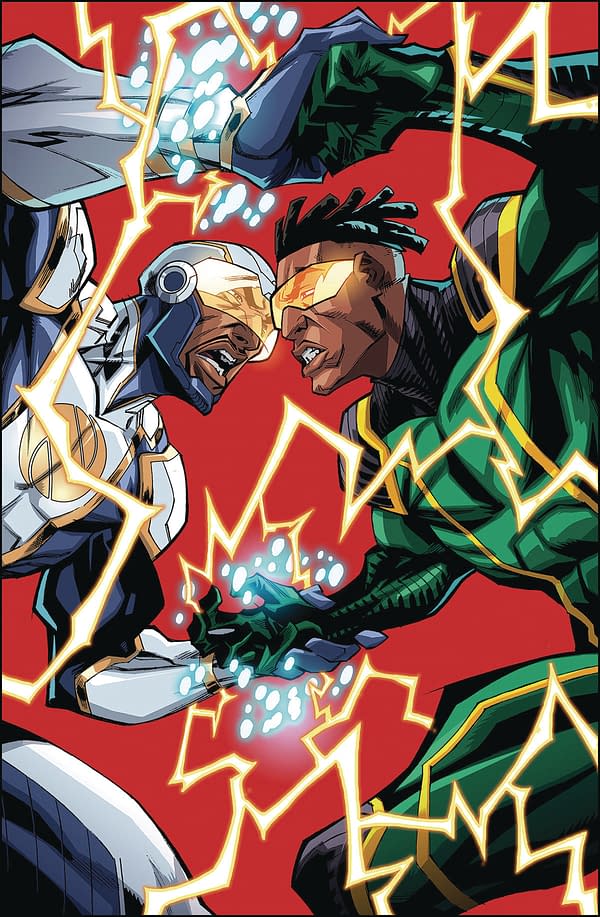 NOBLE TP VOL 02 NEVER EVENTS
LION FORGE
FEB181647
(W) Brandon Thomas (A) Roger Robinson, Jamal Igle, Will Rosado, Robin Riggs, Juan Fernandez (CA) Khary Randolph
After months of hiding in South America and running from the ever watchful eye of the Foresight Corporation, David has begun to fill in the gaps to his missing memories.  Meanwhile, Astrid continues her mission to bring David back home no matter the emotional or physical cost. With aid from an unlikely ally in Lorena Payan, the two combine forces to bring David back while fighting off Doctor DeMarcus Mayes's newly formed group of enhanced humans. The second arc of Catalyst Prime's Noble series, with art by series regular Roger Robinson and Jamal Igle (Supergirl, Black), is collected in this action packed second volume!
In Shops: Apr 04, 2018
SRP: $14.99
CATALYST PRIME NOBLE #10
LION FORGE
FEB181648
(W) Brandon Thomas (A) Juan Fernandez (A/CA) Roger Robinson
David Powell has regained all his missing memories and reunited with his wife, Astrid, and their young son Elijah. With the family back together, a new journey starts for David as he embarks on fully embracing his "Noble" persona. Think being a superhero is hard? Try being Noble.
In Shops: Apr 04, 2018
SRP: $3.99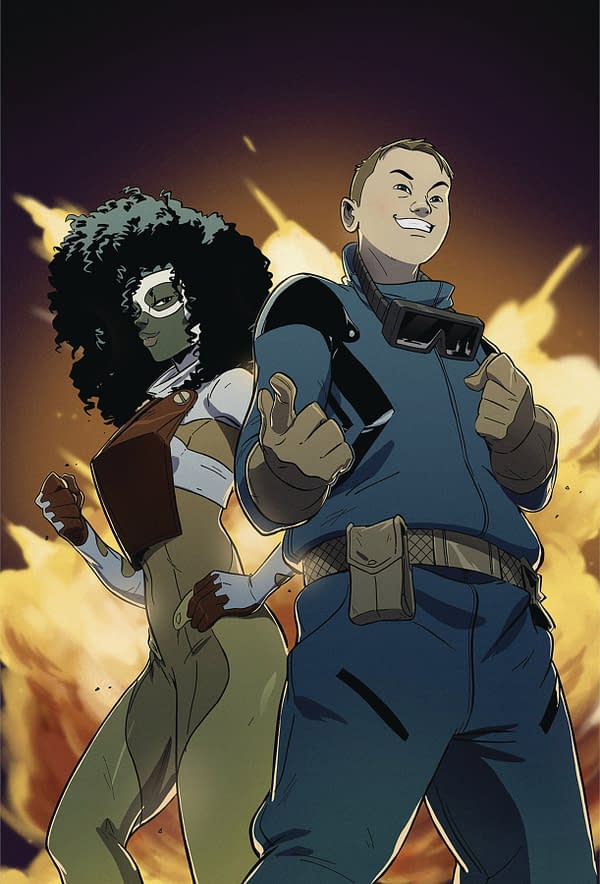 CATALYST PRIME SUPERB #9
LION FORGE
FEB181649
(W) David Walker, Sheena C. Howard (A) Alitha Martinez (A/CA) Veronica Gandini
Everything Kayla Tate and Jonah Watkins have been working toward has come down to this moment. They've taken the hits, now they're ready to hit back with full force. Foresight is about to learn not to get between two teenagers and what they desire the most. Especially when those two teens have superpowers.
In Shops: Apr 18, 2018
SRP: $3.99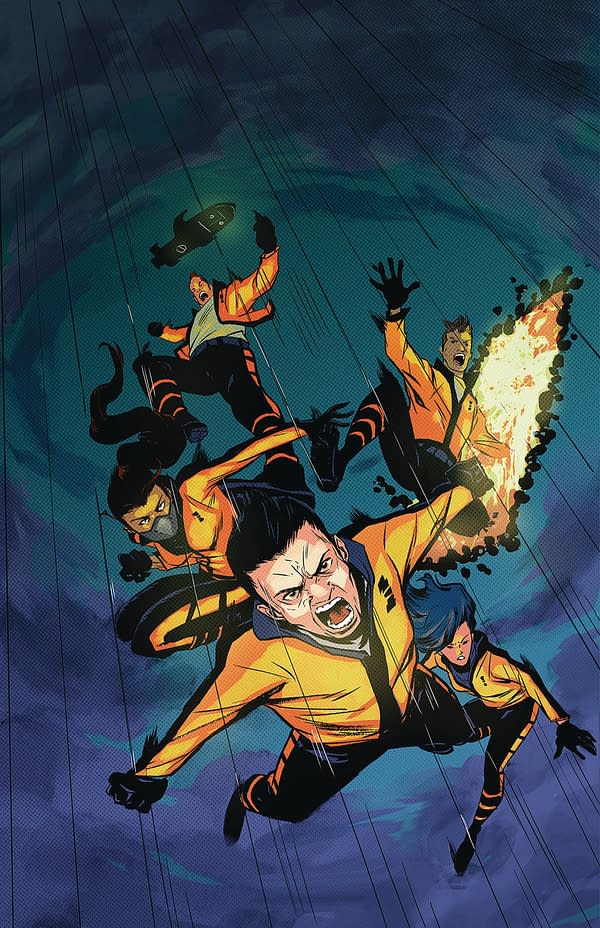 CATALYST PRIME INCIDENTALS #8
LION FORGE
FEB181650
(W) Joe Casey (A) Will Rosado, Snakebite Cortez (CA) Sanford Greene
The Incidentals are fractured, perhaps beyond repair. No time for that, though; a new meteor enhanced individual has shown up on the radar, and they're about to go straight nuclear. The Incidentals team has to put aside their personal feelings to deal with a new threat on the block, but can they?
In Shops: Apr 25, 2018
SRP: $3.99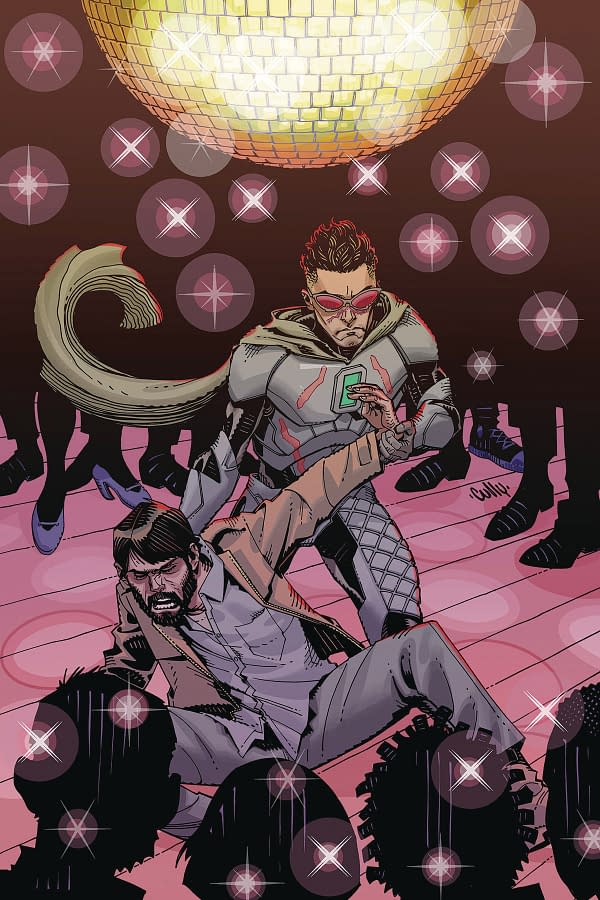 CATALYST PRIME ASTONISHER #6
LION FORGE
FEB181651
(W) Alex De Campi (A) Pop Mhan, Jessica Kholinne (CA) Cully Hammer
After Magnus escapes the mental facility with the help of Sasha and Adila, the three take refuge with FBI agent Charles Cleaver. A big mistake on Magnus's part leads to a chase around the city at the hands of Drew, Magnus's own brother, who wants to recapture Magnus and the knowledge inside his mind.
In Shops: Apr 11, 2018
SRP: $3.99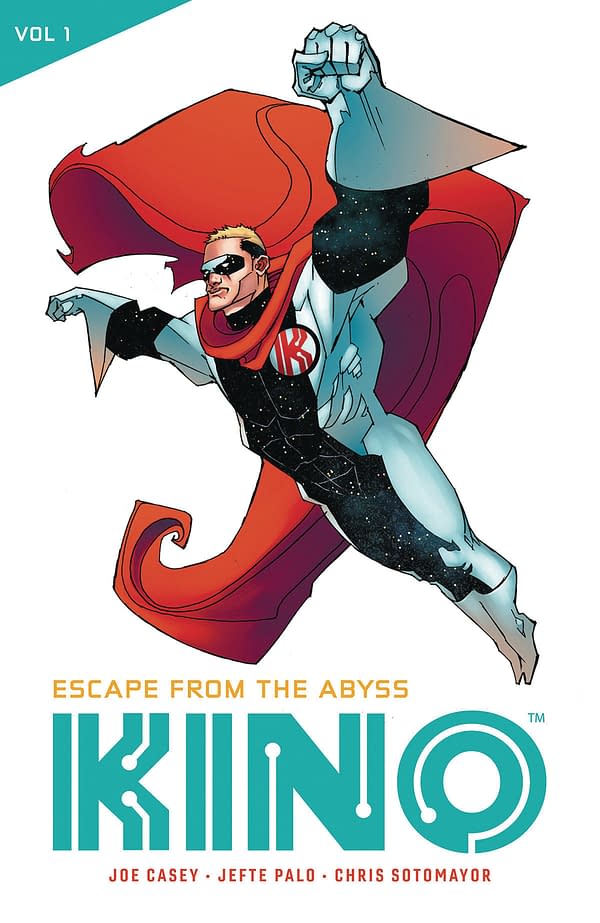 KINO TP VOL 01 ESCAPE FROM THE ABYSS
LION FORGE
FEB181652
(W) Joe Casey (A/CA) Jefte Palo
Major Alistair Meath of the British Royal Air Force valiantly sacrificed his life to save Earth from an asteroid, which become known as "The Event." Unfortunately, instead of a hero's send off in his homeland, Alistair unknowingly finds himself living a new life in the colorfully kinetic world created by one Aturo Assante, a secretive scientist seeking to test the limits of KINO's powers. Collecting the first arc of KINO with art by Jefte Palo (Thunderbolts, Civil War II: Ulysses).
In Shops: Apr 25, 2018
SRP: $14.99
CATALYST PRIME KINO #5
LION FORGE
FEB181653
(A) Alex De Campi, ChrisCross, Jessica Kholinne (CA) Dean Haspiel
Alistair Meath, a.k.a. KINO, is brain dead. Or at least that's what Aturo's computers say. Inside Meath's mind is a swirling of horrific mind bending layers all fighting to make sense. Is Meath one step closer to escaping his virtual prison? Or just digging himself deeper into the madness?
In Shops: Apr 25, 2018
SRP: $3.99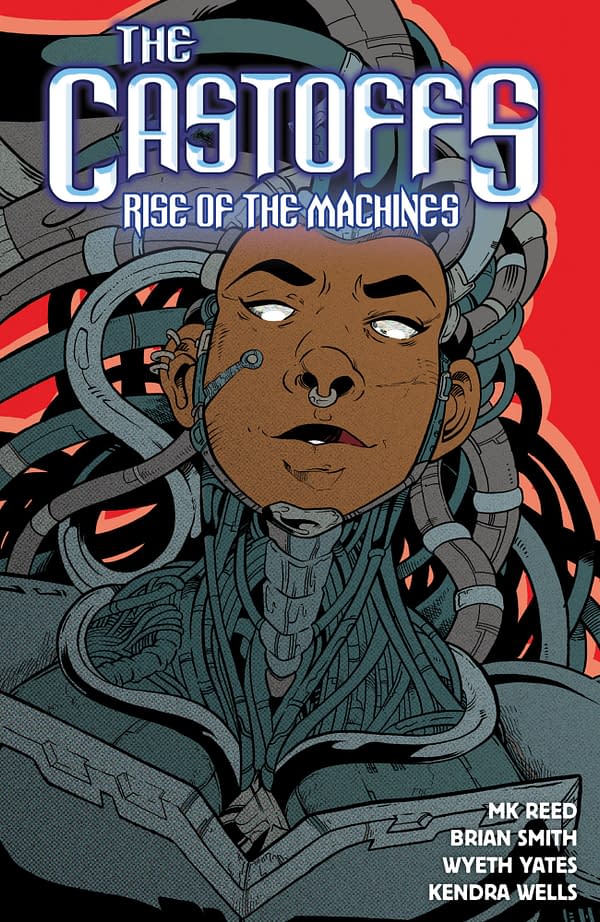 CASTOFFS TP VOL 03 RISE OF MACHINES
LION FORGE
FEB181654
(W) M. K. Reed, Brian Smith (A) Kendra Wells (A/CA) Wyeth Yates
Our intrepid heroes-mages Trinh, Charris, and Ursa-have made great strides in learning to work together as a team. But the darkness is coming, and a foe from their past has grown more formidable. Will their combined talents be enough to defeat the ever expanding Surrogate army? An army that has swallowed up so many mages more powerful than they are?
In Shops: Apr 11, 2018
SRP: $12.99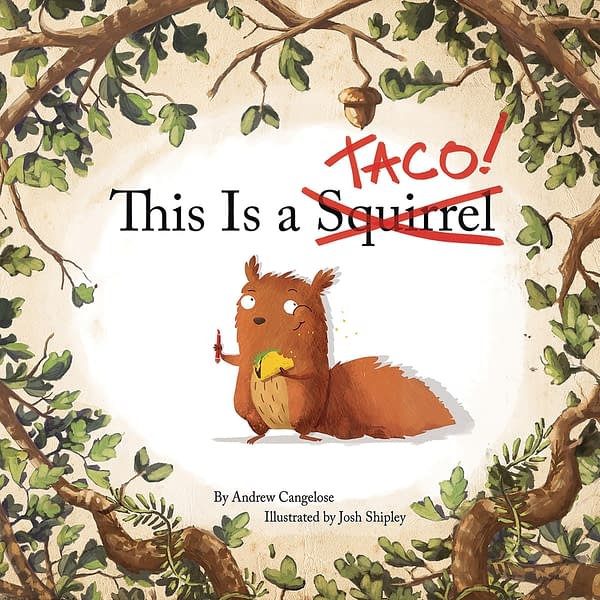 THIS IS A TACO HC
LION FORGE
FEB181655
(W) Andrew Cangelose (A/CA) Josh Shipley
Squirrels don't eat tacos! Or do they? Read along as Taco the squirrel writes his own story. Taco the squirrel won't let some book tell him who he is! This hilarious send-up of a children's nature primier teaches kids that the most important story is the one you write yourself.
In Shops: Apr 18, 2018
SRP: $15.99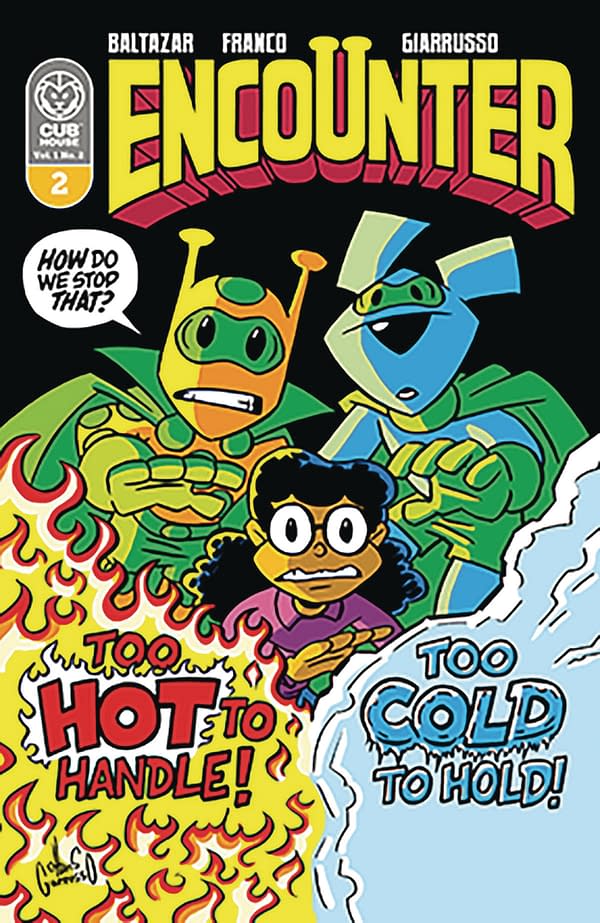 ENCOUNTER #2
LION FORGE
FEB181656
(W) Art Baltazar, Franco (A) Art Baltazar, Stephen Mayer (A/CA) Chris Giarrusso
Encounter, Kayla, and Barko are enjoying a nice day of fishing down at the boardwalk, when suddenly-shark attack! And this is no ordinary great white, it's Cold Blaze the Thermodynamic Shark, and he's after the pods! How can our heroes fend off a flying, talking shark that's half frozen and half on fire?
In Shops: Apr 18, 2018
SRP: $3.99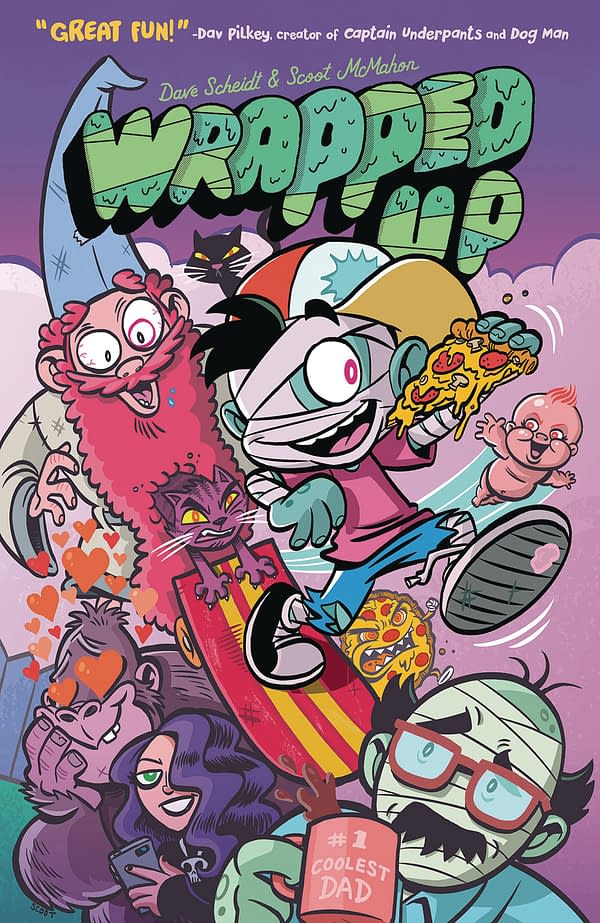 WRAPPED UP TP VOL 01
LION FORGE
FEB181657
(W) Dave Scheidt (A) Coleman Engle, Carolyn Nowak, Various (A/CA) Scoot McMahon
Milo is just your average twelve year old boy. His loving parents are mummies, his best friend is an old wizard, and his babysitters are witches. When Milo isn't busy at school or visiting the comic book store, he loves to hang out with cool teen vampires, play with magical kitties, feed a hungry kaiju, and avoid a love crazed gorilla at all costs. You know, typical kid stuff. Contains backup story drawn by comics cool kids like Carolyn Nowak (Lumberjanes), Jess Smart Smiley, and Coleman Engel (Steven Universe)!
In Shops: Apr 18, 2018
SRP: $12.99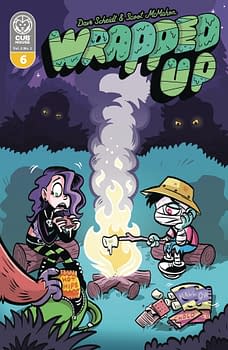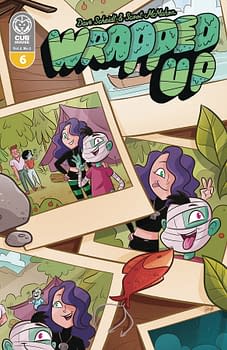 WRAPPED UP #6 MAIN MCMAHON CVR
LION FORGE
FEB181658
(W) Dave Scheidt (A) Yehudi Mercado, Sean Dove (A/CA) Scoot McMahon
Milo and Jill are all about that #CouchLife, but their parents want them to experience the "joys" of the Great Outdoors, so the whole family is going camping! But when they're setting up camp, their snacks, and Milo's dad, get stolen by a mysterious beast! Now, they've got to go on the ultimate, high stakes snack run!
In Shops: Apr 18, 2018
SRP: $3.99
Enjoyed this article? Share it!