[rwp_box_recap id="0"]
I'm going to be brutally honest before I get into this review for Lux #1, the newest League of Legends comic from Marvel.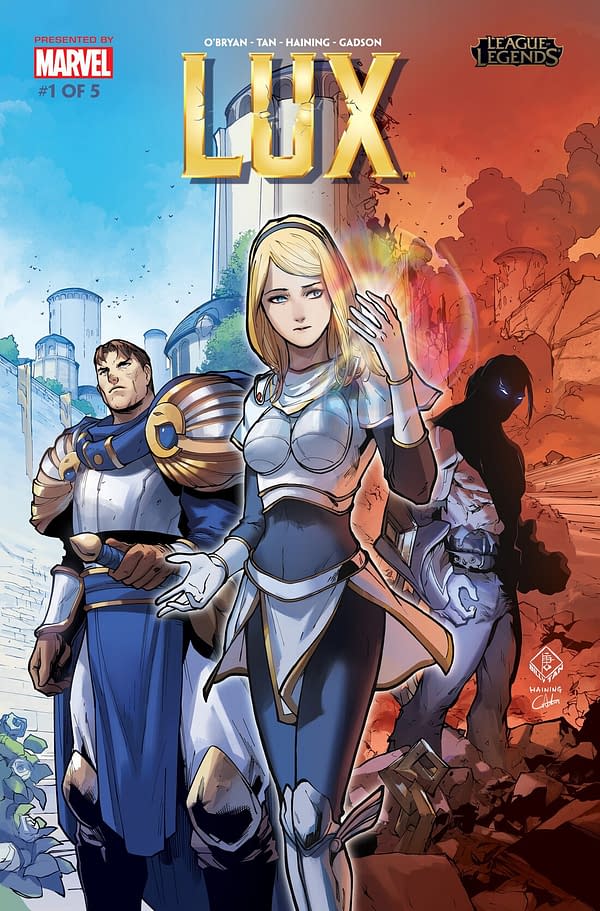 I'm really awful at League of Legends. Seriously horrible. But I really like the game, and love the character designs and setting. One of my friends even cosplayed as a League character a few weeks back, and it was really cool to see her bring Evelynn brought to life.
Which brings us back to Lux, which landed at your favorite comic shop on May 8th. With a story from John O'Bryan (making his comics debut after writing for TV), and art from Billy Tan of Tan Comics– Lux tells the story of Luxanna "Lux" Crownguard and her search to find a way to eliminate her magical light powers.
Now, why on earth would anyone want to do that?
Turns out magic is forbidden in the land of Demacia, where Mageseekers hunt down and incarcerate anyone who displays magical talent.
Lux finds herself unraveling a mystery about the fate of arrested mages, and ends up face to face with a major League of Legends character!
O'Bryan tells a pretty engaging story, with an prologue that hints at disaster to come. The narrative is also a fantastic primer to the League universe, and wouldn't hobble anyone who was unfamiliar to the franchise. In fact, it's the perfect gateway to the lore.
If you're a League fan, though, there's so much to love. Lux and Garen are perfectly captured, with an anime-light style that carries the spirit and energy of the franchise beautifully.
With a compelling mystery, engaging characters, and evocative art, Lux is sure to please fans of League of Legends and newcomers to the franchise alike.
SUMMARY: Script: John O'Bryan; Art: Billy Tan; Inker: Haining of Tan Comics; Colors: Gadson of Tan Comics; Letters: John Roshell of Comicraft; Editors: Mark Basso & Mary Gumport; Publisher: Marvel Comics; Release Date: May 8, 2019; Cover Price: $3.99; 23 pages
FIRST IN A NEW SERIES THAT EXPLORES AND EXPANDS UPON THE FAN FAVORITE LEAGUE OF LEGENDS LORE!

Demacia is a peaceful utopia where order reigns. Maintaining that order at any cost are the Mageseekers, who hunt down anyone utilizing forbidden magic. Hailing from a respected noble family, LUXANNA "LUX" CROWNGUARD is destined for a life of privilege—but is hiding a terrible secret. As her own magical light powers emerge, Lux must decide whether she stands with brother GAREN and the ruling class of Demacia…or the downtrodden Mages at the fringes of society.
[rwp-review-ratings id="0"]
[rwp-review-form id="0"]
Enjoyed this article? Share it!