Awesome 1993 Marvel Calendar Art By Romita Sr. & Sinnott At Auction

A truly unique piece of original art is up for auction right now. Marvel fans will go crazy for this cover art to the 1993 superhero calendar by John Romita Sr. and Joe Sinnott. This is exceptionally cool to see, this kind of art can even be cooler than actual comic art. Promotional materials like this don't come up for auction all the time, but Heritage Auctions gets rarer pieces like this a lot. Sitting at $1,300 right now with bidding ending on July 10th, this is classic Marvel art featuring three of their biggest characters by two of their most celebrated artists, at a price most can afford. You can see the piece down below.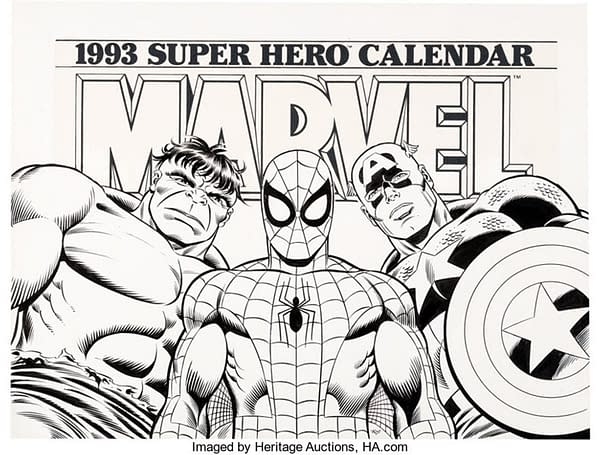 Marvel 1993 Calendar Art By Romita Sr. and Sinnott
"John Romita Sr. and Joe Sinnott Marvel: 1993 Super Hero Calendar Cover Original Art (Marvel, 1992). An iconic image of three of Marvel's biggest and most recognizable characters: Spider-Man, Hulk, and Captain America! It was rendered in ink over graphite on illustration board with an image area of 17" x 13". The logo is a recent re-creation. Very Good condition. Comes with a copy of the printed calendar."
Again, I think people sleep on this sort of thing since it is not actual comic art from a book, but to me, that makes it even cooler. We can't all afford a John Romita Sr. Marvel Spider-Man page, but there he is drawn by him in the above art along with Hulk and Captain America. Pretty cool, and at only $1,300, very attainable right now. Again, you only have until July 10th to bid on this one, so don't let it get away. You also get a copy of the 1993 calendar as well, which makes this impossible to pass up. Go here to check out further details, and to see everything up for auction at Heritage right now.