Marvel Comics January 2020 Solicitations, From Star to Ravencroft, 19 Frankensteined (UPDATE)
Marvel Comics will announce their full January 2020 solicitations this week, but as ever, we just can't wait, so have Frankensteined a few of them together, nice and early.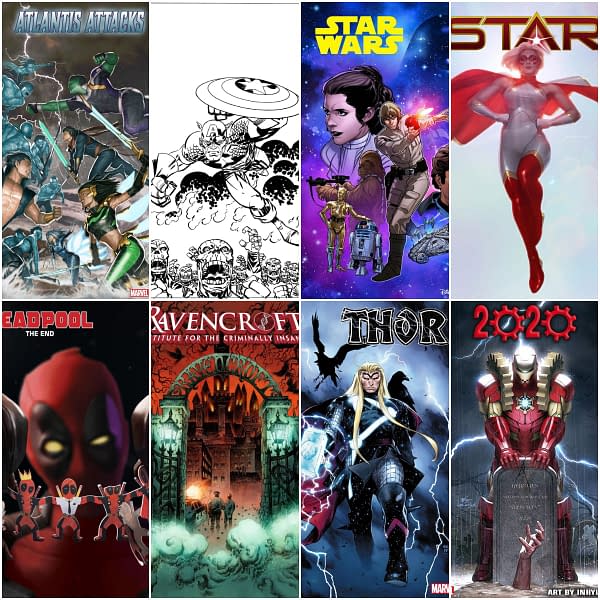 This is what Marvel promised at the New York Comic Con Diamond Retailer Breakfast as covered exclusively by Bleeding Cool as every other reporter in town was still asleep.
So how many did we get? Here are the eighteen comics from Marvel already announced for January 2020… did we miss any? Let us know in the comments.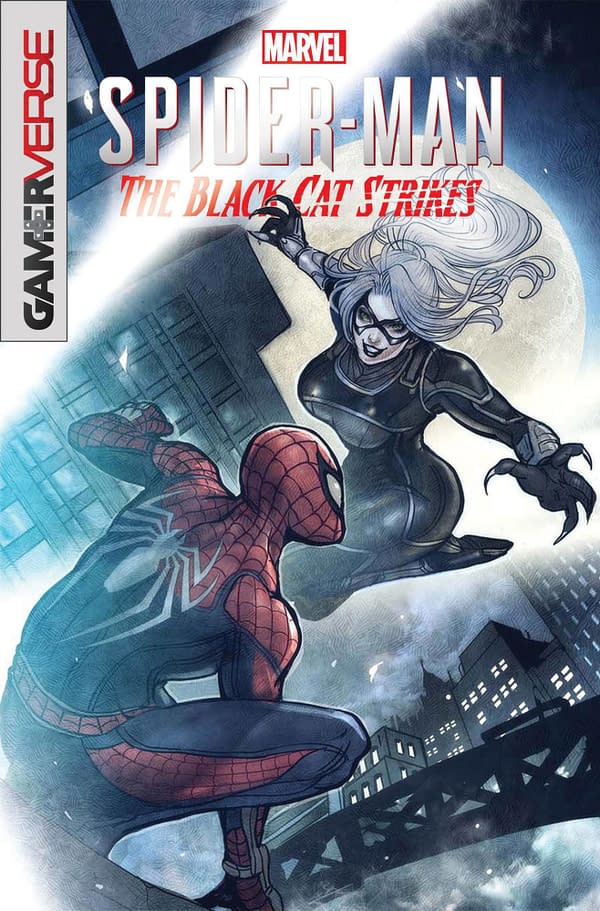 MARVEL'S SPIDER-MAN: THE BLACK CAT STRIKES #1 (of 5)

Written by Dennis "Hopeless" Hallum art by Luca Maresca, cover by Sana Takeda

Following the events of MARVEL'S SPIDER-MAN: VELOCITY and CITY AT WAR, Spider-Man now finds himself in the middle of a gang war in New York City. But as he butts heads with the likes of Hammerhead and the Maggia, the unexpected reappearance of old flame Felicia Hardy AKA the Black Cat sets Spider-Man's world on fire! Black Cat's heroic days are behind her, but what is the secret behind the treasures she's thieving? And why would Spider-Man let her go?! Delve into previously untold tales of Spider-Man and Black Cat's relationship, and a shock ending that will make your webs spin!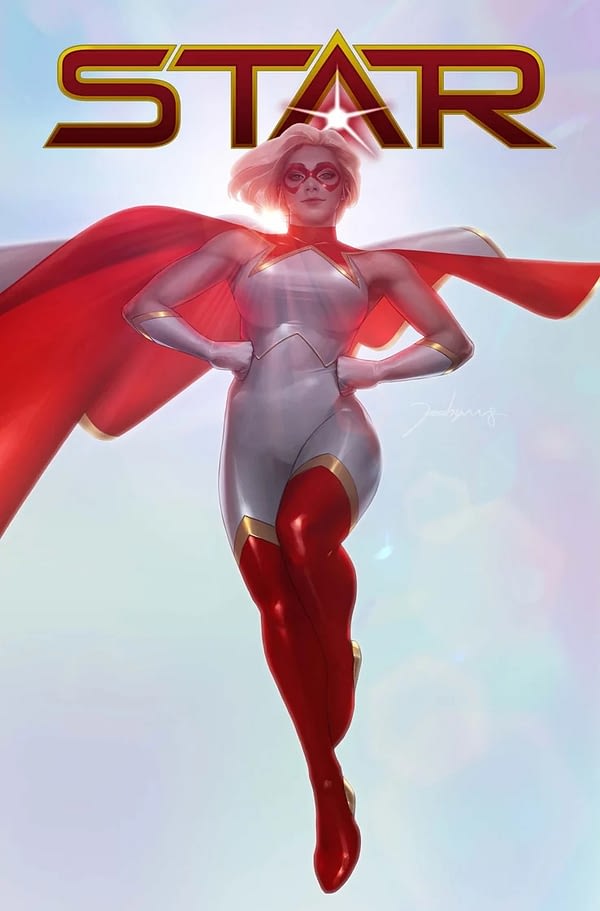 STAR #1 (OF 5)
Written by KELLY THOMPSON
Penciled by JAVIER PINA
Cover by CARMEN CARNERO
Variant Cover by JEEHYUNG LEE
THE BREAKOUT CHARACTER GETS HER OWN DEATH-DEFYING SERIES!
Ambitious reporter Ripley Ryan was one of the victims caught up in Nuclear Man's apocalyptic schemes and later became the hero STAR, adored by everyone. But in truth she was Dr. Minerva's attempt at a Kree-human Super-Soldier. Desperate for the power and strength to control her own destiny, she tried to kill Captain Marvel — and failed. Ripley was left, defeated and powerless, in the Raft. But something strange has happened, and Star now finds herself more powerful than ever before. And no one in the Marvel Universe is prepared for what it means.
CAPTAIN MARVEL: THE END #1
Writer: KELLY THOMPSON
Artist: GEORGES JEANTY
THE FINAL CAPTAIN MARVEL STORY!
Fifty years ago, Carol Danvers went into the deepest reaches of the cosmos to spread peace and justice and she hasn't seen a familiar face since! Whatever happened to the planet she once called home? Written by CAPTAIN MARVEL author KELLY THOMPSON!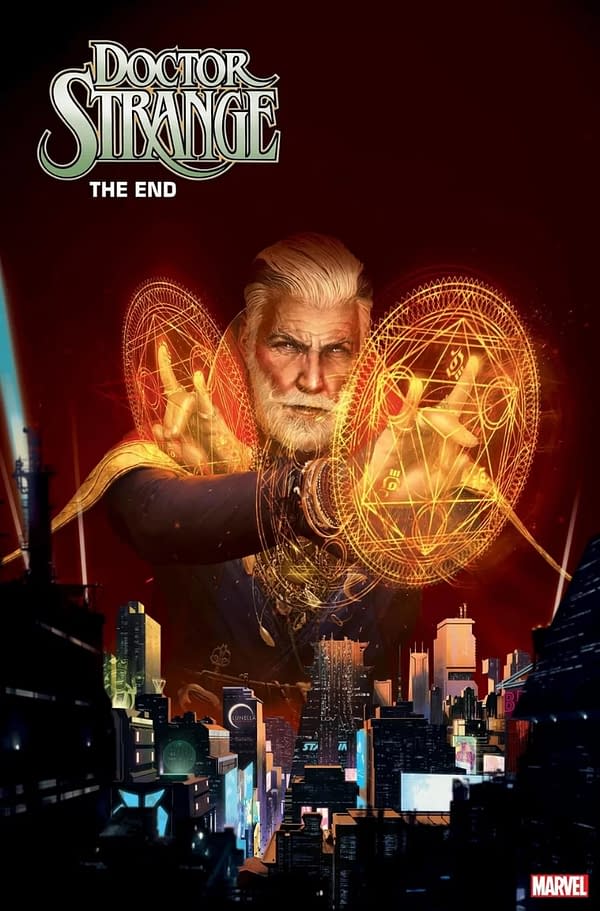 DOCTOR STRANGE: THE END #1
Writer: LEAH WILLIAMS
Artist: FILIPE ANDRADE
THE FINAL DOCTOR STRANGE STORY!
The Sorcerer Supreme makes his final journey through a cyberpunk sprawl that forgot about magic! Reteaming the critically-acclaimed creative team of LEAH WILLIAMS (GWENPOOL STRIKES BACK) and FILIPE ANDRADE (ABSOLUTE CARNAGE: IMMORTAL HULK)!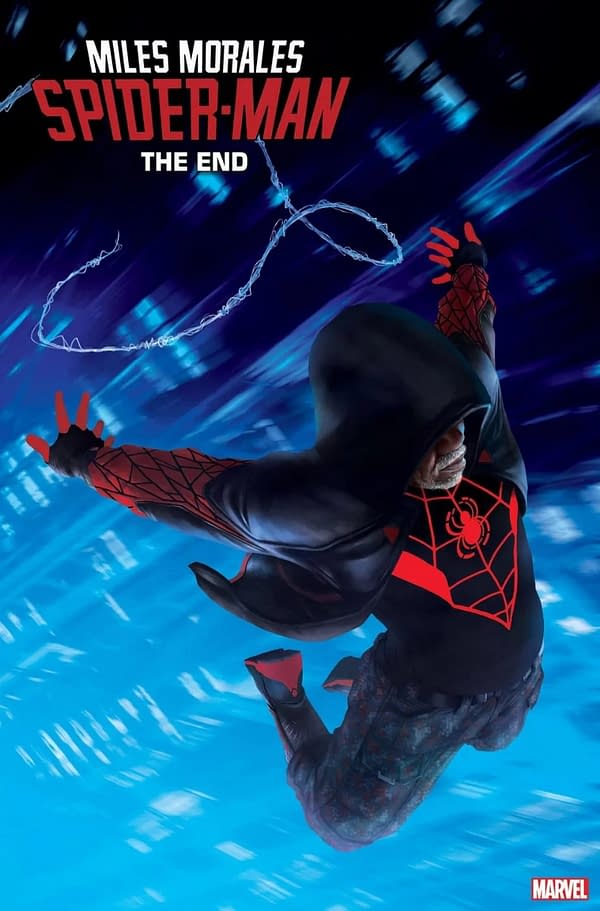 MILES MORALES: THE END #1
Writer: SALADIN AHMED
Artist: DAMION SCOTT
THE FINAL MILES MORALES STORY!
Humanity makes its last stand in the only place strong enough to survive: BROOKLYN. Former Spider-Man, Miles Morales, leads the last bastion of civilization into the future! Penned by MILES MORALES: SPIDER-MAN author SALADIN AHMED!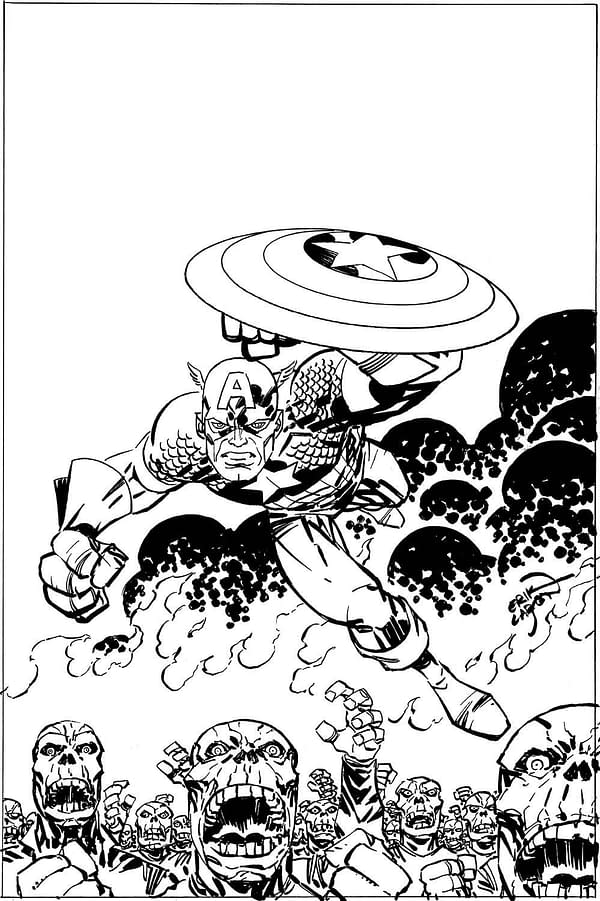 CAPTAIN AMERICA: THE END #1
Writer: ERIK LARSEN
Artist: ERIK LARSEN
THE FINAL CAPTAIN AMERICA STORY!
Steve Rogers fights for survival in a post-apocalyptic wasteland populated by hordes of Red Skulls! Legendary writer/artist Erik Larsen (SPIDER-MAN, WOLVERINE, NOVA) returns to Marvel for an oversized last tale of Simon & Kirby's American Hero!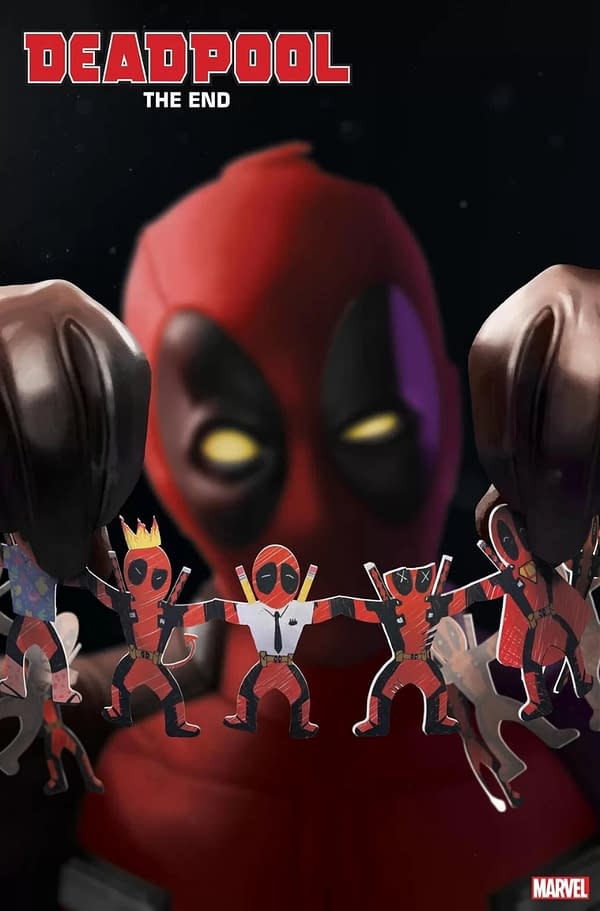 DEADPOOL: THE END #1
Writer: JOE KELLY
Artist: MIKE HAWTHORNE
THE FINAL DEADPOOL STORY!
Wade Wilson may seem like he is unkillable, but there is more than one way to put an end to him… but don't take my word for it! Quintessential Deadpool scribe Joe Kelly and record-setting Deadpool artist Mike Hawthorne team-up to prove it to you! Deadpool is done for!
VENOM: THE END #1
Writer: ADAM WARREN
Artist: CHAMBA
THE FINAL VENOM STORY!
The alien symbiote who bonded with Eddie Brock has been through a lot… but not nearly as much as he has coming. In a tail that literally spans over a trillion years, Venom travels the length of space and time as the last defender of life in the universe!

Atlantis Attacks #1 (Of 5) by Greg Pak and Ario Anindito. Cover by Rock-He Kim..

In ATLANTIS ATTACKS, Amadeus Cho, Silk, Wave, Shang-Chi, and all the heroes of Atlas head for a showdown destined to shake allegiances and break hearts! When a terrible secret incurs the wrath of Prince Namor, questions arise over who is a friend… and who is an enemy? Jimmy Woo also makes his shocking return — as well as the original Agents of Atlas! This new confrontation occurs 30 years after the original ATLANTIS ATTACKS event — you can read all those issues on Marvel Unlimited!




TAROT #1

Written by ALAN DAVIS

Art and Cover by PAUL RENAUD

An all-new epic adventure teaming the classic Earth's Mightiest Heroes with Marvel's premiere Non-Team by Alan Davis and Paul Renaud!

A strange and impossible lost memory from his days in World War II draws Namor the Sub-Mariner to his one-time compatriot Captain America—but the two heroes and their respective allies find themselves pulled into a labyrinth of pain, destruction and madness courtesy of the Infernal Ichor of Ish'lzog!
HAWKEYE: FREEFALL #1

Written by MATTHEW ROSENBERG

Art by OTTO SCHMIDT

Cover by KIM JACINTO

HAWKEYE RETURNS IN A BRAND NEW SERIES!

When a mysterious and ruthless new Ronin starts tearing a destructive path through the city, suspicion immediately falls on Hawkeye, but Clint has more to worry about than who's wearing his old costume. After a clash with the Hood ends badly, Hawkeye gives himself a new mission that will place him in the crosshairs of one of New York's most dangerous villains.

Hawkeye's mission and Ronin's secret plans will set them on a collision course that only one of them will walk away from.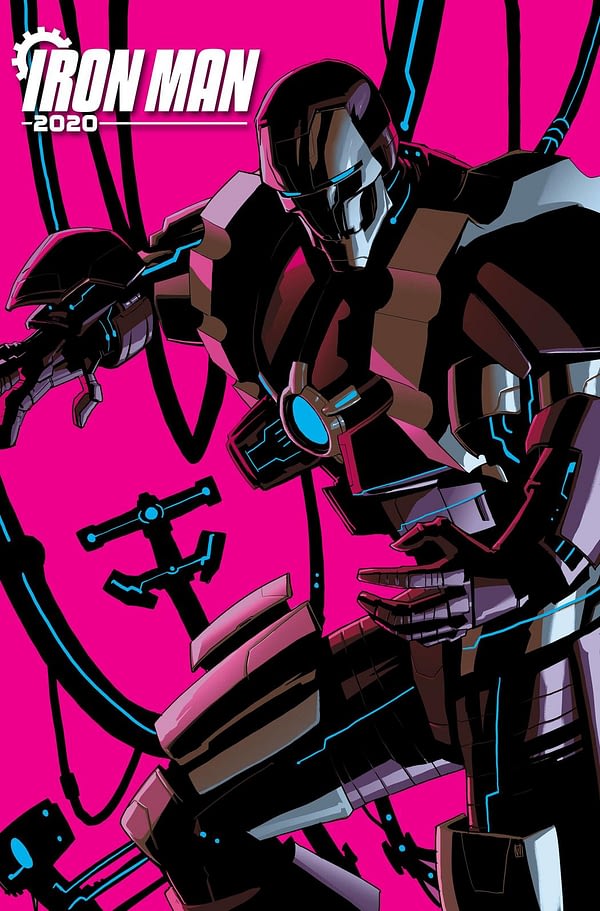 IRON MAN 2020 #1

Written by DAN SLOTT & CHRISTOS GAGE

Art and Cover by PETE WOODS

In IRON MAN 2020, the future has arrived, and Artificial Intelligences present a clear and present danger to humanity and must be brought to heel! As the Robot Rebellion battles for the establishment of robot rights, someone new will don the Iron Man suit: Arno Stark, the long-lost brother of Tony Stark.

But Arno Stark won't be alone: War Machine, Rescue, Ironheart will all have roles to play in the new series. The Robot Rebellion will also feature some familiar robots from the Marvel Universe including Machine Man AKA Aaron Stack, Jocasta, the Vision, Albert (the robotic Wolverine character), Elsie-Dee, Machinesmith, Nick Fury LMDs, Death's Head, the Mad Thinker and his Awesome Android, Quasimodo, H.E.R.B.I.E., the Dreadnaughts, Brynocki, Alkhema, and M-11.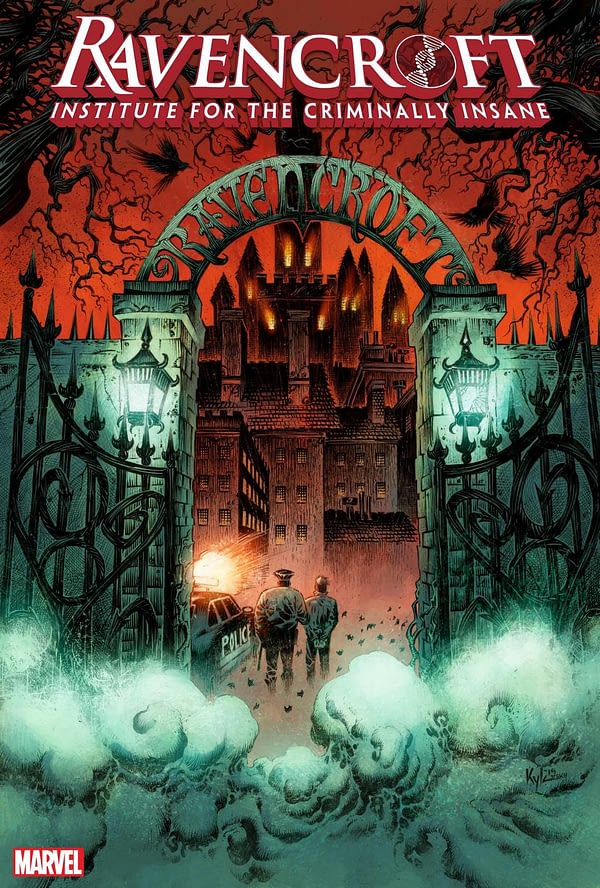 RAVENCROFT #1

Written by FRANK TIERI

Art by ANGEL UNZUETA

Cover by KYLE HOTZ

RAVENCROFT REOPENED!

After the hellish horrors of ABSOLUTE CARNAGE, the Ravencroft Institute has received a much-needed facelift and is open for business with a new staff, including JOHN JAMESON, looking to atone for the part he played in ABSOLUTE CARNAGE. But will Ravencroft return the mentally unstable villains of the Marvel Universe to upstanding citizens and give John the redemption he's looking for, or will they fall prey to the hospital's seemingly sinister nature?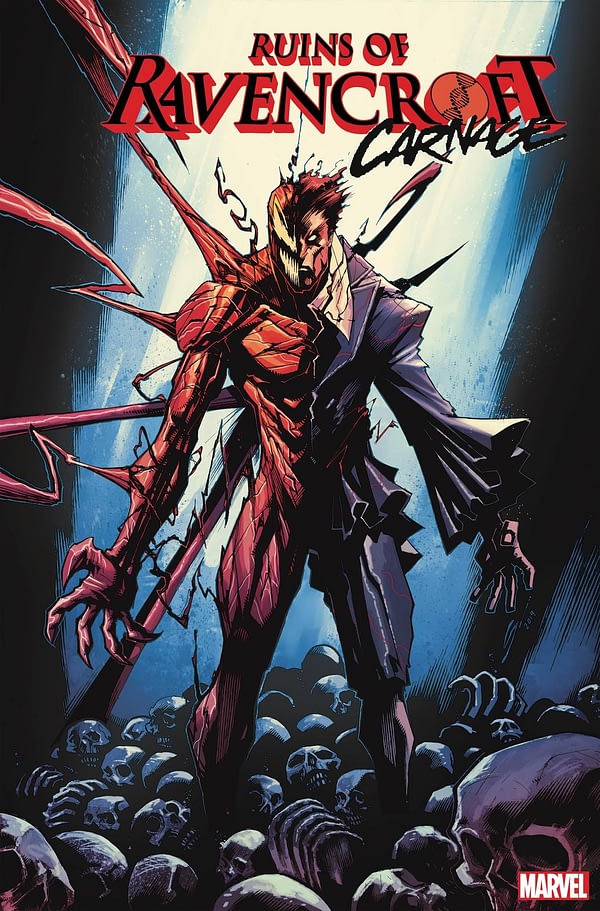 RUINS OF RAVENCROFT: CARNAGE #1

Written by FRANK TIERI

Art by GUIU VILLANOVA

Cover by GERARDO SANDOVAL

CARNAGE, USA!

In the aftermath of ABSOLUTE CARNAGE, the Marvel Universe still needs a place to treat and rehabilitate the criminally insane, and efforts to reconstruct RAVENCROFT are well underway. But Ravencroft is no ordinary facility, and untold secrets may yet be waiting to be unearthed in the destruction Carnage left after his attack on the facility.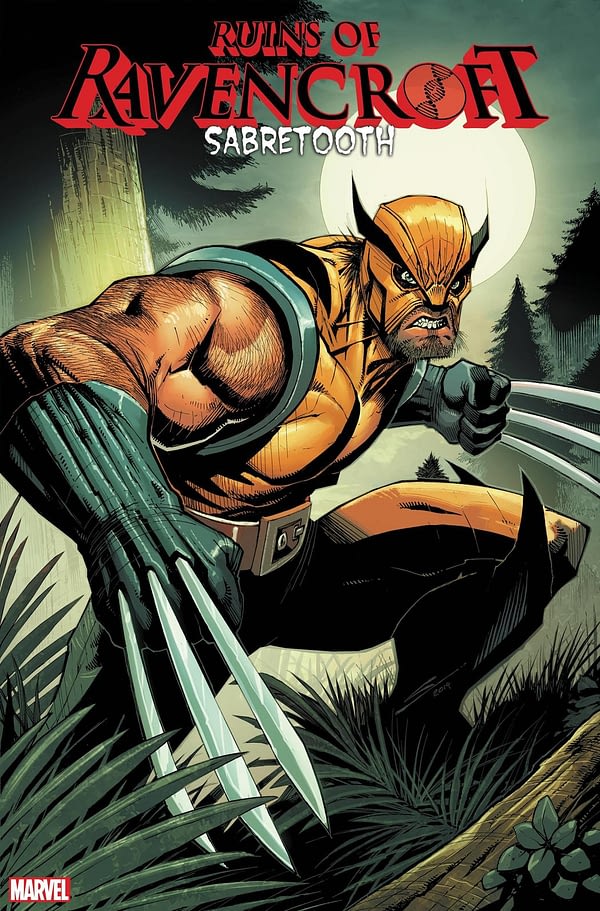 RUINS OF RAVENCROFT: SABRETOOTH #1

Written by FRANK TIERI

Art by GUILLERMO SANNA

Cover by GERARDO SANDOVAL

The history of the Ravencroft Institute for the Criminally Insane has been shrouded in mystery for years. NO LONGER! In the wake of ABSOLUTE CARNAGE, the facility's past has started to unravel, and in doing so has revealed hidden chapters in the lives of some of the Marvel Universe's most recognizable heroes and villains!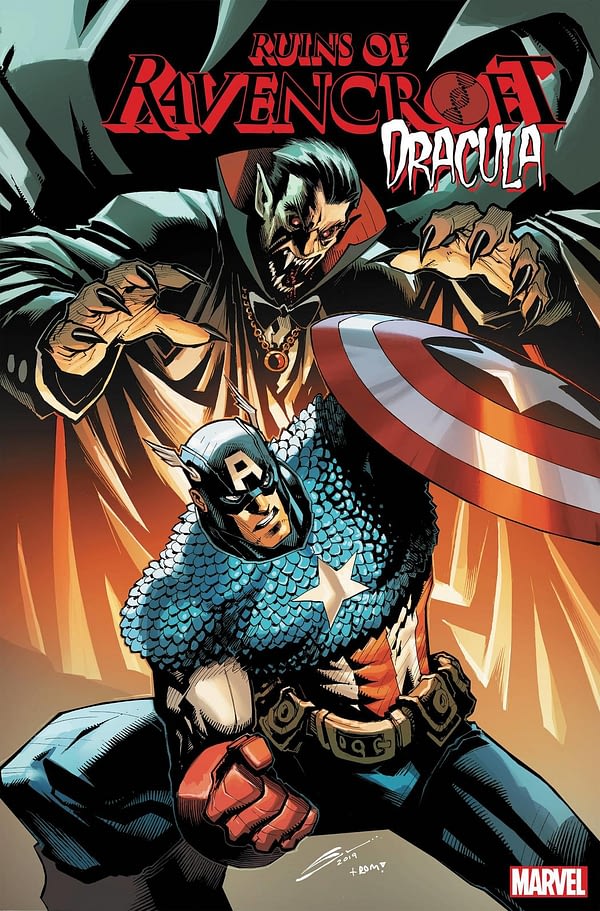 RUINS OF RAVENCROFT: DRACULA #1

Written by FRANK TIERI

Art by STEFANO LANDINI

Cover by GERARDO SANDOVAL

To the men and women of the Marvel Universe, Ravencroft Institute for the Criminally Insane appeared to be a hospital devoted to the rehabilitation of society's most violent offenders. But appearances can be deceptive, and—as Captain America learned the hard way—some secrets have teeth.
THOR #1

Written by DONNY CATES

Art by NIC KLEIN

Cover by OLIVIER COIPEL

The prince is now a king. All Asgard lies before Thor, the God of Thunder. And after many months of war, the Ten Realms are finally at peace. But the skies above the Realm Eternal are never clear for long… The Black Winter is coming. And the God of the Storm will be powerless before it.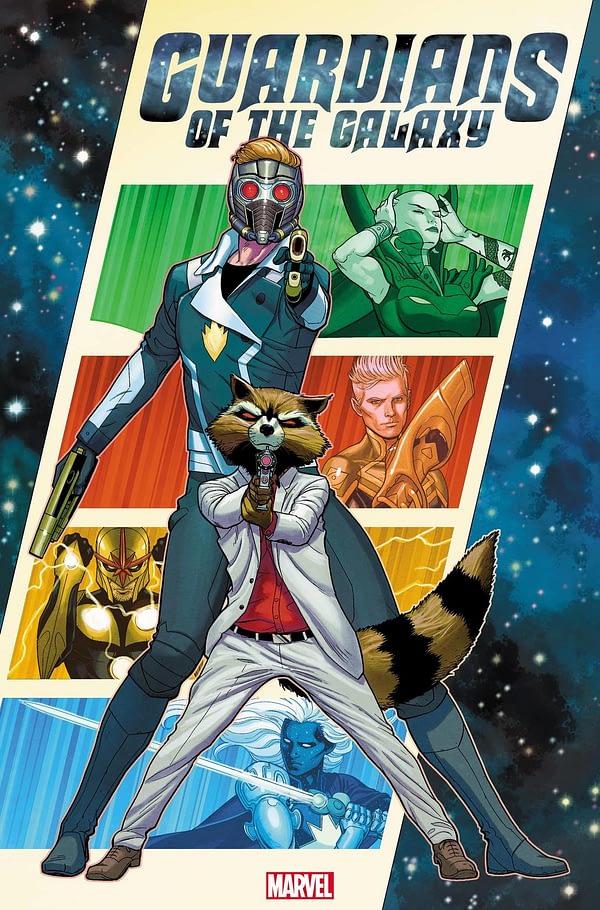 GUARDIANS OF THE GALAXY #1

Written by AL EWING

Art and Cover by JUANN CABAL

Once, the Guardians of the Galaxy were a team of misfits. Now they're a family, and they've earned their peace. But the universe is not a peaceful place — and it's only getting worse. The Great Empires are in turmoil. The rule of law is dead. And amidst the chaos, the Gods of Olympus have returned — harbingers of a new age of war, reborn to burn their mark on the stars themselves. Someone has to guard the galaxy — but who will accept the mission? And will they survive it?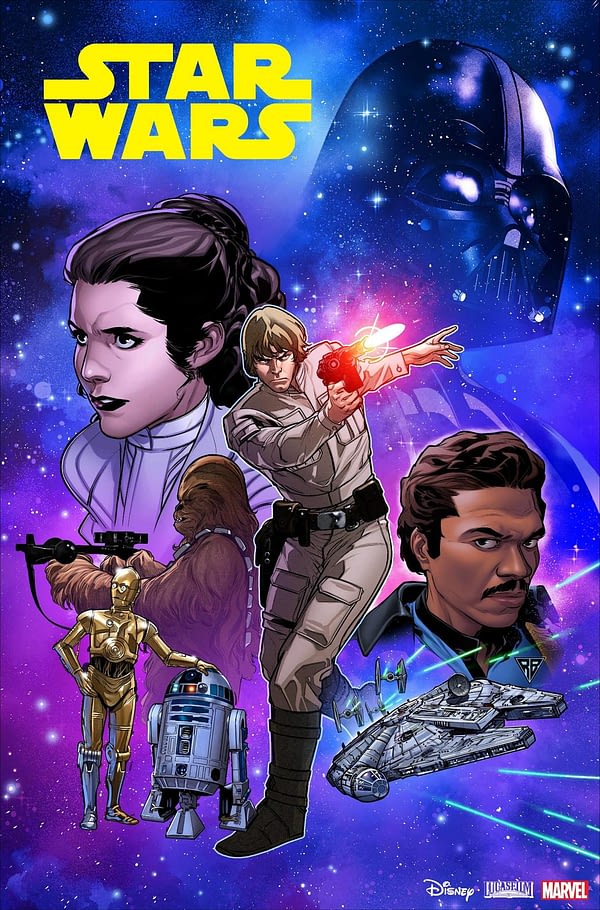 STAR WARS #1

Written by CHARLES SOULE

Art by JESÚS SAIZ

Cover by R.B. SILVA

In the wake of The Empire Strikes Back, it is a dark time for the heroes of the Rebellion. The Rebel fleet…scattered following a disastrous defeat at the Battle of Hoth. Han Solo…lost to the bounty hunter, Boba Fett, after being frozen in carbonite. And after being lured into a trap on Cloud City and bested in a vicious lightsaber duel against the evil Darth Vader, Luke Skywalker…learned the horrible truth about his noble Jedi lineage.

Now, after narrowly escaping the Dark Lord's clutches, wounded and reeling from the revelation, Luke joins Princess Leia, Lando Calrissian, Chewbacca, and the droids C-3PO and R2-D2 to fight their way back to the Rebel Alliance. But what Leia, Luke, and their ragtag band of freedom fighters don't realize…is that they have only traded one Imperial trap for another! Enter the cunning and vengeful Imperial Commander Zahra, at the helm of the Tarkin's Will!
The greatest space adventure of all time continues this January!