Marvel Comics Says Goodbye To The Second Black President Of The USA (Civil War II Spoilers)
There's a catchphrase from the old British gameshow Bullseye that I've mentioned on Bleeding Cool before. When the contestant has failed, the host Jim Bowen would parade past all the items that they didn't win – and didn't know they could win, saying "look at what you could have won." It's a moment of publicly shaming regret, with the audience taking pleasure in the contestant's misery, rubbing their noses in their failure.
Welcome to today's Civil War II #0 by Brian Bendis and David Marquez.
The Free Comic Book Day Civil War issue was, as we suggested, set after this issue. Remember…

Because Civil War II #0 has She-Hulk and War Machine in prominent roles. She-Hulk defending a supervillain client from an entrapment sting, defending his right to thought. And James Rhodes, War Machine, keeping the piece in Latveria. Which, in the absence of Doctor Doom ruling it, has fallen apart a bit. Might makes right, American exceptionalism, drawing the line, none shall pass, that kind of thing. Which in election year can only mean one thing. A meeting with the current President.
Now in the Marvel Universe, we know Barack Obama is the President of the USA. But in this issue, it's all kept in the shadows. And Rhodes gets a new career path. That's right folks! Obama is looking down the road post Clinton/Sanders/Trump… but say, wasn't Tony Stark Secretary of Defense once?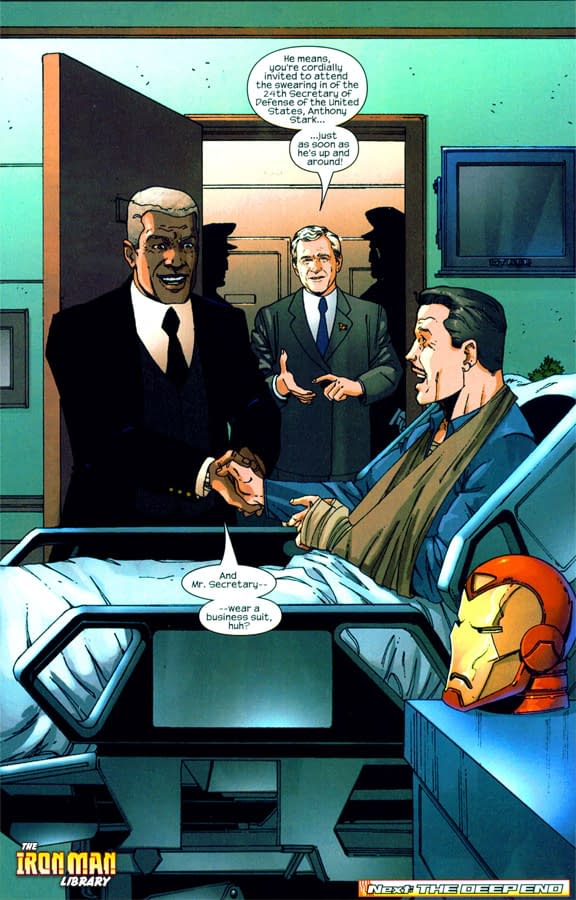 He was! How did that work out for him? Anyway, back to Civil War…. So… Tony Stark is Donald Trump? And James Rhodes is the only man who can stop if him? That is. you know, if this hadn't happened… So Marvel says goodbye to its second black President of the USA. And Civil War II #0 rubs your nose in it.
Look at what you could have won.
Thanks to Matt for a typo check.