A Long Term Plan For The Fantastic Four And More From Marvel's Cup O' Joe Panel At San Diego Comic-Con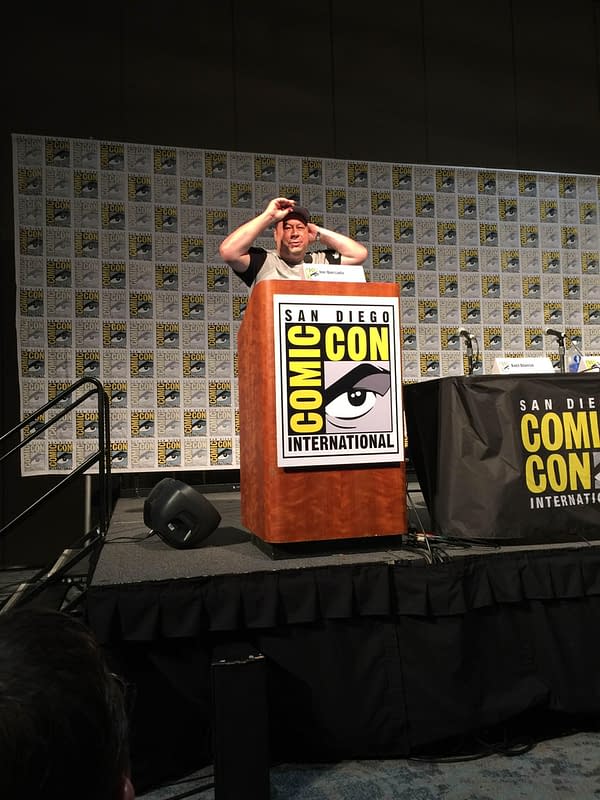 By Joe Glass
Joe Quesada moderates another SDCC Cup o' Joe, to give us all the announcements. He suddenly takes a call at the podium, and then decides to crack on with the show.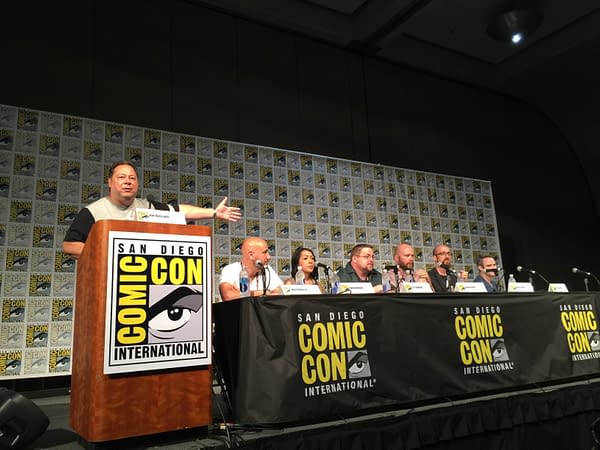 However we seem to have some AV issues. But coming up on panel, Axel Alonso, Sana Amanat, CB Cebulski, Jason Aaron, Kieron Gillen, Nick Spencer (someone yelled Hail Hydra!).
Jeph Loeb runs up excitedly, wanting to do the thing, but Quesada sends him packing.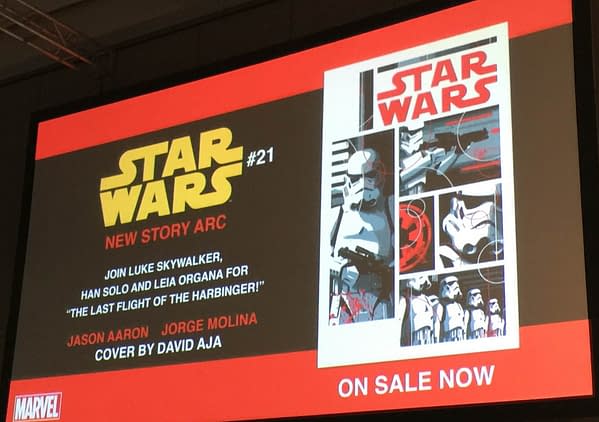 So first up they talk about the new story arc in Star Wars, Aaron talks about wanting to focus on Stormtroopers and set up some new villains in the book. Then a story involving Han, Luke and Leia piloting a falling apart Star Destroyer.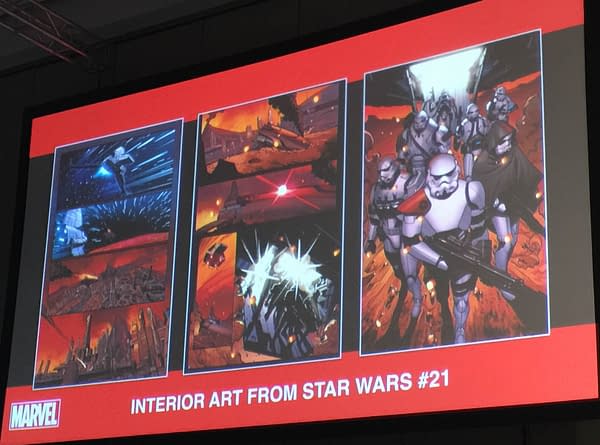 Gillen talks about the end of Darth Vader, and how this was always something they talked about as doing like a novel, about a period in Vader's life, and who lives, who dies…they mainly die. He's most worried about issue 24, as it's the weirdest in the series, as Vader has his Dagobah moment.
Spencer talks Sam Wilson: Captain America, and talking about crossing over with Civil War. Then moving onto Steve Rogers, the CWII tie in, and him being Hydra will play an integral role in Civil War 2, and there's things we've seen in Civil War already that Steve had his fingerprints on.
Then announcing Civil War II: The Oath, an epilogue exploring where Iron Man and Captain Marvel are at the end, and in their darkest hour turn to someone they think they can trust, Steve Rogers. This will have huge repercussions for MU World of Wakanda up next, will follow the Midnight Angels, who are LGBT characters. Couple of announcements in Inhumans vs X-Men, which let's face it, we told you was coming.
Good Night, Groot kids book.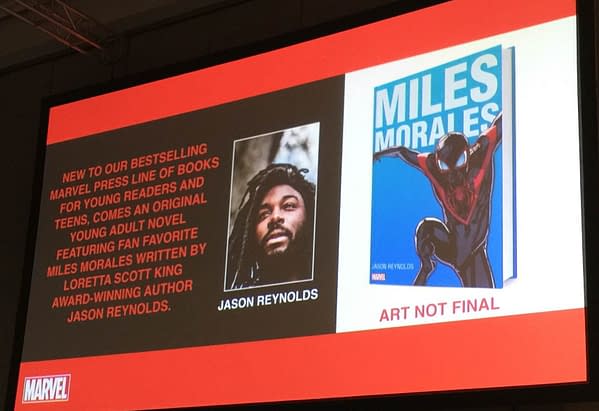 Miles Morales Young Adult novel by Jason Reynolds, and it is something they are continuing with, more info at the Women of Marvel panel tomorrow.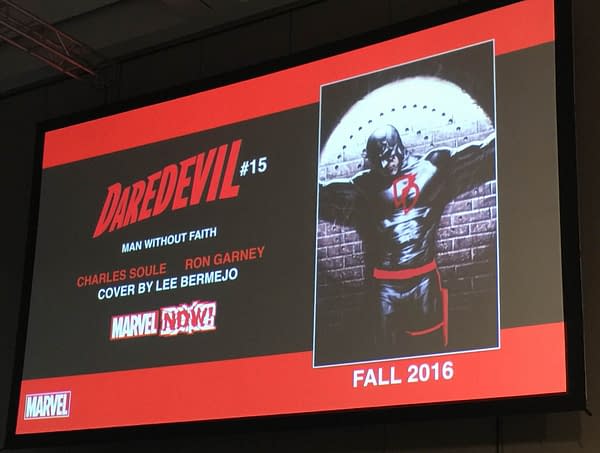 Onto Daredevil with Soule and Alonso discussing, they are doubling down on the street level heroes what with the success of the Netflix TV shows. Expanded with Power Man & Iron Fist, Jessica Jones, Bullseye and Kingpin series forthcoming. Keep your eye on Kingpin, going to be a major character in MU in coming year.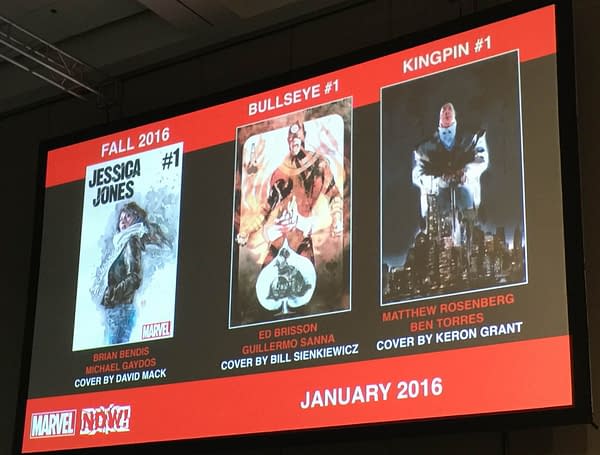 Iron Fists and Cage also brought up. And with that we're onto the Q&A
Bucky has custody of Kobik, so Bucky and Steve Rogers and their books are on a collision course.
Any chance of Fantastic Four comeback? Alonso no immediate plans for them as a team, there is a long term plan for them though.
Jeph Loeb comes up to ask a question, can we show the-? NO! from Quesada.
Any plans for Jubilee and Blade? Jubilee factors into IvX (and Alonso actually called it IvX) as he says mutants and Inhumans are all hands on deck.
Spencer is asked Superior Foes of Spider-Man and how Shocker ended as head of Maggia, but since shown as just a robber? Spencer would love to write the story of how he lost that role, but he feels it kinda writes itself.
Someone came up to complain about treatment of 'original' Guardians of the Galaxy, and about the lack of Isaiah Bradley and Patriot in the Captain America 75th Anniversary, and asked what they intend to do about it. Alonso not forgotten about it, and they need to think about where is their place and how to fit them in.
Again clarifying that the disappearance of Scott Summers and Emma Frost will be picked up in the Death of X series.
Joe Quesada does the phone bit again, but this time with an audible Loeb pretending to be someone else.
Question on if the Murder Droids will continue? Gillen says don't count on anyone getting out alive, but he does enjoy them so much.
Anything on the status on Miracleman? Alonso says more coming but they're not ready to talk about yet.
Quesada finally calls up Loeb, Loeb starts talking about the X-Men, and they always talk about them, and reveals the teaser trailer for LEGION from Fox TV, in association with Marvel Television. It was weird, twisty, funny, and wild. Insane imagery as well as cool visual effects for powers and action, and even a dance number…my take away…Legion is going to be awesome!
Joe Glass is a Bleeding Cool contributor and comic creator. He's the writer and creator of LGBTQ superhero series, The Pride, and co-writer on horror comedy, Stiffs.
---
---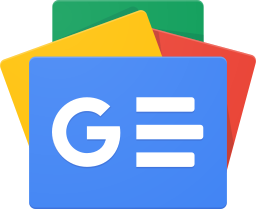 Stay up-to-date and support the site by following Bleeding Cool on Google News today!