On Tuesday, March 26th, a number of comic stores globally will be opening at midnight to sell Detective Comics #1000. Looks like Forbidden Planet in London will be among the first with their Brian Bolland exclusive cover, five hours ahead of Midtown Comics in New York with their Lee Bermejo cover… so do watch for spoilers out there.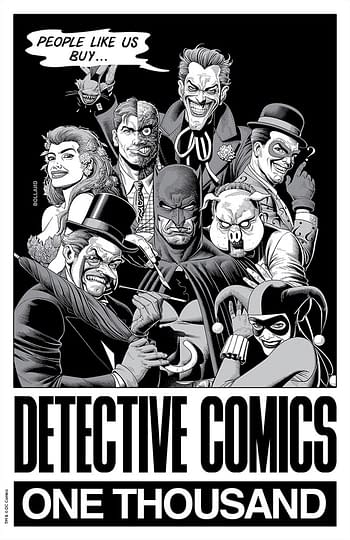 But it's not just these DC Comics titles you have to watch out for, including Heroes In Crisis #9…
ACTION COMICS #1009
BATGIRL #33
BATGIRL THE BRONZE AGE OMNIBUS HC VOL 02
BATMAN BEYOND #30
BOOKS OF MAGIC #6 (MR)
DETECTIVE COMICS #1000
DIAL H FOR HERO #1
FLASH #67
FLASH TP VOL 09 RECKONING FORCES
FREEDOM FIGHTERS #4
GODDESS MODE #4 (MR)
HARLEY QUINN TP VOL 02 HARLEY DESTROYS THE UNIVERSE
HEROES IN CRISIS #7
HEX WIVES #6 (MR)
JUSTICE LEAGUE ODYSSEY #7
LOONEY TUNES #248
MARTIAN MANHUNTER #4
MERA TIDEBREAKER TP DC INK
SANDMAN OMNIBUS HC VOL 03 (MR)
SCOOBY DOO TEAM UP #47
SHAZAM #4
SILENCER #15
SUPER SONS THE POLARSHIELD PROJECT TP DC ZOOM
TERRIFICS #14
WONDER WOMAN #67
Marvel Comics has just told retailers that they can sell Marvel titles at that time as well. And for that week, that means:
AGE OF X-MAN X-TREMISTS #2
AMAZING SPIDER-MAN #18
ASGARDIANS OF THE GALAXY TP VOL 01 INFINITY ARMADA
AVENGERS NO ROAD HOME #7
BLACK PANTHER #10
BLACK WIDOW #3
CLOAK AND DAGGER MPGN TP NEGATIVE EXPOSURE
COLOR YOUR OWN AVENGERS 2 TP EARTHS MIGHTIEST HEROES
DAREDEVIL #3
DEADPOOL MINIBUS 3 HC
DOCTOR STRANGE #12
FANTASTIC FOUR #8
HULKVERINES #2
IMMORTAL HULK #1 4TH PTG BENNETT VAR
INCREDIBLE HULK #181 FACSIMILE EDITION
INVADERS #3
IRONHEART #4
MARVEL COMICS PRESENTS #3
MARVEL KNIGHTS FANTASTIC FOUR TP COMPLETE COLLECTION VOL 01
MARVEL PREVIEWS VOL 04 #21 APRIL 2019
MARVEL RISING #1
MARVEL UNIVERSE SUPER HEROES TP MUSEUM EXHIBIT GUIDE
MOON GIRL AND DEVIL DINOSAUR #41
MR AND MRS X #9
MS MARVEL TP VOL 10 TIME AND AGAIN
SAVAGE SWORD OF CONAN #1 2ND PTG GARNEY VAR
SECRET AVENGERS BY REMENDER TP COMPLETE COLLECTION
SGT FURY EPIC COLLECTION TP HOWLING COMMANDOS
SPIDER-MAN DEADPOOL #48
SPIDER-MAN FAR FROM HOME PRELUDE #1
SPIDER-MAN TP NEW WAYS TO LIVE
STAR WARS DOCTOR APHRA #30
STAR WARS VADER DARK VISIONS #2
SUPERIOR SPIDER-MAN #4
THANOS WARS INFINITY ORIGIN OMNIBUS
WAR OF REALMS MAGAZINE (BUNDLE OF 25)
WEAPON H TP VOL 02 WAR FOR WEIRDWORLD
WHAT IF? WITH GREAT POWER TP
X-FORCE #5
Enjoyed this article? Share it!