Marvel Had One-And-A-Half Times DC's Marketshare In February, But Dark Knight Outsold Star Wars
The beginning of the year saw Marvel Comics grab a 44.38% dollar share and a 48.17% unit share of sales in North American comic book stores through Diamond Comic Distributors. While DC Entertainment had only a 22.16% dollar share and a 24.02% unit share. That was quite the disparity.
Things are slightly better for DC and slightly worse for Marvel in February 2016's figures compared to January 2016. But then they really would have to be.
So Marvel's dollar share has slipped two points to 42.19% and their unit share has slipped a whopping seven-and-a-half point to 40.78% unit share.
While DC Entertainment have put on seven points to their 29.01% dollar share and two points to their 26.00% unit share.
And a lot of that is down to the Dark Knight III continuing to perform gangbusters, getting the top spot in the charts and pushing aside Star Wars. But with only Batman and Justice League in the top ten as well, Marvel dominated DC in that regard, with a very successful launch of Power Man & Iron Fist surprisingly cracking the top ten, joined by the launches of Spider-Man and Deadpool: Mercs For Money.
Image Comics have maintained their around-about 10% share, with signs that they will keep pushing those digits. The Wicked + The Divine being the best selling graphic novel of the month will have helped, outselling Star Wars, Lumberjanes and Batman – but there's a surprisingly high place in that chart for Sunstone and The Fade-Out as well. Image's number 1 comic from January, The Walking Dead, drops to 13 in February without an anniversary issue to boost it, the penultimate issue of Chuck Palahniuk's sequel to Fight Club, Fight Club 2 #9 from Dark Horse has come in at #63. IDW Publishing's top selling book Back to the Future #5 was at #102 and Oni Press' top selling title Invader Zim #7 came in at #90.
But once again, year on year, 2016 is proving to be a lower performing year in terms of comic book sales than 2015, with February doing even moor poorly than January…
TOP COMIC BOOK PUBLISHERS
RETAIL MARKET SHARE
PUBLISHER
SHARE
MARVEL COMICS
40.78%
DC ENTERTAINMENT
26.00%
IMAGE COMICS
9.18%
IDW PUBLISHING
4.78%
DARK HORSE COMICS
3.07%
BOOM! STUDIOS
2.12%
DYNAMITE ENTERTAINMENT
2.09%
ONI PRESS INC.
1.04%
VIZ MEDIA
0.94%
TITAN COMICS
0.92%
OTHER NON-TOP 10
9.09%

UNIT MARKET SHARE
PUBLISHER
SHARE
MARVEL COMICS
42.19%
DC ENTERTAINMENT
29.01%
IMAGE COMICS
10.13%
IDW PUBLISHING
4.14%
DARK HORSE COMICS
2.59%
BOOM! STUDIOS
1.94%
DYNAMITE ENTERTAINMENT
1.68%
ONI PRESS INC.
0.85%
VALIANT ENTERTAINMENT LLC
0.84%
TITAN COMICS
0.82%
OTHER NON-TOP 10
5.82%
NEW TITLES SHIPPED
| | | | | |
| --- | --- | --- | --- | --- |
| PUBLISHER | COMICS SHIPPED | GRAPHIC NOVELS SHIPPED | MAGAZINES SHIPPED | TOTAL SHIPPED |
| MARVEL COMICS | 80 | 32 | 0 | 112 |
| DC ENTERTAINMENT | 78 | 28 | 1 | 107 |
| IMAGE COMICS | 53 | 13 | 0 | 66 |
| IDW PUBLISHING | 41 | 22 | 0 | 63 |
| DARK HORSE COMICS | 27 | 16 | 0 | 43 |
| BOOM! STUDIOS | 23 | 13 | 0 | 36 |
| DYNAMITE ENTERTAINMENT | 20 | 6 | 0 | 26 |
| TITAN COMICS | 14 | 6 | 1 | 21 |
| ONI PRESS | 7 | 3 | 0 | 10 |
| VIZ MEDIA | 0 | 2 | 0 | 2 |
| OTHER NON-TOP 10 | 142 | 134 | 31 | 307 |
COMPARATIVE SALES STATISTICS
DOLLARS
UNITS
FEBRUARY 2016 VS. JANUARY 2016
COMICS
0.14%
-5.26%
GRAPHIC NOVELS
-0.63%
8.21%
TOTAL COMICS/GN
-0.10%
-4.24%
FEBRUARY 2016 VS. FEBRUARY 2015
COMICS
-6.73%
-14.62%
GRAPHIC NOVELS
12.00%
18.12%
TOTAL COMICS/GN
-1.69%
-12.54%
YEAR-TO-DATE 2016 VS. YEAR-TO-DATE 2015
COMICS
-5.32%
-9.52%
GRAPHIC NOVELS
1.13%
2.92%
TOTAL COMICS/GN
-3.43%
-8.63%
TOP 10 COMICS BOOKS
| | | | | |
| --- | --- | --- | --- | --- |
| RANK | DESCRIPTION | PRICE | | VENDOR |
| 1 | DARK KNIGHT III: THE MASTER RACE #3 | $5.99 | | DC |
| 2 | STAR WARS #16 | $3.99 | | MAR |
| 3 | BATMAN #49 | $3.99 | | DC |
| 4 | SPIDER-MAN #1 | $3.99 | | MAR |
| 5 | DEADPOOL: THE MERCS FOR MONEY #1 | $3.99 | | MAR |
| 6 | DEADPOOL #7 | $9.99 | | MAR |
| 7 | DARTH VADER #16 | $3.99 | | MAR |
| 8 | POWER MAN AND IRON FIST #1 | $3.99 | | MAR |
| 9 | AMAZING SPIDER-MAN #7 | $3.99 | | MAR |
| 10 | JUSTICE LEAGUE #48 | $3.99 | | DC |
TOP 10 GRAPHIC NOVELS & TRADE PAPERBACKS
| | | | | |
| --- | --- | --- | --- | --- |
| RANK | DESCRIPTION | PRICE | | VENDOR |
| 1 | THE WICKED & THE DIVINE VOLUME 3 TP (MR) | $14.99 | | IMA |
| 2 | STAR WARS: CHEWBACCA TP | $16.99 | | MAR |
| 3 | LUMBERJANES VOLUME 3 TP | $14.99 | | BOO |
| 4 | BATMAN: THE DARK KNIGHT RETURNS TP | $19.99 | | DC |
| 5 | BATMAN: HARLEY AND IVY DELUXE EDITION HC | $24.99 | | DC |
| 6 | SUNSTONE VOLUME 4 OGN SC (MR) | $14.99 | | IMA |
| 7 | NEW SUICIDE SQUAD VOLUME 2: MONSTERS TP | $14.99 | | DC |
| 8 | THE FADE-OUT VOLUME 3 TP (MR) | $12.99 | | IMA |
| 9 | AMAZING SPIDER-MAN: EDGE OF SPIDER-VERSE TP | $15.99 | | MAR |
| 10 | SAGA VOLUME 5 TP (MR) | $14.99 | | IMA |
TOP 10 BOOKS
| | | | | |
| --- | --- | --- | --- | --- |
| RANK | DESCRIPTION | PRICE | | VENDOR |
| 1 | BATMAN CHARACTER ENCYCLOPEDIA HC | $16.99 | | DK |
| 2 | THE ELTINGVILLE CLUB HC | $19.99 | | DAR |
| 3 | DOCTOR WHO COLORING BOOK | $14.99 | | PUT |
| 4 | THE SHADOW DOUBLE NOVEL VOLUME 103 SC | $14.95 | | SAN |
| 5 | WONDER WOMAN: AMAZON WARRIOR SC | $5.99 | | SCH |
| 6 | BATMAN & ROBIN ADVENTURES: THE JOKER'S MAGIC MAYHEM TP | $5.95 | | CAP |
| 7 | BATMAN TALKING BUST & ILLUSTRATED BOOK KIT | $12.95 | | RUN |
| 8 | BATMAN & ROBIN ADVENTURES: TWO-FACE FACE OFF TP | $5.95 | | CAP |
| 9 | BATMAN & ROBIN ADVENTURES: THE SCARECROW'S NIGHTMARE MAZE TP | $5.95 | | CAP |
| 10 | BATMAN & ROBIN ADVENTURES: CLAYFACE'S SLIME SPREE TP | $5.95 | | CAP |
TOP 10 TOYS
| | | | |
| --- | --- | --- | --- |
| RANK | DESCRIPTION | | VENDOR |
| 1 | GHOSTBUSTERS SELECT SERIES 1 ACTION FIGURES | | DST |
| 2 | MARVEL SELECT: DEADPOOL ACTION FIGURES | | DST |
| 3 | MOVIE REALIZATION STAR WARS: SAMURAI DARTH VADER "DEATH STAR" ACTION FIGURE | | BLU |
| 4 | ALIENS WARRIOR COOKIE JAR | | DST |
| 5 | THE FLASH STATUE PAPERWEIGHT | | ICO |
| 6 | STAR WARS: THE FORCE AWAKENS: FIRST ORDER STORMTROOPER ARTFX+ STATUE 2-PACK | | KOT |
| 7 | MARVEL NOW: MAGNETO ARTFX+ STATUE | | KOT |
| 8 | STREET FIGHTER: POISON BISHOUJO STATUE | | KOT |
| 9 | DC COMICS SUPER HEROES: WONDER WOMAN BUST | | DC |
| 10 | BATMAN 1966: BATMOBILE WITH ACTION FIGURE | | MAT |
TOP 10 GAMES
| | | | |
| --- | --- | --- | --- |
| RANK | DESCRIPTION | | VENDOR |
| 1 | DC HEROCLIX: WORLDS FINEST BOOSTER BRICK | | NEC |
| 2 | MAGIC THE GATHERING TCG: OATH OF THE GATEWATCH BOOSTERS | | WIZ |
| 3 | DC HEROCLIX: DAWN OF JUSTICE | | NEC |
| 4 | CTHULHU MONOPOLY | | USA |
| 5 | DUNGEONS & DRAGONS DICE MASTERS: FAERUN UNDER SIEGE | | NEC |
| 6 | DC HEROCLIX: WORLDS FINEST FAST FORCES 6-PACK | | NEC |
| 7 | DC HEROCLIX: DAWN OF JUSTICE FAST FORCES 6-PACK | | NEC |
| 8 | STAR WARS: THE FORCE AWAKENS CHESS GAME | | HAS |
| 9 | CTHULHU YAHTZEE | | USA |
| 10 | STAR WARS: THE FORCE AWAKENS MONOPOLY | | HAS |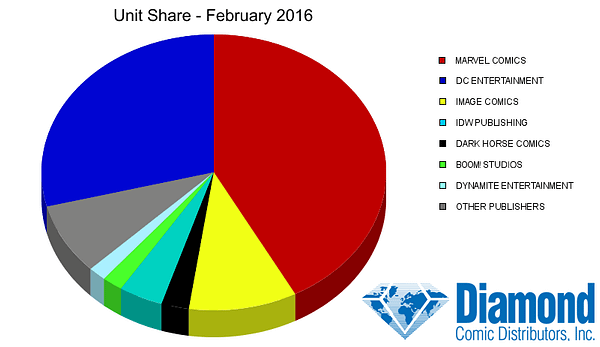 Dollar Market Share – February 2016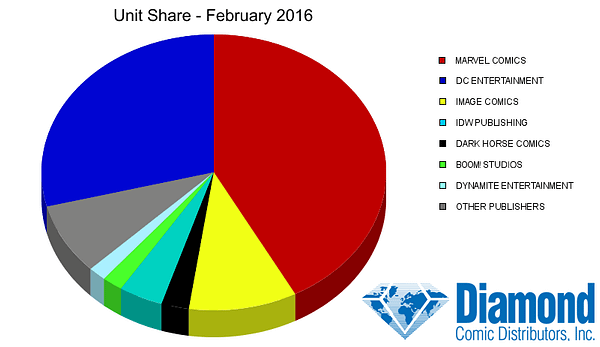 Unit Market Share – February 2016