Cerebus ruined me for Conan.
The new Marvel comic does an excellent job of capturing the storytelling tics of Robert E Howard  – or rather the way the Marvel comic from the seventies and eighties captured them. Or even more so, how the parody comic Cerebus The Aardvark recaptured them. Reading the first issue, I couldn't stop myself from expecting Lord Julius to walk around the corner, cigar twitching.
But anyway.
Calling the first arc of Marvel's Conan The Barbarian comic by Jason Aaron and Mahmud Asrar 'The Life And Death Of Conan The Barbarian' may have laid it out rather. But the first issue of the new series from Marvel Comics out this January doesn't hold back. Running through the life history of the Cimmerian, from his birth , his barbarianship, and his days as a king, it heads in one inevitable direction…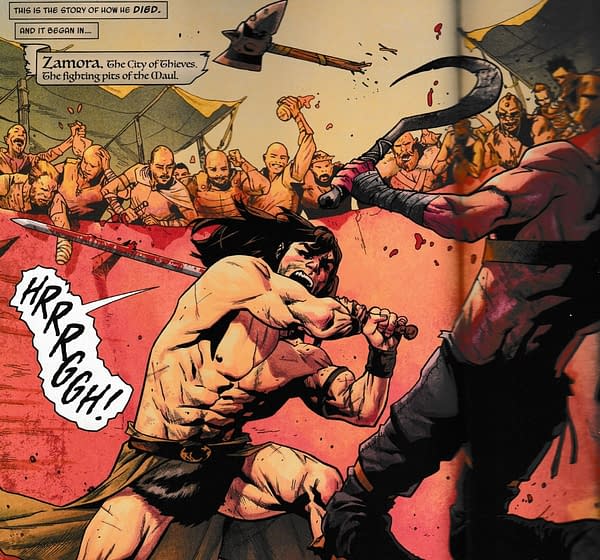 His death. And so, after a montage rush through Marvel Conan tales of old we see Conan's tale in different times. One, in his wandering barbarian mode, targeted by the Crimson Witch, who has foretold the location of Conan's death, in the Tower of Blood, to raise Razazel and all that jazz.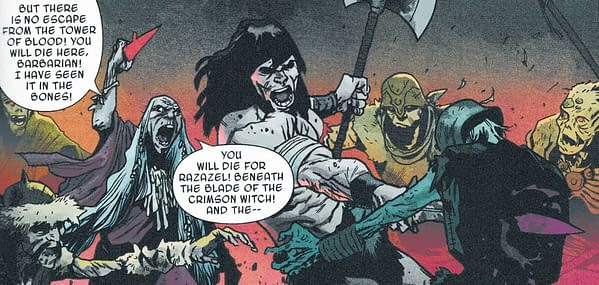 It turns out that the Crimson Witch's bone-reading suffers from an uncertainty principle. She could discern the place of Conan's death. But not when. Which might have given Conan paise never to revisit that place again. But he was young, brave, foolhardy and forgetful back then.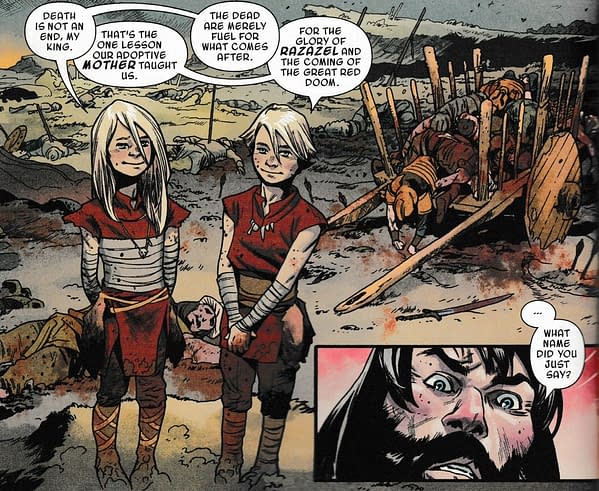 Though as a future King Conan, at least he remembers the name.
Conan can slice through warriors, zombies and soldiers with nary a scratch. But what about fate and destiny? Is he nimble enough, strong enough, wielding a sharp enough blade to do so? We also know he is destined to crossover with the Marvel Universe very soon as well – which is probably a fate worse than death.
Conan The Barbarian #1 is published on Wednesday.
CONAN THE BARBARIAN #1
(W) Jason Aaron (A) Mahmud A. Asrar (CA) Esad Ribic
BY CROM, THE GREATEST SWORD-AND-SORCERY HERO RETURNS TO MARVEL!
From an age undreamed…hither came Conan the Cimmerian, black-haired, sullen-eyed, sword in hand, a thief, a reaver, a slayer, with gigantic melancholies and gigantic mirth, to tread the jeweled thrones of the Earth under his sandaled feet…
Robert E. Howard's creation returns to comics, in an epic tale as only MARVEL could bring you!  Conan's travels have brought him to the far reaches of the unkown, from his birthplace in Cimmeria to the kingdom of Aquilonia and all in between. As his fighting prowess allows him to carve his way through life, so too does it attract the forces of death!
The all-new ages-spanning saga begins here, by writer Jason Aaron (THE MIGHTY THOR, STAR WARS) and artist Mahmud Asrar (UNCANNY X-MEN, ALL-NEW, ALL-DIFFERENT AVENGERS), as Conan's destiny is forever changed!
Parental AdvisoryIn Shops: Jan 02, 2019
SRP: $4.99
Enjoyed this article? Share it!