Desecrating the sacred holiday of X-Men Monday, Uncanny X-Men writer Matthew Rosenberg hinted on Twitter that this week's final issue of Astonishing X-Men will end on a cliffhanger, just like the final issue of New Mutants: Dead Souls. For those who have blocked that traumatic experience from their minds, let's recall how New Mutants Dead Souls #6 ended from our X-ual Healing recap:
It's the final issue of New Mutants: Dead Souls, so all of our questions will be answered, right? Well… it sure starts out that way, with Danielle Moonstar, on behalf of New Mutants proprietor Karma, investigating the ruins of the house where Warlock was killed in the side-stories of past issues, placing that event at three months prior to the present. Dani is infected by Warlock and seems to merge with him. It looks painful.

In the present, Magik investigates that same site after looking through Hatchi Corporation records that Karma didn't want her to see. Karma confronts Magik about what she's been doing lately, but Magik turns the tables on her and reveals that she's got Karma's brother, Tran, trapped in a pentagram in the room. Magik gets answers, namely that Tran is still a part of Karma, and Karma's actions have all been for the purpose of reuniting her psyche with Tran's. Karma possesses Magik and uses her soul sword to kill Tran, absorbing his essence into herself.

Karma tells Magik that she and the other New Mutants are monsters, but before Magik can react, Warlock/Dani attack, backed up by Warlock-clones of the original New Mutants — Magik, Sunspot, Wolfsbane, Cannonball, and Magma. They're just copies, but not for long, as the real Wolfsbane enters the room only to be infected. Magik teleports Boom-Boom, Rictor, and Shatterstar (who was hanging around naked in the kitchen earlier) and brings Strong Guy back from limbo to even the odds, but he's old now, and he has a heart attack. To save him, Warlock/Dani infects him. Magik is next. Then, as Karma is calling the evil General Callahan to offer up Magik and the New Mutants as test subjects for whatever he's been planning over in Astonishing X-Men, Magik grabs her from behind and infects her too.

"We're all monsters now," Magik says as the issue ends.

Wait a minute, ends?! But mini-series are supposed to be the comic book equivalent of sitcoms, all neatly wrapped up in six issues with no lasting impact on overall continuity?! What do Matthew Rosenberg, Adam Gorham, Michael Garland, and Clayton Cowles think they're doing here?! More importantly, does this mean this team will be launching a New Mutants ongoing after the Uncanny X-Men reboot? Because they goddamn better be.
And now, it seems, we're going to relive that trauma all over again, as Rosenberg tweeted:
Hey, remember when you got mad at me when NEW MUTANTS #6 came out? That was fun…
Anyway, enjoy ASTONISHING X-MEN #17 this week. I might take the day off twitter.

— Matthew Rosenberg (@AshcanPress) November 19, 2018
Clearly landing the solo Uncanny X-Men writing gig has gone to Rosenberg's head.
Astonishing X-Men #17 hits stores on Wednesday.
Astonishing X-Men #17
(W) Matthew Rosenberg (A/CA) Greg Land
• It's X-Men vs. Reavers vs. Sentinels!
• But in this battle royale, who will come out on top?
• And will Havok finally prove himself to be the X-Man he claims to be?
Rated T+
In Shops: Nov 21, 2018
SRP: $3.99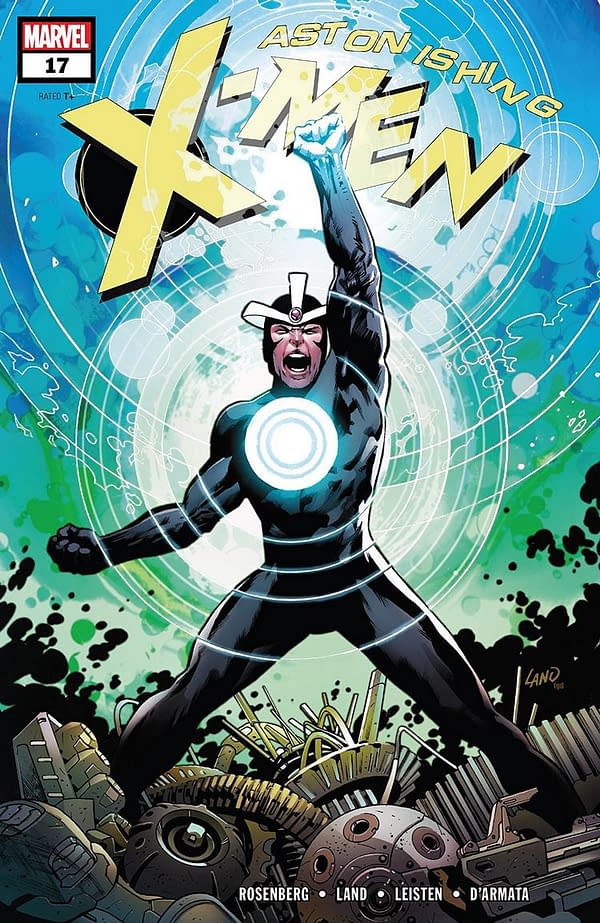 Enjoyed this article? Share it!