Middle School Misadventures: Operation: Hat Heist is the second graphic novel in Jason Platt's popular Middle School Misadventures graphic novel series. It follows the antics of middle-schooler Newell and where his hyperactive imagination takes him and his loyal friends.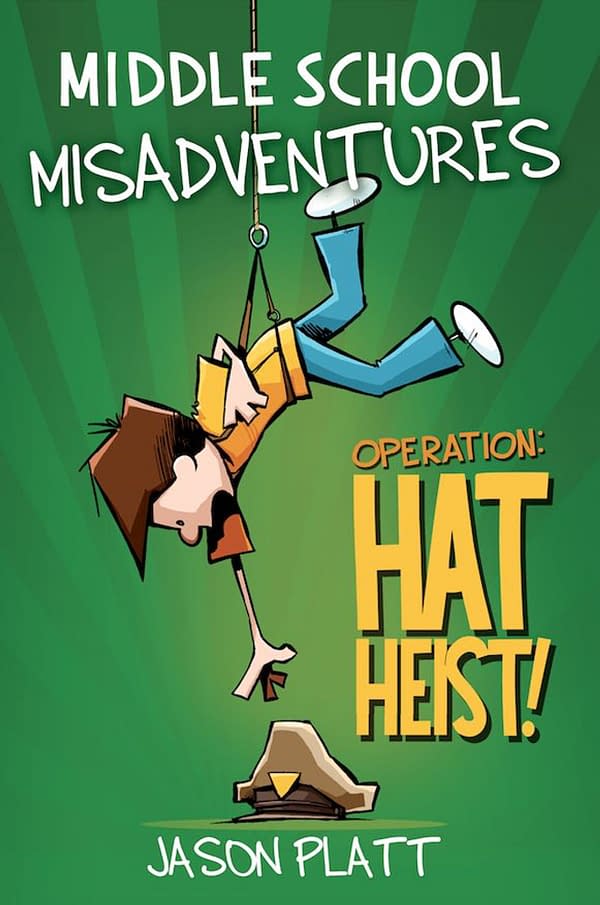 In Operation: Hat Heist, Newell has his favourite hat stolen. It's not just any old hat, it's the same hat worn by his TV hero, adventurer Captain Patrick O'Shaughnessy from the show "The Captain". He was all set to wear it to meet the actor playing the captain at an upcoming convention. But some jerk from school stole his hat, then principle confiscated it. What's a kid to do? If you're a manic, frantic, all-or-nothing kind of dude like Newell, you gather your friends together like Ocean's 11 and plan to steal it back in time for the con.
This is a big, thick, long story, running at 225 pages long. Jason Platt takes a deceptively simple starting point to launch increasingly complicated and chaotic slapstick misadventures, all for the sake of Newell trying to get his hat back. Platt's art style is reminiscent of Bill Watterson's for Calvin & Hobbs, which creates the perfect tone for over-the-top emotions and pratfalls. It captures perfectly the life-or-death epic that is every middle-grade kid's life when school, pop culture, and friends are their entire world. There's a lot of structure and plot in the story that's better paced and controlled than most stories aimed at more mature or adult readers. This may be a story about a bunch of grade school kids, but it's also a crime story, a heist story, a hallucinatory fantasy. Jason Platt manages to replicate the crazed jumbo of daydreams, wish-fulfillment, and empowerment scenarios that every kid creates in their head then uses his art to seamlessly jump from the movie playing inside Newell's head to the reality unfolding in front of him. There's even a fun, twisty plotline about the loose cannon in the gang who may or may not betray them, and even a big crime fiction-style reveal at the end.
It's a bit odd to review a book like this during lockdown because it depicts everything kids can't do while stuck at home. Maybe reading this will help them forget about being stuck at home and take them on a fantasy of total freedom of committing mischief and hijinks.
Middle School Misadventures: Operation: Hat Heist is published by Little & Brown, and is now available in both hardcover and trade paperback editions.
Enjoyed this article? Share it!