Mindless Speculation: Did Metal 2: Death Metal Begin In Yesterday's Wonder Woman #750?
Okay, so this is just a punt. An idea. Joining dots where there may be no dots. Mindless speculation. But this kind of thing usually works out fairly well. Today sees the publication of Wonder Woman #750, which launches the new DC Timeline and tells a story by Scott Snyder and Bryan Hitch of Wonder Woman and President Eisenhower before the US entered the Second World War.
Previous Bleeding Cool reportage included that Scott Snyder and Greg Capullo would be creating a second to Metal for this year, that it would have Wonder Woman as a focus, and would be called Death Metal. And, part of the new DC Timeline, would conclude with an aged Batman and Superman.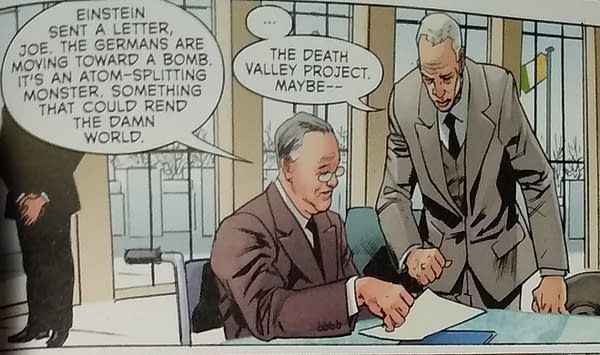 Today's Wonder Woman #750, written by Scott Snyder, featured President Eisenhower discussing something called Death Valley. This is not explained at all in the story.
Now, Death Valley is a desert valley located in Eastern California, in the northern Mojave Desert bordering the Great Basin Desert. It is one of the hottest places in the world along with deserts in the Middle East. Death Valley constitutes much of Death Valley National Park and is the principal feature of the Mojave and Colorado Deserts Biosphere Reserve. It runs from north to south between the Amargosa Range on the east and the Panamint Range on the west; the Grapevine Mountains and the Owlshead Mountains form its northern and southern boundaries, respectively. The valley received its name in 1849 during the California Gold Rush, after 13 pioneers perished from one early expedition of wagon trains, on their way to prospect for gold. During the 1850s, gold and silver were extracted in the valley and in the 1880s, borax was discovered and extracted by mule-drawn wagons.
In other words, Metal. And Death. Or am I just grasping at air?
WONDER WOMAN #750
(W) Vita Ayala, Marguerite Bennett, Kami Garcia, Dean Hale, Jeff Loveness, Steve Orlando, Greg Rucka, Gail Simone, Mariko Tamaki, Various Others (A) Elena Casagrande, Colleen Doran, Jesus Merino, Gabriel Picolo, Others (CA) Joelle Jones
Prestige Format. An all-star 96-page celebration of the Amazon Princess by longtime favorites and acclaimed new voices! In the lead story, Wonder Woman's epic "Year of the Villain" battle comes to a close, leading the way to new challenges ahead. Additionally, this oversized gem tells tales from Diana's past, present and future by some of the greatest storytellers in the business- including Colleen Doran, Mariko Tamaki, the Teen Titans: Raven team of writer Kami Garcia and artist Gabriel Picolo, and legendary Wonder Woman creators returning to the character, including Gail Simone and Greg Rucka!In Shops: Jan 22, 2020 SRP: $9.99
Wonder Woman #750 is out yesterday from DCComics… I bought mine from Piranha Comics in Kingston-Upon-Thames. Piranha Comics is a small south London comic store chain with a small south-east store in Kingston-Upon Thames's market centre, which runs Magic The Gathering nights on Fridays, and a larger south-west store in Bromley, which also runs Magic nights and has an extensive back issue collection and online store. If you are in the neighbourhood, check them out.