Nightwing #47 Review: Shaky Allegory and Silly Villains
Nightwing is attacked by the Terminals, bizarre, self-repairing automatons working on behalf of Wyrm and "the Dark Web." Meanwhile, the Russian Sisterhood holds a gala hostage to get a shot at Willem Cloke. Batgirl is there, but she's not currently able to jump into action. Thankfully, Nightwing is able to fight his way through the Terminals and to the hostage situation, which Willem himself is already resolving.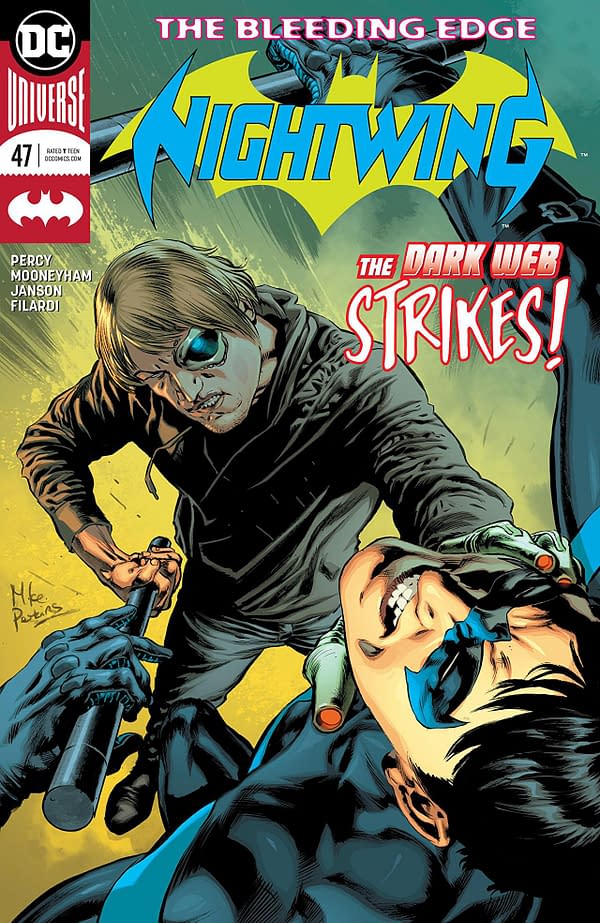 I'm unsure what Nightwing is going for with this story arc. It almost wants to be a serious allegory on the dangers of trusting city infrastructure to a private corporation, but it's buried under so much silliness and technophobia that the serious bits just don't jell.
The tone holds such a serious baseline that the silliness just disrupts any attempt to get across a point. That's not to say the comic is joyless, but after someone has to shotgun blast their own hand off to get rid of some of Cloke's tech, I didn't have any hope for a light tone.
Also, and I'll admit this is getting granular compared to my general critiques, but maybe we should retire the phrase "down the rabbit hole" from fiction. Not everything is worth an Alice in Wonderland reference and trying to justify that line by building upon the weak comparison makes things only worse. That happens at the end of this issue, and then someone gets sucked into a freaking phone, which is also immeasurably silly.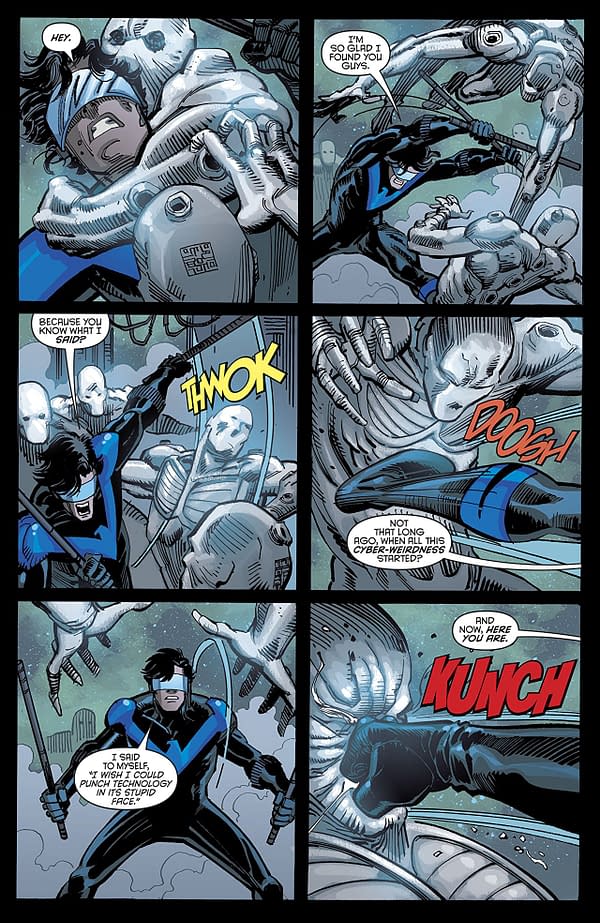 On the other hand, Chris Mooneyham's art on this comic is fantastic. He, along with Klaus Janson's inks, bring a gritty and dirty aesthetic to the comic reminiscent of John Romita Jr. and other artists of that style. It looks great and fits the mean streets of Bludhaven well. Nick Filardi pairs it with bold and heavily contrasting shades that make the book look even better.
Nightwing #47 is a bad mixture of too-serious storytelling and plot points and characters so ridiculous as to border on self-satire. The artwork is great, and it almost pains me that Mooneyham, Janson, and Filardi are being paired with a script this nonsensical. Unfortunately, this one doesn't earn a recommendation. I'd suggest giving it a pass.