Ninjak vs the Valiant Universe #4 Review: A Fun and Dumb Finale
[rwp-review-recap id="0"]
Ninja-K is finally backed up by MI-6, the heroes, and Neville as they attack Roku's base of operations. However, Roku has some backup of her own, and the heroes of MI-6 will have to break through their hordes to stop Roku's plan.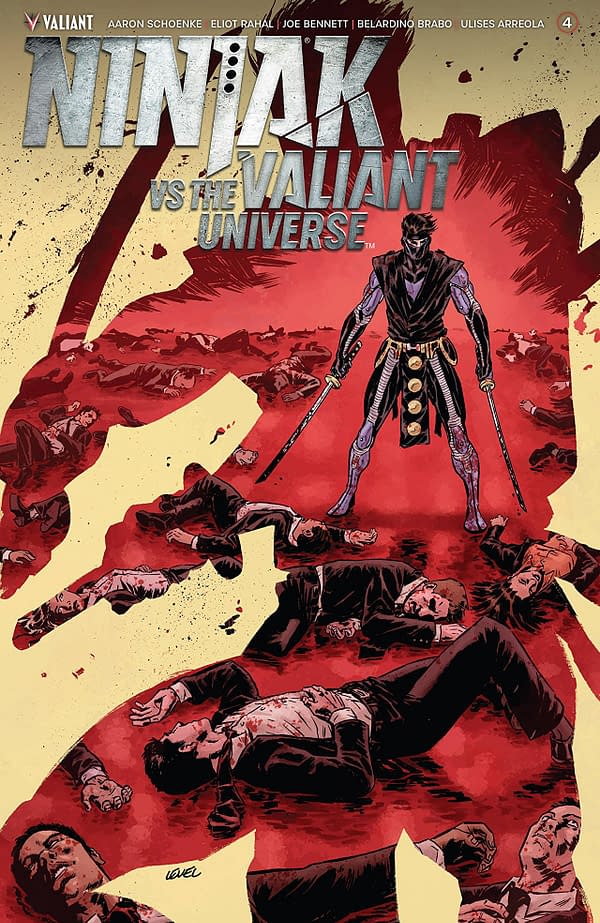 Ninjak vs the Valiant Universe #4 attempts to bring the story to a bombastic and action-heavy conclusion. It's successful to a point, but it isn't quite as fun as it clearly wants to be.
It has some tone-balancing problems, first and foremost. The book opens with Neville reminiscing on more peaceful times with his family, and it's too late into this story to try to establish some grander emotional connection with Neville. As such, it just comes off as corny and saccharine.
It also clashes with the wanton bloodbath in the back half of this comic. I've been reading Valiant for a bit, but it still surprised me how cavalier Bloodshot, Ninja-K, the Eternal Warrior, and Manowar are with just slaughtering henchmen wholesale. It also clashes with the somewhat classical heroism the overall story seems to be reaching towards.
So, it can't balance a steady tone. Is it still fun? Yeah, and these problems didn't kill the book for me. The finale is a shaky ass-pull, but even that just comes off as obligatory in a story like this.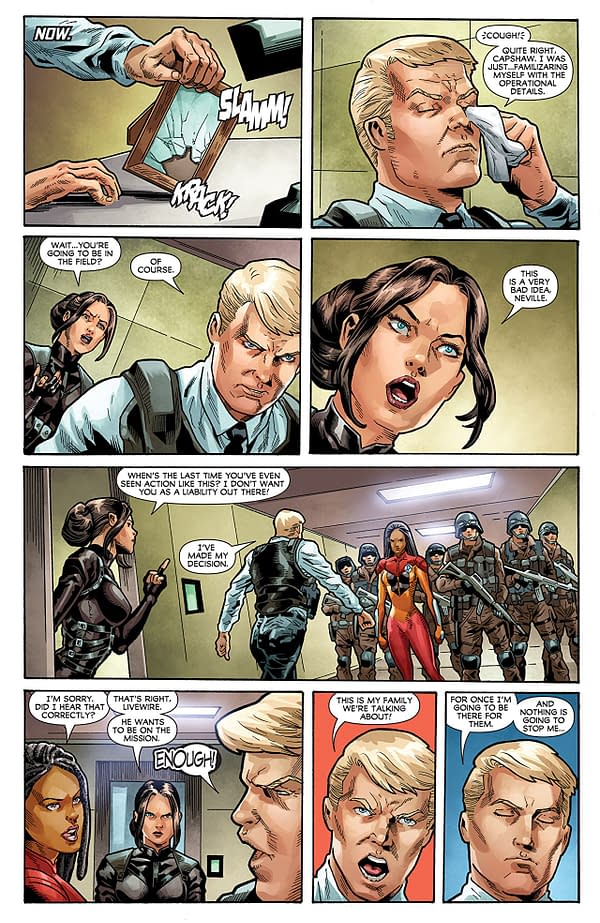 Joe Bennett's artwork is practically a sure thing at this point, and it looks good here too. Each scene is heavily-detailed and looks generally gorgeous. The gore of the fight scene comes off as surprisingly heavy, but it still looks cool and a visceral level. Ulises Arreola keeps things bright and colorful, which doesn't help with the overall tone, but it's still pretty.
Ninjak vs the Valiant Universe #4 manages to finish off this troubled miniseries on a somewhat high note. The story is fun, Bennett and Arreola make it look good, and I can recommend it. It's not required reading, but it'll give you a good time. Feel free to check it out.
[rwp-review-ratings id="0"]
[rwp-review-form id="0"]