Posted in: Comics | Tagged: archaia, boom studios, Comics, entertainment, feathers, Jorge Corona
---
No Shame For A Flying Boy In Feathers #5 When I picked up the second to last issue of Feathers this morning, I found myself filled with anxiety for how things would turn out for the beloved Poe and his friend Bianca. From BOOM! Studios and Archaia, written and illustrated by Jorge Corona, Feathers #5 couldn't be released quick enough. I mentioned at the end of my last review how upsetting the end of issue #4 was. I was pretty sad to watch Poe leave the city in such a heart-wrenching way. Corona starts issue #5 with that same emotion as Poe returns to his father and exclaims that he was right about everything. However, his father reveals that he had known about the guide all along. I'm sure you can imagine that, Poe doesn't react well to this information and storms off. Now, no longer afraid of what people think, and fueled by frustration, Poe walks the town with no shame.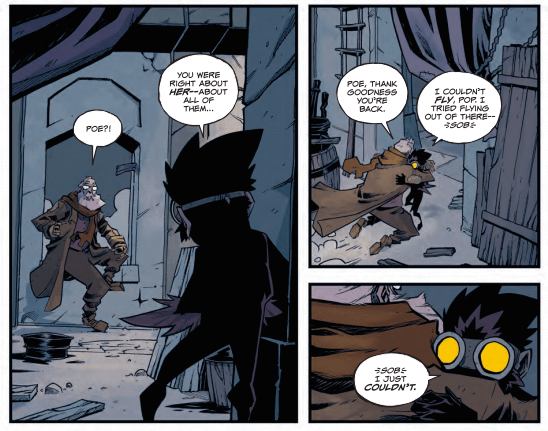 Meanwhile, in the city, Bianca realizes that the Captain is up to no good, and she takes it upon herself to find Poe and make sure he's okay. Unfortunately for her, her father stops her. I have to say that this was one of my favorite scenes of the issue, because when she gets caught, it's easy to think that she won't be able to save him. However, we see a change of heart in her father, and he actually helps her. With that, he also reveals that he is proud of her for being so brave. What's really interesting to evaluate about this issue, is what it's like when the characters are apart. For the majority of the issues, Poe and Bianca have been by each others sides. Now we get to see them continuing their lives apart, and have to wonder if they will ever have the opportunity to be together again.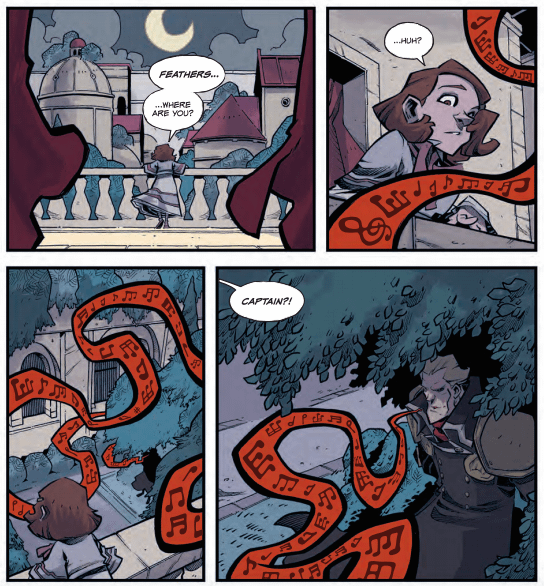 Corona's writing and art continues to take my breath away. There's something magical inside of these pages that hooks me, and makes me care about these characters in a true way. This comic is unique, and I believe that it can be enjoyed by all ages. I'm incredibly sad to think that next month will be the last issue, but at the same time, I can't wait to see how it all turns out. Now's your chance, take the opportunity to pick up the first five issues of Feathers, and binge read until you're prepared for the final issue!
Christine Marie is a Staff Writer at Bleeding Cool, and bibliomaniac with a love for all things creative. She hopes to one day be a Superhero/Disney Princess/Novelist. You can find her on Twitter and Instagram @AWritersWay or on her blog writerchristinemarie.wordpress.com.
---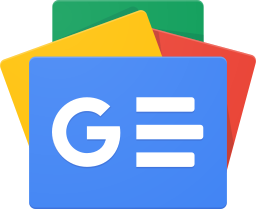 Stay up-to-date and support the site by following Bleeding Cool on Google News today!