Poser #1, a Fun Slasher Comic from Waxwork Comics
Are there truths behind urban legends? Growing up my dad would warn me and my sister of various boogeymen and things that go bump in the night, in an effort to make us behave. But what if some of these creeps were real? In Waxwork Comics' Poser #1, writer Matt Miner explores that very idea.
On Redondo Beach, California in 1982, a group of punks are teasing a hapless young man who just wants to fit in. Tired of constantly being teased, he kills two of his bullies. Fast forward to today, and a new group of young punks are now the target of a crazed killer, who looks like he's out for even more blood this time.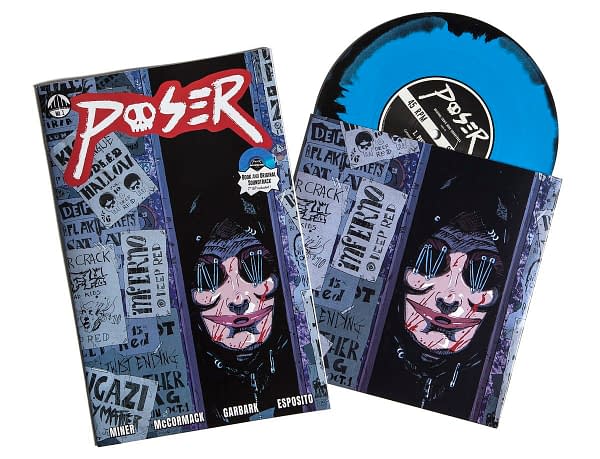 I've never really been immersed in the punk rock scene. I've been to shows, dabbled in the rockabilly scene for some time, and heck, I even worked at Hot Topic (though one could argue that's the complete opposite of punk rock) — but Miner wrote out a completely believable world. The comic is just starting to flesh out these characters, but you will find yourself rooting for them to win.
Artist Claw McCormack and colorist Doug Garbark make an excellent team. The lines are precise but rough, making these characters look like they could indeed stomp you in a mosh pit, and the colors give this book the depth it needs. Letterer Taylor Esposito provides the icing on the badass cake, making this an excellent first issue.
The comic also comes with its own soundtrack from Joel Grind, which is exactly what you need to listen to while reading. It's fast, it's loud, and it reminds me of Southern California. It even has hints of horror undertones to it. Waxwork Comics (from Waxwork Records) has published one hell of an experience, and I can't wait for issue 2.