Poser #1 Review: Punk Anarchy Meets Slasher Flick
[rwp-review-recap id="0"]
In 1982, a kid bullied by a circle of punk rocker friends brutally kills two of the group. In the present, we find a young woman named Ashley. She lives with her dad, and they both work at a record store. She ducks out midway through the day with her boyfriend Max, and their friends to go to the park and a punk rock show. However, something evil is lurking in the background, and it has its eyes on Ash and her friends.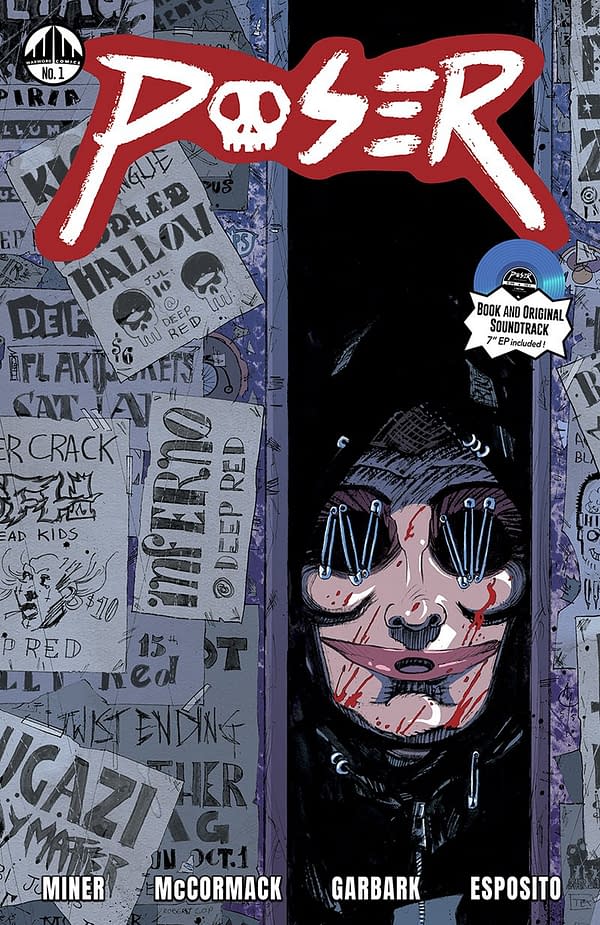 Poser presents punk rock-flavored slasher horror. Ash, Max, and their friends are being set up to be hunted by the malevolent "Poser." It seems apparent that Ash's father is one of the survivors from the opening scene in 1982, but for some reason they don't make that explicit in this issue.
That said Ash is a likable yet flawed protagonist. Max isn't expanded on much. Brooklyn is the jealous girl who wants Max. The other friends show little entertaining qualities that will hopefully be expanded later.
On top of all of this, Poser shows a decent understanding of punk rock culture. There is the rejection of culture, the need for revolution, and the near-pathological individualism. Of course, there's also the music, and the show they attend—well its lyrics are certainly that of a punk rock song.
Clay McCormack's artwork looks great. It's a highly detailed style, but the characters have a cartoonish expressiveness to them which really works with the charming-yet-sinister tones of the comic. The two kills we see—the one in the beginning and the one at the end—are a mixed bag. The first is extremely graphic, but it isn't over-the-top by slasher standards. The ending one is cartoonishly brutal and took me out of it.
Doug Garback's color art is balanced well by a pseudo-realistic restraint contrasted by the bright colors of the lead characters' hairs and clothes.
Poser #1 is a fun mixture of punk rock rebellion and slasher movie malevolence. The lead characters are likable enough so that you don't want to see them die, and the implied backstory to the killer seems poised to make some interesting statements about punk rock culture past and present. This one gets a recommendation.
The Waxwork website is the only place I could find the comic for purchase currently. It comes with a soundtrack, which is why its $14.95 for a physical copy. I'm not sure if there is a way to purchase the comic alone; I'm going to research that and update the article with my findings.
Edit: A physical comic-only version of Poser will be solicited to shops in May and released in June.
[rwp-review-ratings id="0"]
[rwp-review-form id="0"]