Pumpkinhead #5 Review: A Vicious Finale
Pumpkinhead is being hunted by the other demons, and every wound he takes also affects the person who summoned him. This slows down the group, but the Sheriff, Haggis, and the others must find the other witches who summoned the demons. The Greed Demon is on their trail, and time is running out. Eventually, Pumpkinhead will find Clayton.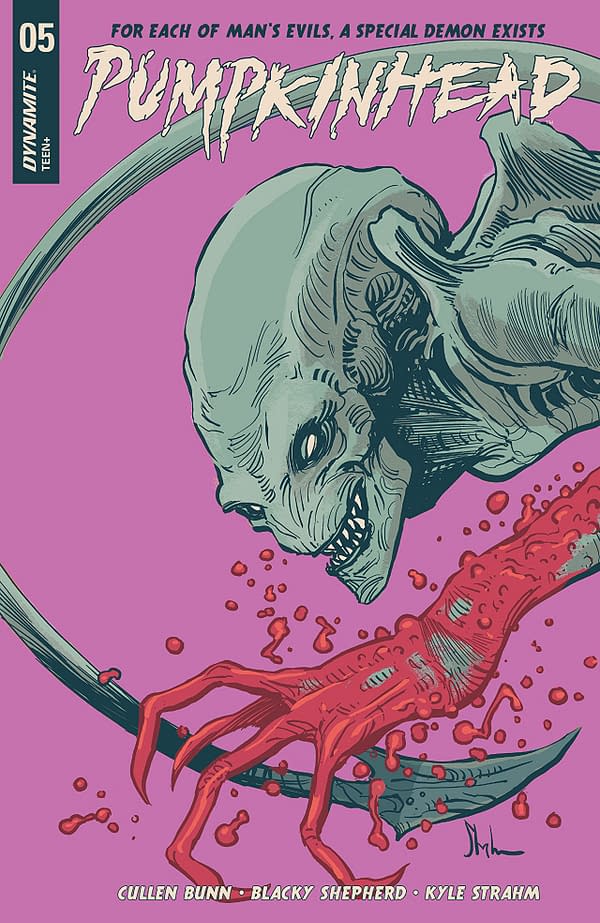 Pumpkinhead #5 brings the B-movie horror saga to a conclusion. It does so with a bloody and tense chase and a showdown that pits the Sheriff's morals against themselves.
It's a pretty solid ending. The only standout moment that feels a little week is the bizarrely long negotiation the Sheriff goes through to get a pickup truck which doesn't really add anything to the story.
The climax is what makes this issue shine. The Sheriff is pitted between two options: she can kill the grandfather that summoned Pumpkinhead and save Clayton, or she can let him live and let Clayton die. Inaction has its own punishments too.
That mixed with solid pacing and a darkly brutal ending make this among the best issues of the Pumpkinhead miniseries. There may not be as much demon versus demon action as I had hoped, but this issue brings an effective conclusion nonetheless.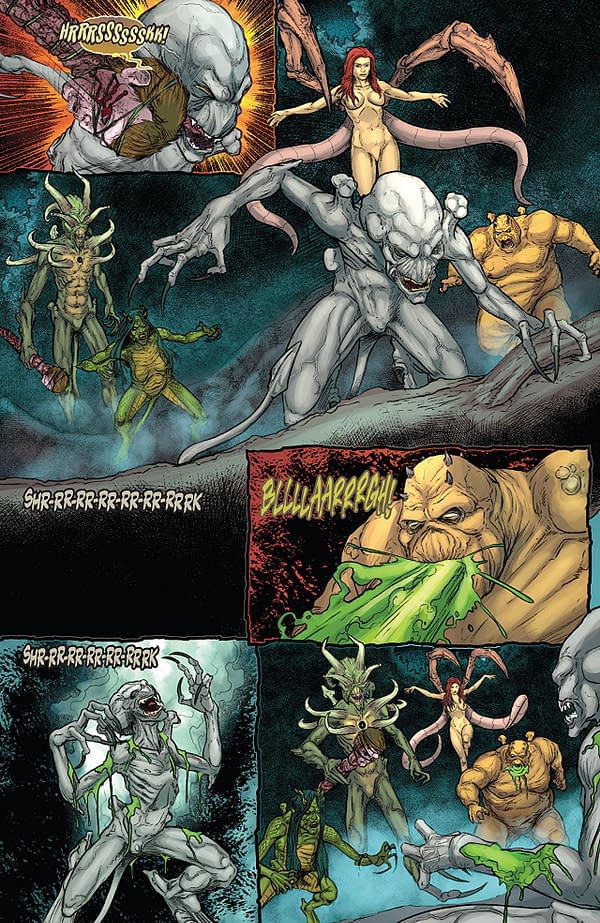 I'm still not crazy about the artwork in this comic. Blacky Shepherd's style brings a mixture of flat, empty spaces and high detailing that aims for a depth that the figures can't bring. It often falls into the uncanny valley often, though the scenes with Pumpkinhead and the demons don't have this problem as much. The artwork isn't outright bad, but it has a myriad of problems. The color work from Arancia Studios isn't great either, but it's not outright bad just the same.
Pumpkinhead #5 brings a solid finale to the action horror miniseries. The climax is cleverly constructed, and the ending leaves you cold in a way that only smartly written horror can accomplish. The art is troubled, but it isn't bad. This one is worthy of a recommendation. Feel free to check it out.