Posted in: Batman, Comics, DC Comics | Tagged: dc comics, Punchline
---
Punchline Is More of A Thing At DC Comics Today Than Ever Before
James Tynion IV may have moved on. But Punchline may well be his biggest legacy at DC Comics, alongside making Bruce Wayne too poor to buy Arkham Asylum and showing DC Comics that they can get sales from a Joker comic almost as much as a Batman comic. Punchline was originally created based on his work on Something Is Killing The Children, published by Boom Studios after being turned down by DC Comics.
One thing that had struck me immediately with the launch of SOMETHING IS KILLING THE CHILDREN was how immediately the audience connected with Erica Slaughter. It got into my head that a new generation of comic fans were rising and they wanted characters that they loved and they wanted for their own. They didn't want the hand-me-downs of their parents favorite characters, and they also didn't want their favorite character to be someone who was appearing in a dozen different movies and tv shows. The comic book industry is a bunch of nerds making stuff for nerds, and nerds like to be early adopters. The success of Erica as a character had gotten in my head… And it started combining with a few other things. I mentioned in the last TBT that I had a meeting with Ben Abernathy in Burbank where we had discussed turning the Joker part of the story into a real Joker War, and I had the idea of giving Joker a new character as a lieutenant. A character who could be a real opposite number to Harley Quinn. I took the idea home and played with it, and after talking it through a bunch with my partner Sam, landed on the name PUNCHLINE.
Here is how he described her to DC Comics and to artist Jorge Jimenez.
She is, essentially, Joker's new girlfriend. And she is Harley Quinn's polar opposite. She is Joker's #2… A silent, terrifying serial killer, sexy as hell. All of his henchmen are terrified of her and they should be. Imagine Joker being Joker and torturing a hostage, and then he gets tired and sighs, handing the scalpel to Punchline, who slits their throat. We don't want to base her costume off either Joker or Harley's too much, but there should be a bit of a clown component to her. Maybe she has a porcelain mask, but that might be too cheesy. We don't want her to just be anti-Harley Quinn, and we don't just want her to be female joker. We don't want to evoke The Batman Who Laughs or the Dark Multiverse with somebody who looks like she steps out of Hellraiser. Maybe there's a bit of a horror-carnival vibe to her? Like she's a mute sword swallower, and at a key scary moment she can pull a sword out of her throat. When she smiles, it's scary. It's not a toothy smile, it's a closed mouth grin. She is a sadist. She enjoys killing people. She is talented at killing people. The Joker calls her the funniest person he's ever met in his life. She is a physical character, and she should be sexy. Sexy in a slinkier, darker way than Harley, who is all pep and energy. I think her primary weapon should be her knives and her fists. I see her colors being purple and black. Like in the f-cked up Archie Comics where The Joker is Archie, and Harley Quinn is Betty, then Punchline is Veronica. If Harley is the Angel on The Joker's shoulder, Punchline should be the devil.
So while James Tynion IV keeps her around in the alternate universe DC Vs Vampires #10, which he co-wrote with Matthew Rosenberg, drawn by Otto Schmidt, we see her taking on assets in the DC alternate-Universe abandoned by others, to her own profit.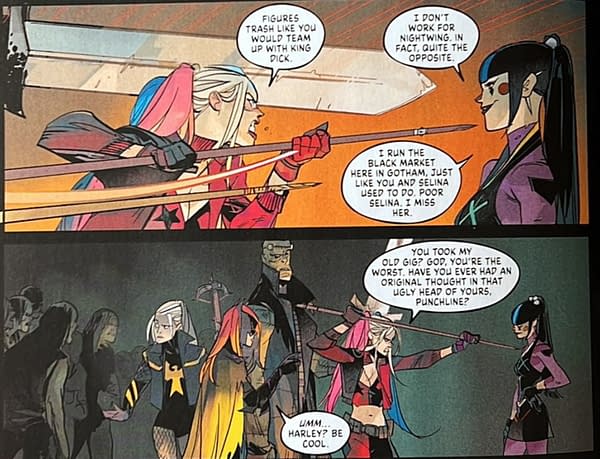 She also gets her own series courtesy of Tini Howard, Blake Howard and same-face-hating Gleb Melnikov, and has Punchline: The Gotham Game where she is doing the exact same thing.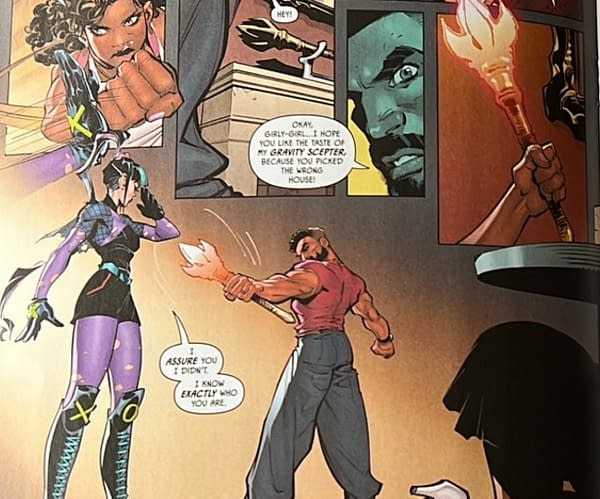 Creating power bases, buying favours and using them for her own ineffable plans.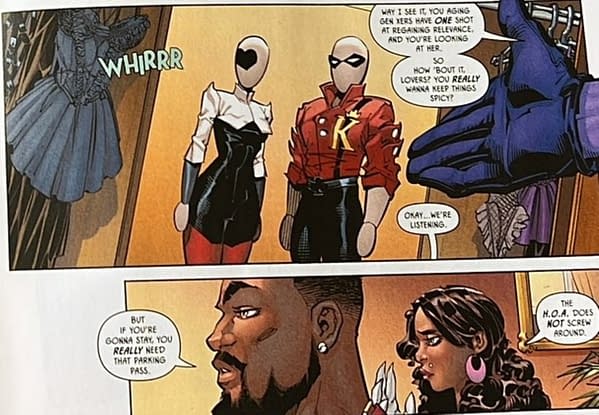 Just be sure that anyone who makes a deal with her, will end up on the wrong side of it at some point.
DC VS VAMPIRES #10 (OF 12) CVR A GUILLEM MARCH
(W) Matthew Rosenberg, James Tynion IV (A) Otto Schmidt (CA) Guillem March
The war for Earth takes a decisive turn as the heroes prepare to strike back! Can Supergirl and her team in Australia escape to space? Will the Birds of Prey's infiltration of Gotham City go unnoticed by the Vampire King? Can Green Arrow save the human cattle from the Blood Farm? The shocking answers await! Retail: $3.99

PUNCHLINE THE GOTHAM GAME #1 (OF 6) CVR A GLEB MELNIKOV
(W) Tini Howard, Blake Howard (A/CA) Gleb Melnikov
Punchline is out of jail and back on the streets of Gotham City. She's not coming back for some of what Gotham has to offer, she's coming back for all of it. She wants to be the queen of crime, and with the help of her Royal Flush Gang no one will stand in her way. But Punchline created a lot of angry enemies in Gotham before she was incarcerated, and they all want payback. Presenting a miniseries that will redefine the criminal landscape of Gotham City from the superstar creative team of Tini Howard (Catwoman, Knights of X), Blake Howard (Batman: Urban Legends), and Gleb Melnikov (Robin, Wonder Woman)!
Retail: $3.99
---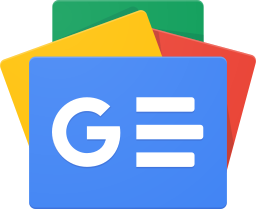 Stay up-to-date and support the site by following Bleeding Cool on Google News today!