Read Flash Gordon #1, Part of Dynamite's Latest Digital Bundle
Dynamite Entertainment's parent company, Dynamic Forces, is turning 25, and they've hooked up with Humble Bundle to create the Dynamic Forces 25th Anniversary bundle featuring a wide variety of comics from their long history. This new digital bundle features over 150 issues and three art books. Fans can pay what they want via the different thresholds, available for a limited time here.
To help promote that bundle, they've sent us some free comics to run over the next few days. Here we have Flash Gordon #1 by Jeff Parker, Evan Shaner, and Jordie Bellaire.
Flash Gordon never fit in on Earth. But on the bizarre planet MONGO, Flash's thirst for thrills and daring danger makes him the perfect weapon against world-breaking Ming the Merciless and his awful inter-planetary swarms of terror! Can the cocksure Man From Earth funnel his overconfidence into saving worlds, or will the universe fall to Ming? Don't miss out on THE most exciting ongoing series of 2014 by dream team Jeff Parker (Batman '66, Aquaman), Evan "Doc" Shaner (Deadpool, Ghostbusters) and Jordie Bellaire (Pretty Deadly, Captain Marvel)!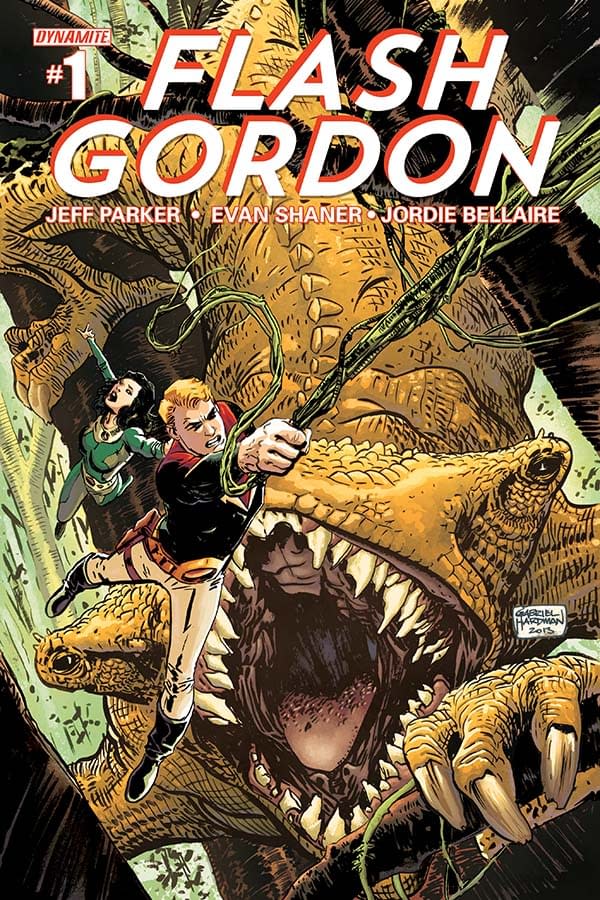 The cover above is by Gabriel Hardman. All four issues of Flash Gordon are available as part of the bundle for a limited time here.