37 Free Comics From ComiXology, Including Locke & Key, My Little Pony, Transformers, Ninjago, Batman '66 And Turok #1… So Far (Adventure Time Update)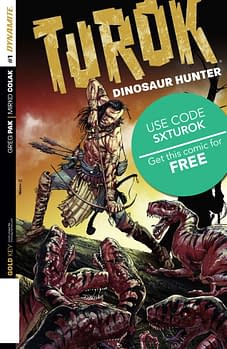 UPDATED: To reflect expired free comic books.
Today is the day I sign my children up to ComiXology. Because until midnight CST tonight there are the first four issues of My Little Pony: Friendship Is Magic by Katie Cook and Andy Price for free.
And then for myself, there are the first six issues of Locke & Key, also for free.
There's also all twelve issues of Transformers: Autocracy for free.
And the first issues of Injustice Gods Among Us, Ninjago, Batman 66, Batman Arkham City and the new Turok The Dinosaur Hunter as well. And now Deadpool Gauntlet #1, Smallville Season 10 #1, Scribblenauts #1 and the first six issues of Adventure Time!
Okay, you'll have had to have reset your password after this week's earlier debacle.
But it's worth it.
These comics will only be free on ComiXology until midnight CST, as part of ComiXology's presence at SXSW. And there are a bunch more comics being made free later today as well.
But it's a good start. And twenty-seven free comics are easier to deal with than last year's seven hundred… here are the codes, redeem them here and look for more later today here.
SXNINJUSTICE to get Injustice: Gods Among Us #1 for Free!
SXPONIES to get My Little Pony: Friendship is Magic vol. 1 for Free
SXLOCKE to get Locke & Key vol. 1 for Free
SXNINJAGO to get Ninjago vol. 1 for Free
SXBATMAN to get Batman '66 #1 for Free
SXARKHAM to get Batman: Arkham City #1 (of 5) for Free
SXTRANSFORMERS to get Transformers: Autocracy for Free
SXTUROK to get Turok #1 for Free
DEADPOOL to get Deadpool: The Gauntlet #1 for Free
SXSMALLVILLE to get Smallville: Season 10 #1 For Free
SXADVENTURETIME to get the first volume of Adventure Time for Free
SXSCRIBBLENAUTS to get Scribblenauts Unmasked: A Crisis of Imagination #1 for Free
Get the Deadpool Infinite comic by @Reilly_Brown & @Marvel on @comiXology with redemption code DEADPOOL #SXSW pic.twitter.com/uSm5qnQJYT

— John D. Roberts (@johnnystorm0) March 8, 2014