47 Thoughts About 47 Comics – Forever Evil, Original Sin, Batman Eternal, Saga, Harley Quinn, Magnus, The Shadow x2, Uncanny X-Men, Amazing Spider-Man, Velvet, Prophet, Solar, Doop, Rogue Trooper, Red Hood, Star Mage, Batman And Frankenstein, Wonder Woman, Batman/Superman, Justice League Of America, Hulk, Windblade, Star Slammers, Indestructible, THUNDER Agents, Invincible, East Of West, Mind The Gap, Zero, TMNT, V Wars, 7th Sword, Dexter's Lab, My Little Pony, Littlest Pet Shop, Monster & Madman, Artifacts, Battlestar Galactica, Pathfinder, Flash Gordon, Rocket Girl, Six Million Dollar Man, Green Hornet, The Bunker and Amy Devlin
StephanieBrownWatch: There is no Stephanie Brown comic today. Welcome to #BatWorldProblems in Batman Eternal. So where can you go for a little female action in today's comics? Thank you Magnus #3. I'm sure everyone will get the joke. Everyone.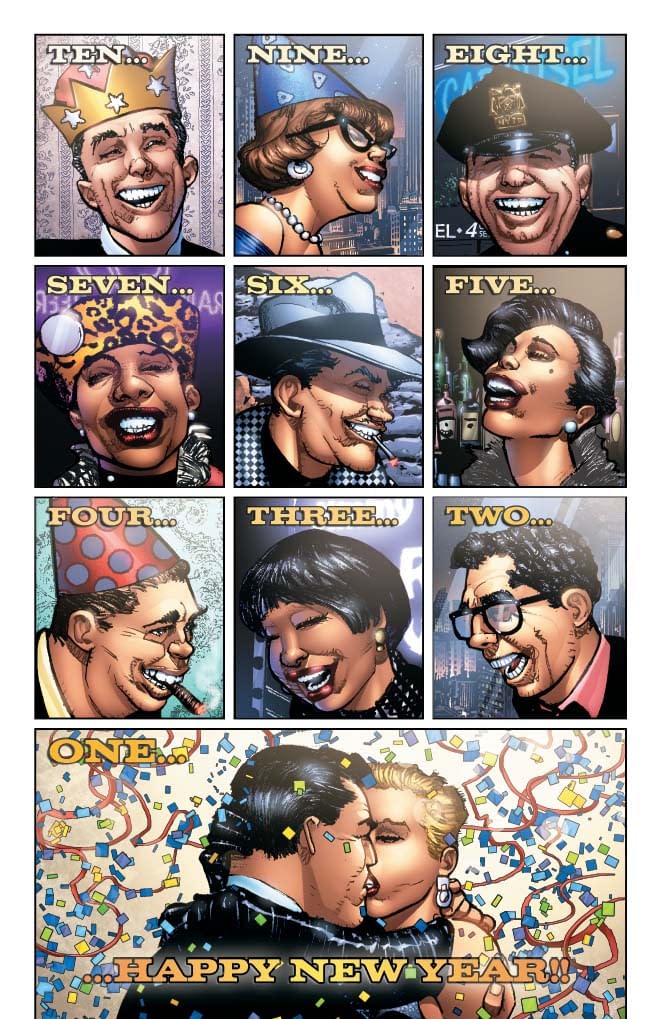 The Shadow: Moscow #1 from Howard Chaykin counts us down into The Week In Kissing. Because there is plenty to go around… Both imaginary, from Uncanny X-Men... And real! From the dangerous of Amazing Spider-Man… To the dangerous and elderly of Harley Quinn… To the protective of Solar #2… The staged of Saga…
The classic of Velvet…
The tender of Prophet…
Sometimes it's nice to just celebrate a kiss, whatever the reason. And make sure you get your kiss in before its too late. Regret for the kiss never taken is eternal, right Lex Luthor in Forever Evil? As long as it's consensual of course. Doop, Doop, Doop… that explanation will just never stand up in court. Sorry Doop, you'll have to find another outlet for your desires. Exactly, Rogue Trooper #4, "thwak time". Get thwakking the Doop…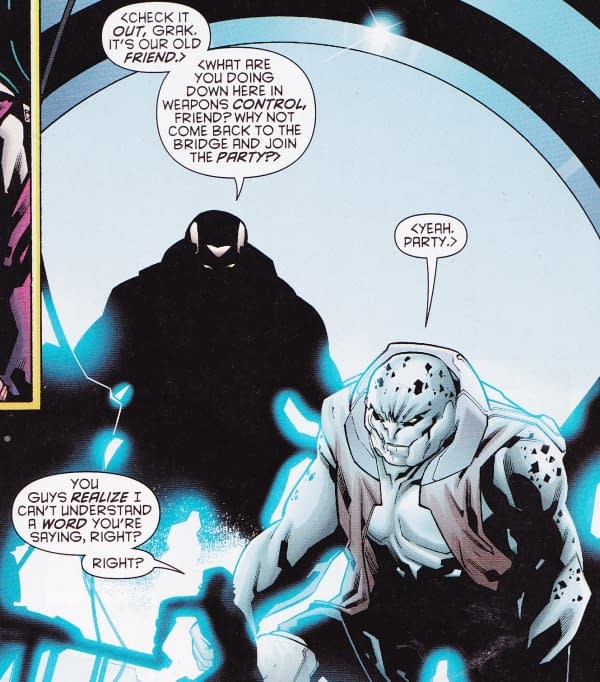 Red Hood And The Outlaws does a good job of reminding us that not every alien race speaks English. Just most of them. Though it comes close to breaking comic books… watch it there, okay? Star Mage #2 gets close as well. Self analysing the plot and finding it ridiculous is one step from the comic pages catching on fire and burning… Batman has a portfolio review in Batman And Frankenstein. I think he needs to work on his perspective. And Wonder Woman also goes to a comic convention, it seems, and meets an unfortunately too-common attitude towards cosplayers. And in Batman/Superman she discovers that, seriously, no one is worth doing a favout for, everyone is just so ungrateful. Also, no one tell Ricky Gervais about this character, it'll only encourage him. Tony Stark with no pants in Original Sin is one thing. But Tony Stark with no pants and his helmet still on is… well, it had better turn up in Iron Man 4, that's all I'm saying. Catwoman shows off the usefulness of her hacking skills in Justice League Of America. Everyone's hacker these days. Catwoman, Skye from Agents Of SHIELD, hack, hack, hack… Hang on! I bet that's how the Wicked Witch Of The East survived! Stop reading Hulk, and let's get to Oz to warn them immediately! You see? Transformers are just like us! Except, you know, twenty feet tall and made of weapons and such. Windblade #2, there, if you want to find out more.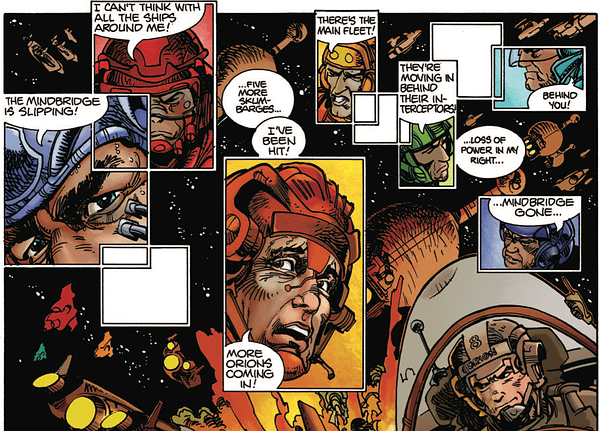 Star Slammers #3 also has a broken narrative. In space, no one can hear you narrate the battle field around you.

"Giggety". Still Indestructible #6 does pose a dilemma… And T.H.U.N.D.E.R. Agents #8 answers it. In the words of Xander Armstrong, "kill them." And Invincible #111 shows you exactly how. There's a lot of this in today;s new "jumping on" point. Or "throwing up" point. Feeling sickened yet? Just wait till East Of West gives you a close up. Mirror, Mirror on the wall, who is the already-dressed one of all? Mind The Gap continues to deliver every woman's fantasy, getting dressed without having to.
And Zero gives us the answer to "what would Batman do?" Teenage Mutant Ninja Turtles discover parkour. Parkour!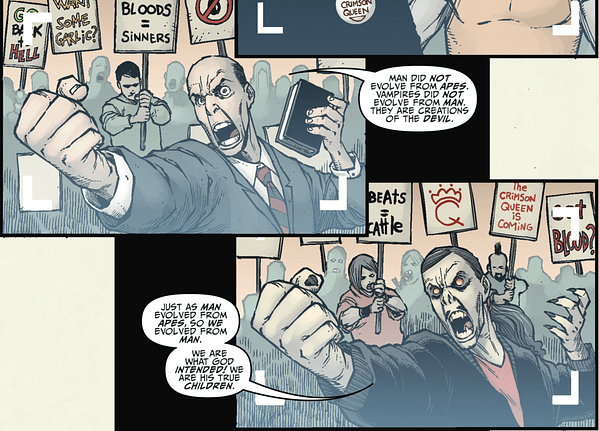 The Undead Vs. The Pro Life there, in V-Wars… I wish the wind delivered my such perfectly aligned, matching and polished weaponry on a whim, as it does in 7th Sword #2. It's like an Apple Store but for slightly more dangerous equipment. Dexter's Lab #2 starts misogynist but end up simly nihilist. Much less sexist. I'm sure someone is going to take that My Little Pony in Friends Forever #5 out of context. But not me. Not today.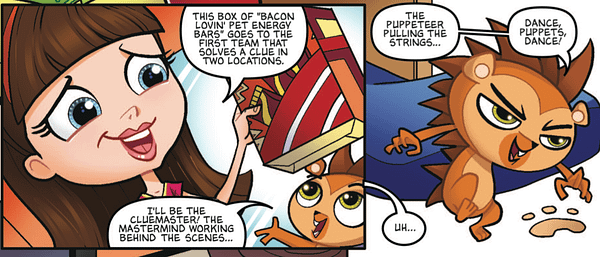 Littlest Pet Shop #1 reveals a slightly darker side than I was expecting. I'm on the edge, I'm feeling the mood, what would IDW offer next when I'm in this zone? Okay, now I'm depressed. Thank you, Monster & Madman #3 Artifacts #37 is full of the smart, erudite humor you've all come to expect from Top Cow. I'm still trying to work it out. While A Voice in the Dark #7, the conclusion to volume 1 of Larime Taylor's creator-owned epic, gives a genuinely distressing glimpse into the thought process of a serial killer. Just in case you ever thought of becoming one. Battlestar Galactica #11 gives us, well, what sounds like a euphemistic sexual cry… And Pathfinder City of Secrets #1 delivers us the possible results. Flash Gordon #2 caricatures the critic, handily before any of the reviews are in. Just in case. Shadow Year One #9 has a very very nice sound effect use there. Almost made up of the gold bars…
That's not a bad one either, from Rocket Girl... While Six Million Dollar Man #3 keeps the TV sound effects in use in the comic. If you hadn't seen it you'd be mystified. So that's the thirty year olds out of this thing. You know, Mark Millar's Hit-Girl has a lot to answer for. Waid's Green Hornet #12 gives us the sweary kid… A little father/son non-bonding in The Bunker, there. I thought this was meant to be America? There's no such thing, Amy Devlin!
Comics courtesy of Orbital Comics, London. With spaces still available for this event…