Action Figure Showdown: Which Video Game Toy Series Is Right For You?
By Jared Cornelius
Walking around the video game section in your local shops you may have noticed an explosion of tiny plastic figurines. It's almost impossible to ignore at this point as most retail chains have an entire aisle dedicated to these things. Well if you didn't know they belong to the increasingly popular, "Toys-To-Life" genre of gaming that's now gotten its hooks into companies like Disney and Nintendo. The idea is that each figure has an RFI chip in them which is read by a USB device attached to the console, the real life figure when placed onto the base is transported into the video game for players to use. This holiday three separate companies are vying for your hard earned cash and attention. So being that I'm a gigantic child I thought I'd look at the three different brands of, "Toys-To-Life" figures and help you figure out which one may fit your tastes.
The genre in general owes credit to Activision of all companies. The series was originally launched in 2011, and heavily featured former Insomniac/Sony mascot, Spyro The Dragon. The forgotten mascot hadn't really made any impact since the original PlayStation, a few reboot attempts were tried on the PlayStation 2 and Xbox but were never well received. Activision tried to get the series up and running a number of times after its acquisition of Vivendi Universal, but was finally successful when it added a real life twist. The Skylanders series takes place in the titular Skylands, where worlds aren't so much geographically located, but just floating in the air. Skylanders themselves are magical guardians that protect the world and fall under 8 different elemental alignments, A 'la Pokémon, with different characters being more powerful in certain areas. Gameplay wise Skylanders plays like babies first Diablo, with a mostly isometric view and various distractions like on rails shooting, simple platforming, and match games. The series is fairly low stress and very forgiving to less experienced gamers with loot and gold that can be shared between co-op players, immediate respawns on ledge deaths, and a fairly short recovery time on downed characters. Now on its fourth iteration, Trap Team, the franchise is focusing on catching enemies who you imprison in, "Trap Crystals" to be taken control of for short periods.
What Console Is It On?
Basically everything, including last generation consoles, and tablets. Surprisingly the only thing it isn't available on is PC.
What Comes With It?
The starter pack contains the game, two figures, a portal and two trap crystals.
But I Already Have an Old Skylanders Game?
Sorry but Activision wanted everyone to buy a new starter set with a fancy portal that integrates the traps and talks to you.
Can I Still Use My Old Figures?
That's the good news, all the previous generation characters are compatible with Trap Team.
How Much Additional Stuff Do I Have To Buy?
Well that's a tricky question, you can finish the game with the two included characters and traps, but you won't be able to see all the content. Activision has become increasingly insidious with the marketing of Skylanders. Previous versions had areas that are only accessible by a character with a certain elemental alignment, however this version is making you use a specific character to enter those sections. Activision including the trap mechanic means that to "catch'em all" you'd need 6 other traps. In addition they've also released tiny versions of characters that can get into smaller spaces gating off more content.
That's All Well And Good, But How Much Do They Cost?
The starter set is retailing for around $75 with individual figures costing between $10 and $15 dollars. The traps cost $6 dollars individually with a three pack costing $15.
The toys themselves are closer to a vinyl figure than an action figure, but are sculpted well. That being said, Skylanders don't have as wide a fan base as Nintendo or Disney, so no one without kids is going to recognize Gill Grunt over Mario or Groot. If you can get past Skylanders more kid oriented aesthetic the series has a wide variety of characters to choose from along with a huge catalog of previous generation figures.
So Who Are These For?
I'd be lying if I didn't tell you they were targeted towards kids, the cast of colorful monster practically screams Saturday morning cartoon. But with a wide range of characters to choose from, every parent should be able to find a Skylander that suits their tastes and play style. I've also found it to be a nice entry point for a significant other who may not play games, being that the game is pretty forgiving and won't have you fighting over loot.
Seeing a potential financial windfall is something Disney's become really good at, so not wanting to be left off the gravy train they created their own "Toys-To-Life" branded game in Disney Infinity. While it wasn't the originator of the genre like Skylanders, the first Infinity was a commercial success leading to the sequel built around the incredibly popular Marvel Comics franchise. The core game isn't unlike Sony's Little Big Planet with world/level building and sharing mechanics that allows player to make their own levels, game, and even dialog. Infinity plays in a more traditional 3rd person view, with a variety of combat missions, races, and platforming challenges to complete in the play sets. The game's controls work fine, but lack the tight feel and precision of most 3rd person platformers.
What Console Is It On?
Infinity is available on PlayStation 3, PlayStation 4, Xbox 360, Xbox One, Wii U and PC.
What Comes With It?
You can purchase Disney Infinity 2.0 in a variety of fashions, including the core set that includes the game, Avengers play set with three figures, base, and two pre-made Toy Box game disks. It's also available in a "Toy-Box" set that includes the game, two figures, base and two pre-made Toy Box game disks. Disney Infinity 2.0 also just came to Steam, so you could conceivably download the game and use the previous generation base.
But I Already Have The Original Disney Infinity…
Well that's great, but unless you want the Toy Box only digital download, you can't just buy the game at retail without getting another base.
Can I Still Use My Old Figures?
Yes, but the biggest downside to Disney Infinity is that characters don't really cross over. If you wanted to have a fantasy team-up of Aladdin and Star Lord your out of luck for the most part. While you can mix and match characters in the Toy Box mode to your heart's content, individual sets like Guardians of The Galaxy and Avengers have specific figures they're compatible with. I should note that in Toy Box you can create whatever you want so that Aladdin/Guardians crossover isn't out of reach, it just takes time and effort.
How Much Additional Stuff Do I Have To Buy?
That's another tricky question as the core game is the level editing Toy Box mode that's compatible with all the characters. Disney Infinity is the most A La cart of the three, offering an experience customized to how much you want to spend. The additional play sets including the Avengers, are their own separate thing from the core Toy Box mode and contain everything you need to complete the levels including figures. While you can purchase a Captain America figure to go along with the play set, Infinity won't gate off any content because you don't have him. Disney released a ton of figures during the games launch including 2 additional Marvel play sets and 9 single pack figures with 6 additional Disney single pack figures having been released a few weeks ago. They're also selling blind bagged "Power Disks" that adds features like support characters, overlays for the Toy Box, and vehicles.
That's All Well And Good, But How Much Do They Cost?
Individual figures are around $14 dollars, while the play sets containing two characters and the levels are $35. The blind bag power disks retail for $5 dollars.
Disney Infinity defiantly gets my A+ as far as the toys go. With more of a plastic heft, the figures don't feel cheaply made, the bases are sturdy and the cartoonish designs are a nice mash-up of Marvel and Disney's sensibilities, giving them a cool uniformed look. While they lack any articulation, they've got the size and weight advantage over both Skylanders and Amiibos, with bigger figures like Venom and the Hulk being two standouts.
So Who Are These For?
The games simplicity translates well for kids and is in line with Disney's current line of cartoons. While figuring out which characters work with what set isn't as elegant as just having them work universally it doesn't have a steep learning curve. Kids will love seeing their favorite Avengers toys come to life, and aren't so garish that you'd be embarrassed having one on your desk, so they have a nice mix of qualities. Finally we have Nintendo's "Toys-To-Life" series, Amiibo. Having just launched last month, Amiibos don't go with one particular game but are compatible with a range of Nintendo Wii U and 3/2DS games. The mini figures themselves are from a board spectrum of Nintendo favorites including Pokémon, Mario, Zelda, and more.
What Comes With It?
Figures are sold individually, at this time there is no starter or combo pack.
So What Do I Need?
A Wii U to start, since Amiibos are a bit more universal, they can be used in Super Smash Bros, Mario Kart 8, and Hyrule Warriors. The good news is you don't need a portal or base as the Wii U gamepad has NFC technology built in.
So Mario Is In Hyrule Warriors?
That's where this gets confusing, Amiibos work with various games, but figures that aren't associated with the Legend of Zelda unlock a special pick-up once a day while characters from the series can unlock additional specific weapons and costumes.
I'm Confused.
Yeah, me too.
So You Said Amiibos Work With Three Nintendo Games, What Else?
That's really it right now, they launched with Super Smash Bros. and both Mario Kart 8 and Hyrule Warriors have been updated to support them. Nintendo has said that future games will support Amiibos, but no real specifics been given.
You Said Something About 3/2DS?
Super Smash Bros. for the 3/2DS is currently the only game that supports them.
Alright, So What Do These Figures Actually Do?
In a nutshell, not much. Amiibo's are currently acting as more of a profile save crossed with a virtual pet. Say you play as Mario in Smash Bros, your Amiibo will hold your player data and let you train and upgrade him in the game. As you play and unlock outfits and moves, you can save the particular move set and outfit to your Amiibo.
That's All Well And Good, But How Much Do They Cost?
$13 dollars per figure.
So It's A $13 Dollar Memory Card For One Character?
Yes essentially.
The current crop of Amiibos are really scattershot. Figures like Samus feel very detailed and look great, while Link looks like he's being propped up on a urine colored pedestal. The figures don't feel particularly great either, in stark contrast to the Infinity figures, Amiibos feel very light and cheap, like they could break at any time.
So Who Are These For?
My best guess would be the Nintendo hardcore fan. If you ever ate NES branded cereal while watching the Super Mario Bros. Super Show, or got into fisticuffs over Super Smash Bros. you'll want to own these. The bulk of their functionality is with Super Smash Bros. so you may want to invest in your preferred character and call it a day.
Of the three series, I've personally found Amiibos to be the most disappointing, with an inferior look, feel, and size these Nintendo branded toys don't measure up. Disney Infinity gets high marks for the look and feel of the toys as well as its customizable experience, but ultimately feels confusing in terms of what works with what. With the largest line up of characters and simplest ease of use, it's hard not to recommend the Skylanders series. That being said Skylanders seems like the most cash hungry of the three, now requiring traps, specific characters, and a new starter set.
It's fair to say that all three of these "Toys-To-Life" figure sets feel a little bit like a cash grab, but I'll concede that I've had a ton of fun playing with each group of figures with family members who don't usually play games. With a wide variety to choose from the genre does have some interesting and unique features and the little touches of real world interaction are fun.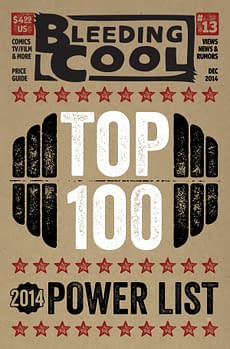 Why not be a pal and pick up a fresh copy of Bleeding Cool Magazine # 13. It's got a ton of news you can use, including a piece about IDW's Shadow Show.
Jared Cornelius is a man child from the Jersey coast who'll be on vacation by the time you read this. Please forward all hate mail to @John_Laryngitis on Twitter, I'll read it while sipping a stupid umbrella drink.