It's Always Sunny in Philadelphia Season 13 Gets Premiere Date, Synopsis – and a Lot Less Dennis?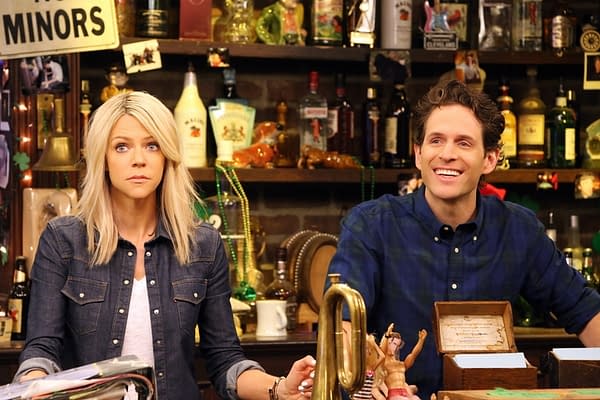 Since we're talking FXX's It's Always Sunny in Philadelphia, clearly you're not going to get any good news without some kind of M. Night Shyamalan type twist. The good news? We're only a little more than two months away from the series' 13th season premiere, set for Wednesday, September 5th, at 10 p.m. ET/PT. The bad news? Looks like Paddy's Pub is going to be short one full-time borderline sociopath when the show returns, Variety reports.
Along with a confirmed premiere date, FXX also released a synopsis for the upcoming season (which you can read below) — and if you believe what you're reading, Glenn Howerton's Dennis Reynolds is going to be spending some serious "Daddy Dennis time" in North Dakota. So unless Dennis plans on lodging some serious "frequent flyer" miles back and forth to the bar, Howerton may be MIA for a decent chunk of the season.
With Howerton's NBC sitcom A.P. Bio being renewed for a second season (and an expected early 2019 airing), most were expecting the actor to have a scaled back role on the series due to conflicting filming schedules. With that said, let's also not rule out the possibility that this is a big swerve on the part of FXX and the cast/crew of It's Always Sunny in Philadelphia; and that Howerton may be back for more episodes than expected.
Here's a look at the season 13 Twitter announcement, followed by an overview of the upcoming season:
"The Gang Returns… mostly…. in the 13th season of the FXX original comedy series It's Always Sunny In Philadelphia. Mac (Rob McElhenney), Charlie (Charlie Day), Dee (Kaitlin Olson) and Frank (Danny DeVito) return to their duplicitous, scheming ways at Paddy's Pub, while Dennis (Glenn Howerton) takes on the new role of father in North Dakota.

Even without Dennis Reynolds, the Gang has its hands full as Charlie hopes to have a child with The Waitress, Mac sets out to understand his newfound sexuality, Dee takes feminism to new heights, and Frank goes to great lengths for the Gang to experience the greatest moment in Philadelphia sports history – an Eagles Super Bowl victory."