Big Trouble in Little China: Sidekick in Red Lipstick (Neon Cinema)
In 1986 John Carpenter, horror movie auteur and all-around fantastic synthesizer champion, put something remarkable before unsuspecting audiences. That movie was Big Trouble in Little China, and it featured Kurt Russell as Jack Burton, a truck-driving blowhard with delusions of grandeur. The fact that Jack Burton was not the hero of the movie, a schlocky pastiche of Hong-Kong action romp, slapstick comedy, and '80s actioner, but a bumbling, over confident buffoon, led many theatergoers to wonder exactly what they had gotten themselves into.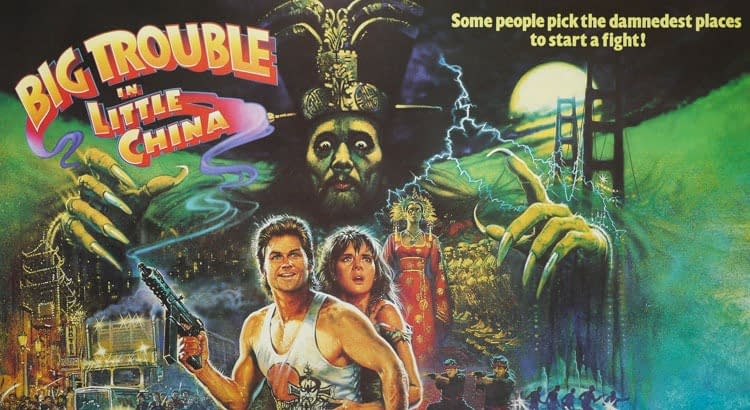 "When some wild-eyed, eight-foot-tall maniac grabs your neck, taps the back of your favorite head up against the barroom wall, looks you crooked in the eye, and asks you if you paid your dues; you just stare that big sucker right back in the eye, and you remember what ol' Jack Burton always says at a time like that: 'Have you paid your dues, Jack? Yes sir, the check is in the mail." -Jack Burton
Not only was Big Trouble in Little China completely unlike action movies of the era, it was completely unlike anything Carpenter had ever done before. This was, after all, the man behind the camera for the original Halloween (1978), Escape From New York (1981), and The Thing (1982). Most fans of the director, seeing him teamed up with Russell once again, assumed we were in for another high-octane thriller, perhaps with some horror elements for good measure.
What we got was Kurt Russell chewing scenery with an inspiring John Wayne impersonation, all swagger and absolutely no competency at the all-important action stuff. That competency came in the form of Wang Chi (Dennis Dun), a San Francisco restaurateur and fantastic martial artist. The movie flips action movie tropes on their heads, with the film gleefully careening through the underworld of San Francisco while the thrilling exploits of the actual hero of the movie, Wang, are constantly in danger of being derailed by the bumbling antics of the sidekick, Jack.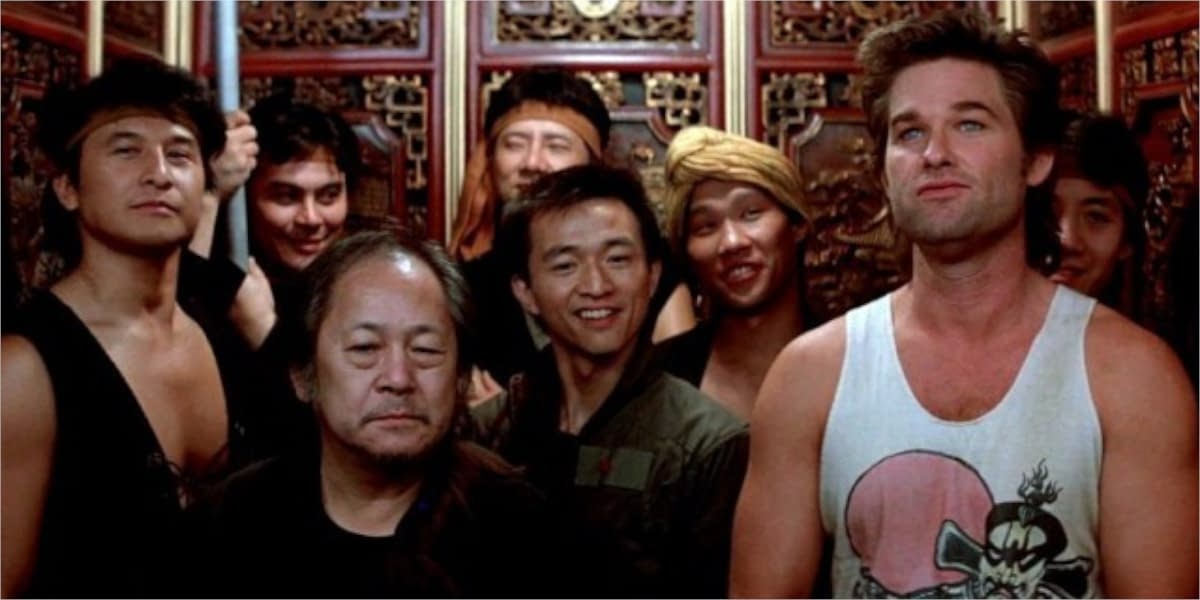 You just listen to the old Pork Chop Express here now and take his advice on a dark and stormy night when the lightning's crashin' and the thunder's rollin' and the rain's coming down in sheets thick as lead. Just remember what old Jack Burton does when the earth quakes, and the poison arrows fall from the sky, and the pillars of Heaven shake. Yeah, Jack Burton just looks that big old storm right square in the eye and he says, 'Give me your best shot, pal. I can take it.
The movie bombed in theaters, most likely because no one really knew what they were getting themselves in to. I was 16 years old when I discovered this movie at a dollar theater, and walked out gobsmacked and dazed. I walked right back into that theater and watched the movie two more times that day. Jack Burton was the cinematic idiot messiah I had been looking for for years. Jack Burton was so stupid… so entertaining… and so damned funny.
A lot has been said about Big Trouble in Little China before; how it was originally intended to be a kung-fu Western by the writers behind the original pitch; how Carpenter had lobbied hard to sign Jackie Chan to play Wang; and how the story bucked Hollywood convention at the time by having Chinese-American characters portrayed as the real heroes instead of the swaggering American blow-hard. The movie had a number of high-profile directors lined up to helm the film before Carpenter, including The Warriors' Walter Hill.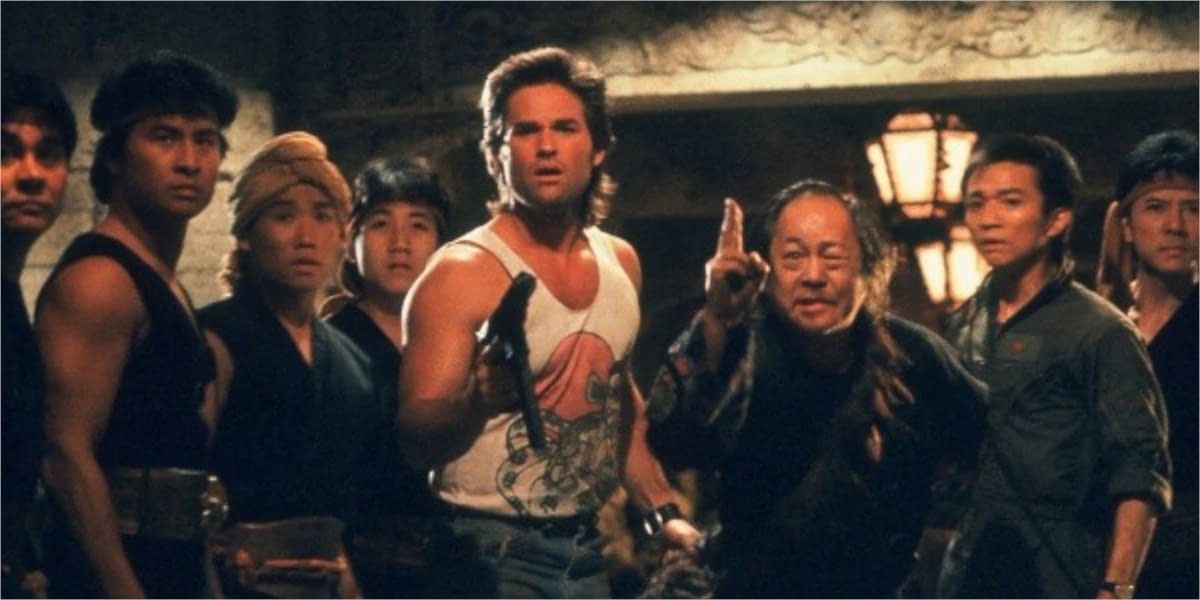 There is so much to take in with this movie, from the free-wheeling, nearly effortless dialogue from writer W.D. Richter. And then there's the bad guys, lead by the nearly immortal David Lopan (the fantastic James Hong). We see some sewer monsters, demons inspired from Chinese mythology, and a kung-fu showdown between the forces of good and evil at the foundation of a neon-draped Buddha.
"I couldn't do the chop-sockey. I had to come up with ways to not be involved. So, I said to John, "How about if we come in here, and I'm all excited, and hit the machine gun, and rocks fall on my face, and I'm out? Jack's out for the first two minutes of the fight that's 10 minutes long, whatever. And then he gets into the fray, and sure enough he stabs this big guy, but the guy falls in a way that's crushing Jack, and he can't move." I was just constantly finding things like that… I did learn how to drive an 18-wheeler. I forgot about that. It was pretty easy." -Kurt Russell to Entertainment Weekly
Big Trouble in Little China was rushed by the studio to try to get it in theaters before Eddie Murphy's The Golden Child, which may explain the lack of concrete promotion behind the movie. Regardless of its star pedigree and well known director, the movie was pretty much dead on arrival. Big Trouble in Little China earned a measly $11 million dollars in domestic box office, not even half of what it cost to make. Audiences had no idea what the movie was about, and the promotional campaign for the film didn't do anyone any favors.
Despite a pretty positive test screening for Big Trouble, critics were initially harsh on the film. Rick Kogan of the Chicago Tribune said that "(f)or all its flash and color, it is a dull film–an artless dig in the Spielberg garden." Roger Ebert called the movie fun, "but special effects don't mean much unless we care about the characters who are surrounded by them, and in this movie the characters often seem to exist only to fill up the foregrounds."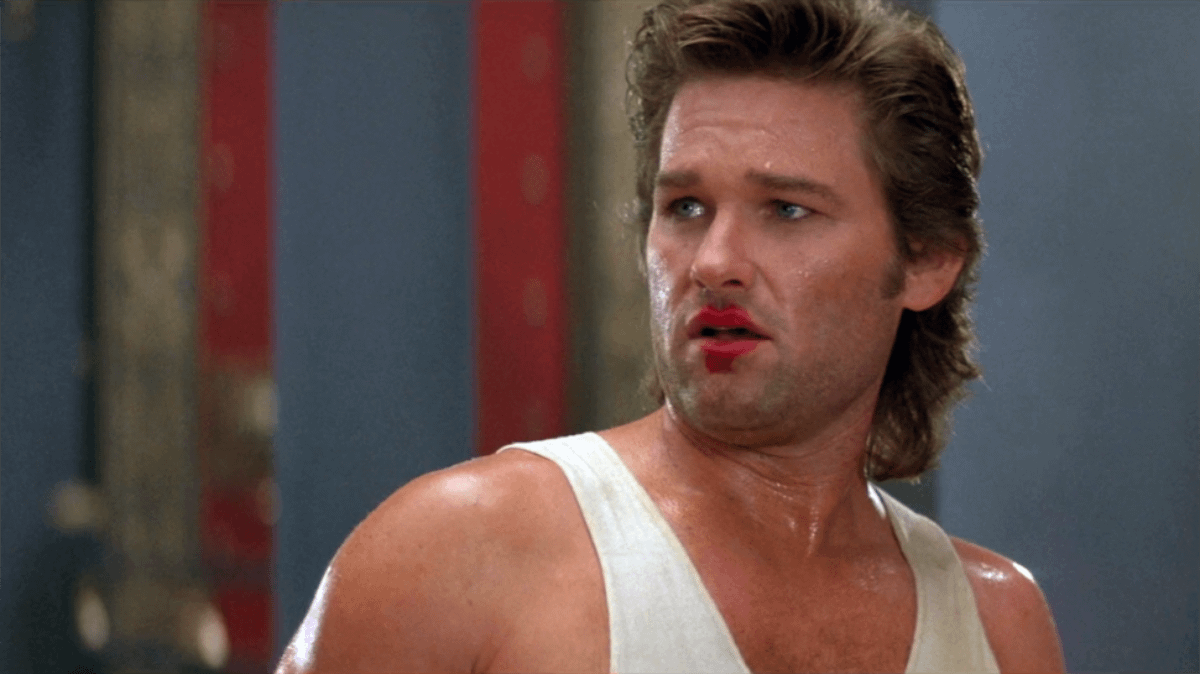 "One time, Kim and I kissed…. Then I noticed that the crew was smirking. I had lipstick all over my face. I said, "You know, I've always wondered about that. [In kissing scenes] how come that big red lipstick is always magically not there when the guy pulls back?" I looked at John, and I started laughing…. I said, "[Let's leave the lipstick on] at least for a couple of scenes!" And he said, "All right." I always admired John for that, because the audience is going to go, "What the f—?" -Kurt Russell, again to Entertainment Weekly
I hate to argue with a dead man, but the characters in Big Trouble in Little China are very easy to care about. Sure, the movie hits all the standard '80s action movie tropes, but there are characters with tons of heart and agency throughout the film. Gracy Law (Kim Cattrall) is by no means your typical damsel in distress, and is very much in control of her relationship with Jack— he does not get the girl in the end. Wang is such a sympathetic character; relatable, noble, and heroic to a tee. Then there's ole' Jack Burton. We all know someone like Jack.
Even the background characters are riveting. There are rival gangs fighting for supremacy in the streets of San Francisco, barely stopping to fight when a group of killers straight out of mythology show up to throw down. Then there's the charismatic Chinese sorcerer, Egg Shen, played brilliantly by Victor Wong; and Lo Pan's cabal of henchmen include plenty of monsters and the Storms, awesome bad guys with amazing powers and kung-fu prowess.
"Jack Burton is a guy who is a sidekick but doesn't know it. He's an idiot-blowhard. He's an American fool in a world that he doesn't understand." -John Carpenter
Ultimately, it wasn't The Golden Child that delivered the killing blow to Big Trouble in Little China. It was James Cameron's big-budget sequel Aliens, which opened 16 days later and took the box office by storm. The scrappy little movie with the incompetent lead was quietly whisked out of theaters. Ironically, both movies were released by 20th Century Fox.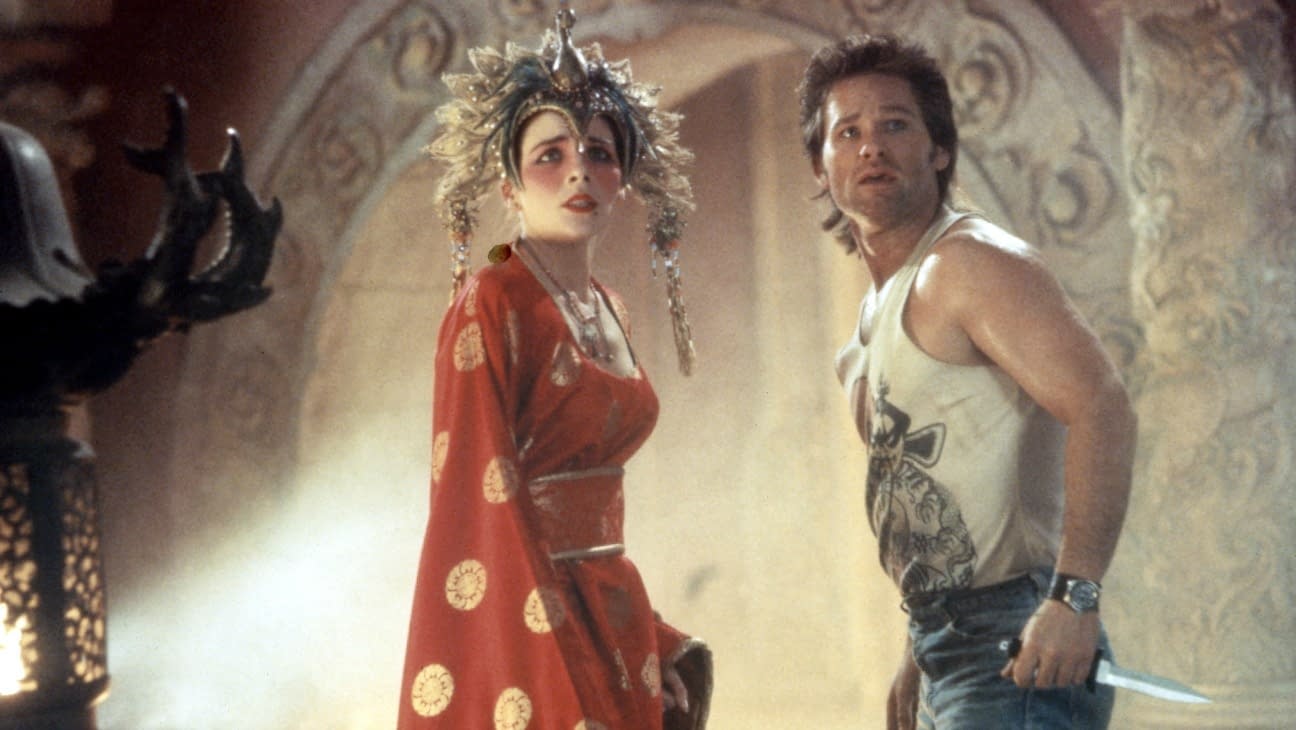 The rigors of making Big Trouble in Little China within the studio system had left John Carpenter disillusioned with Hollywood, and he went back to making more independent fare. If it hadn't had been for this experience, it's hard to believe that Carpenter would have gone on to make one of his greatest movies, the 1988 paranoia masterpiece They Live, which we'll explore in an upcoming Neon Cinema article.
Russell moved on to make his greatest movie ever, a underappreciated gem called Overboard.
The true irony of Big Trouble in Little China's rocky and volatile history is its place in pop culture today. There are a few people who remember and love The Golden Child, but Big Trouble has cemented itself into the pantheon of '80s cult classics. The characters are still just as vibrant, the sets just as exotic, and ole' Jack Burton— well, Jack's the same charismatic idiot he's always been.
For more adventures with Jack Burton and the Porkchop Express, check out Eric Powell's excellent ongoing comic series from Boom! Studios, which also published a fantastic book detailing the art and production of the movie.
We still don't have a lot of information on the possible reboot film starring Dwayne Johnson as Jack Burton, but we'll keep you updated with information as we get it!