Earlier this year, Brian Chandler of Comics Cards And Stuff of Fort Myers, Florida, posted the following to the store's Facebook page,
First, let me begin by wishing everyone a safe, healthy and profitable New Year! It is my hope that this year is better than the last for each and every one of you. But as the New Year begins, some things may end.

As some of you may be aware by now, there have been rumors floating around over the last few days regarding the possibility of an imminent closure of the store. I'm sorry to say that, barring what would amount to a miracle for me, the rumors are true.

Since my father got sick in October of 2018 (and passed away in Jun of 2019), I have had to deal with some very unpleasant issues that have, at times, kept me away from the store and seriously affected the business. Because I am a one-man operation, that meant that the store had to open late, or close early on more than one occasion. As a result, the business revenue dropped considerably, and has not recovered enough to be sustainable.

I haven't said much about it to people, mainly because I believed that things would eventually get better. I've always been a person who likes to do things himself, but it's gotten to the point where I can't keep up. This year has brought other problems and issues that have caused a considerable drain – financially, emotionally, and physically – not only on me, but also my family, and the store. Thus, after several weeks of serious thought, soul searching, and doing everything I can to keep things going, I've made the most difficult decision that I've ever had to in my 26+ years in business. And that is to close the store.

However… You might have noticed I mentioned something earlier about a miracle.

A couple of dear friends of mine mentioned to me yesterday about the large loss that the store closing would bring to the community, specifically the fact that I've always tried to "give back" to the community at large by doing events like the annual Free Comic Book Day and Halloween ComicFest, giving away what must amount to hundreds of thousands of comics over the years to encourage kids and adults alike to read and enjoy comics. I have participated in (and run a few) of the local sci-fi and comic cons, bringing fun and entertainment to the local area that could usually only be found in major cities. I've built and maintained good relations with several area schools, donating comics to the students there to help with reading and art education. And I've become the "go-to" place for comics and sci-fi memorabilia in the area, bringing the largest selection of new and back issue comics and collectibles available in Southwest Florida. I was beyond humbled to hear that, and know that people in this area thought so well of me.

My friend has set up a GoFundMe page for the store, in hopes of keeping the business alive, and in her words, "Be a way for the community to give back to a business and a person that has given so much to it." Those who know me know that I've never been one to ask for help, unless the circumstances are very, very desperate. For the store, that time is unfortunately here. I don't want to go out of business, but if circumstances stay as they are, I will have no choice but to do so. I will post that link below, for those who may like the store, and be inclined to contribute at least a little to help save it. Every little bit helps, and I would be forever grateful.

Finally, know that I will not be disappearing overnight. I still have almost a quarter-million comics in my archives stock, and will be starting to get them out for sale soon. I will also be hosting a special discount sale in the coming weeks, and a one-day super-special 'Free Comic Book Day' type event and sale to say 'Thank You' to the friends, customers and families that have supported me over the last 26 years. Please keep an eye on my Facebook page for updates.

I cannot say "thank you" enough, and I hope that this is not the end of Comics Cards and Stuff, but possibly, a new beginning. It's been an honor.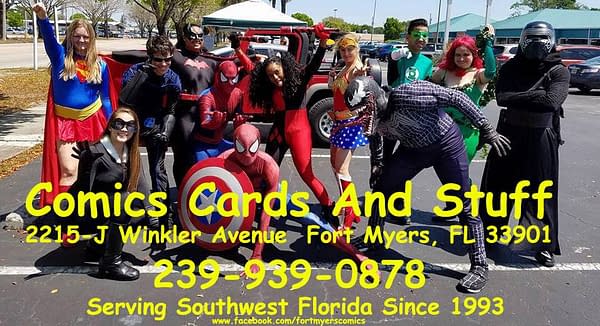 The GoFundMe page currently stands at $590 of a $7000 target and reads,
Comics Cards and Stuff has been the go-to comic book shop in SWFL since 1993, with the largest selection of up-to-date and back issue comic books around. This is also the go-to shop for collectibles, Star Trek memorabilia and toys, Star Wars items, posters, and much more. Brian Chandler has diligently manned his shop for nearly 30 years. He loves his community and he regularly puts together events to help bring the community together. He is a man who cares about every single person who steps foot into his shop and he knows the name of nearly every regular customer. Unfortunately, the last year has not been kind to the Chandler family. Last October, Brian's Father, Eldis Chandler, became ill. Shortly after, the family discovered that he had throat cancer. The months that followed meant countless doctor's appointments, multiple hospital stays, growing medical bills, days where the shop had to close early or open late, and everything else you can imagine, which caused the shop to suffer financially. Sadly, Brian's father passed away just 8 months later on June 25th of this year. As you can imagine, the funeral cost set the Chandler family back even more and Brian has been struggling with the shop ever since. Brian Chandler is a proud man who would never usually ask for help, but his shop is on the line; a shop many of us have come to know and love. Brian is at risk of losing the shop right now as a result of everything his family has endured this year and he needs our help. He needs the community he has given so much to and that he loves so much to come together to keep his shop here for many more years to come. Please consider donating to help save Comics Cards and Stuff from closing. Every donation helps, no matter how small, and it will go directly to Brian Chandler. And please share with everyone you know.
And this weekend, the store ran a fundraising event, with big discounts, cosplayers and comic creators in attendance. Will it be enough? If you can help, feel free to get in touch.
Bleeding Cool tries to mark the passing of comics stores as well as their opening. Existing fanbases are likely to make the former more well known, but please let us know if a comic store is opening or closing in your neighbourhood. Just e-mail richjohnston@bleedingcool.com.
Enjoyed this article? Share it!